By: Ronda Snyder – April 12, 2021
In her December 11, 2020 Executive Order, Governor Janet Mills instituted the strictest Executive Order in the nation by removing medical exemptions from the mask mandate. A review of mask mandates and orders issued by all other Governors in the nation, including New York and California, allow an exemption for certain medical conditions. As a result, many Maine citizens with disabilities, health issues or children with disabilities are unable to participate in society under Mills' Executive Order. These people are not able to fully participate in society and corporations such as Hannaford Supermarkets, Walmart stores and others are adding insult to injury of disabled citizens in Maine.
Recently, Hannaford Supermarkets, owned by Ahold Delhaize based in the Netherlands, issued a lifetime ban against a disabled woman named Jennifer Crowley from all Hannaford Supermarkets. Crowley's egregious "crime" against Hannaford Supermarkets? Being disabled and visiting the Hampden store on December 21, 2020 without a mask. According to Crowley, she was descended upon by 3 employees and asked to leave the store which she did. Since then Crowley has been shopping at different stores and has not set foot in the Hampden Hannaford Supermarket. Crowley's second "crime" against Hannaford Supermarkets was receiving a telephone call from her daughter and pulling into the Hampden Hannaford parking lot to safely conduct the phone conversation.
Crowley reports that while having a private conversation, a young woman got out of her car and told Crowley not to photograph her. Crowley explained that she was having a private conversation with her daughter and not taking photographs of her. Shortly thereafter, the police showed up and told Crowley (incorrectly) that she had to leave because she had a No Trespass Order previously filed against her. Crowley indicated to the police that no such order was ever issued. After several minutes, Hampden Police officer, Monic Christian, came back to Crowley's car and issued this one year Criminal Trespass Notice for Hannaford Supermarket located at 77 Western Avenue, Hampden, Maine.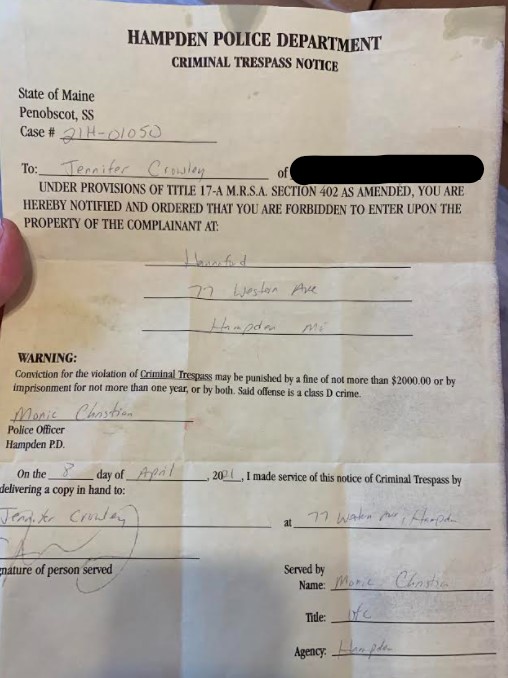 On April 9, 2021, Officer Monic Christian appeared at the door of Crowley's residence to further serve her with an additional lifetime No Trespassing Order for ALL Hannaford Supermarkets. All of this treatment, as though she is a criminal, is because Crowley, a disabled woman, entered the Hannaford in Hampden one time without a mask and left when asked to do so in December 2021 followed by the second "crime" of pulling into the Hannaford Parking lot to conduct a personal telephone call.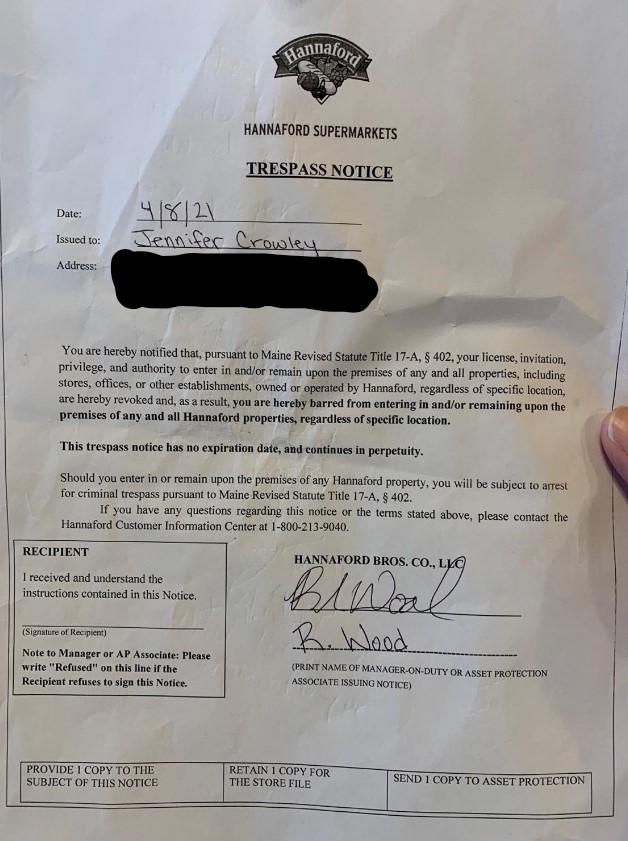 We reached out to Hampden Hannaford Supermarket manager, Bill Groski, who told us stores are not able to discuss these matters and a call would need to be placed to the media relations department of Hannaford Supermarket. While stores may not be able to discuss these matters, it doesn't seem stop them from calling the police to issue these orders on citizens who, by all accounts, have done nothing wrong. A call and message left for Hannaford's media relations department was returned by Eric Bloom. He had no comment on this matter.
On March 4, 2021, we wrote about the State of Maine causing harm to the disabled citizens of Maine by not allowing a medical exemption to the mask mandate. You can read about it HERE. Do you think corporations such as Hannaford taking actions as set forth above against disabled citizens compounds the suffering of those who have been marginalized by Governor Mills' Executive Order?
Thank you as always for reading Maine Journal News. You can like (if Facebook deigns to allow a like button) or follow us on Facebook at www.facebook.com/mainejournalnews. You can send us story ideas, tips, letters to the editor and comments by email at: mainejournalnews@gmail.com.
Copyright 2021 – Maine Journal News