By: Ronda Snyder
Maine Medical Licensing Boards for medical doctors, physician assistants and doctors of osteopathic medicine has a new weapon in its arsenal to punish doctors by suspending licenses based on Covid "misinformation" and/or or for writing Covid vaccine exemption letters. Maine Journal News asked several times for the medical boards to provide its written description of "misinformation." While we received responses from both boards, neither provided an explanation as to what constitutes Covid "misinformation."
The list of board members for the Medical Licensing Board for medical doctors and physician assistants is set forth below: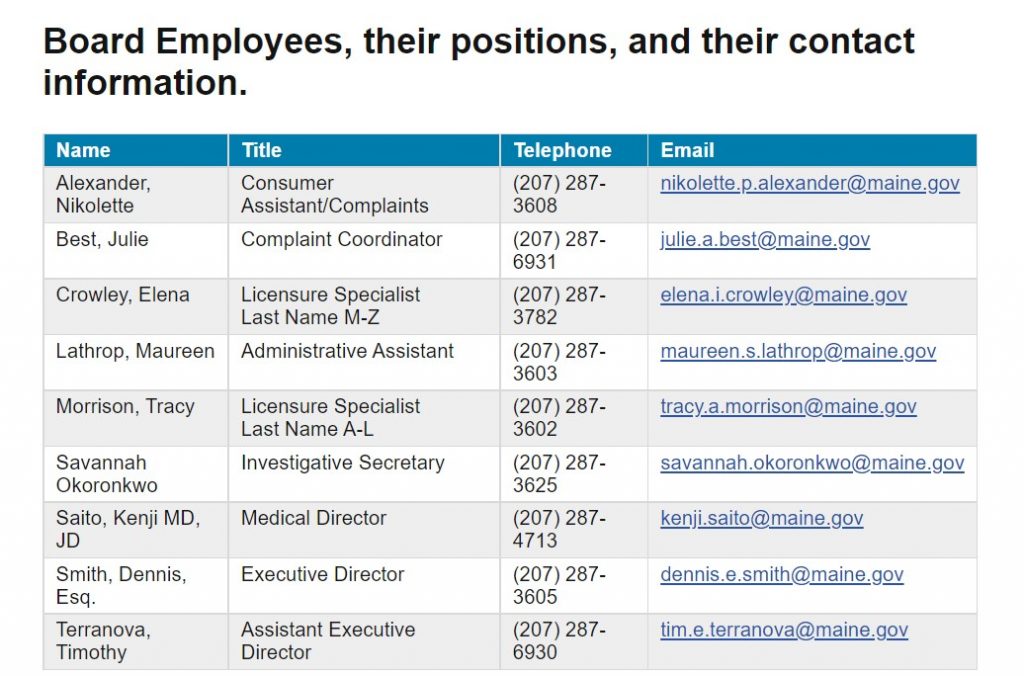 The list of board members for the Medical Licensing Board of doctors of osteopathic medicine is set forth below.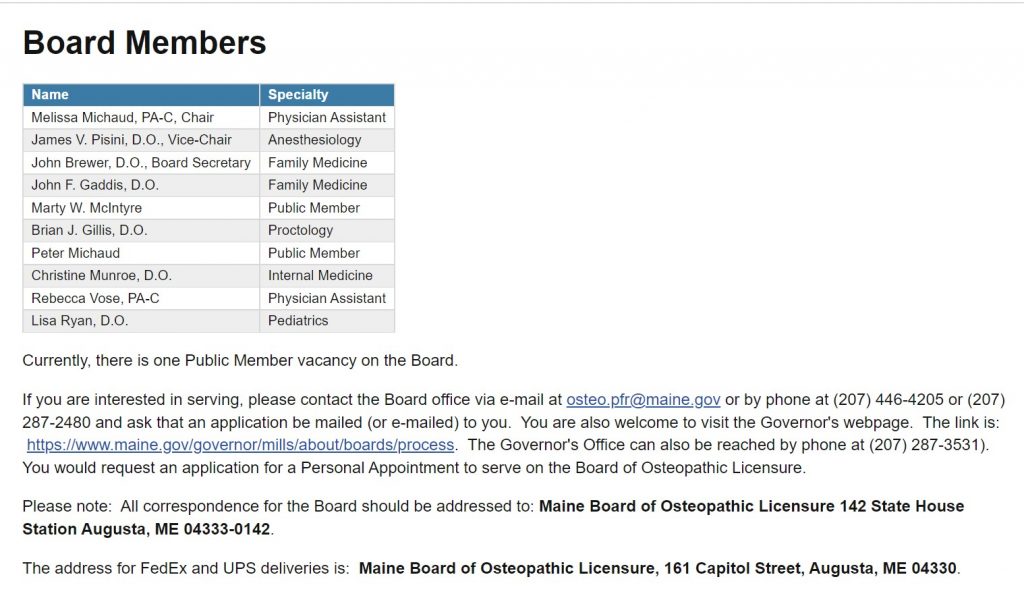 We note that Peter Michaud, nurse and General Counsel for the Maine Medical Association is a "public member" of the Osteopathic Doctors Licensing Board. Michaud is not a random member of the public. He is part of the establishment. He is well connected within the state and medical community. In fact, Michaud, was instrumental in creating and getting LD 798 passed by the Maine Legislature in 2019. LD 798 removed religious and philosophical exemptions to required school and health care vaccine requirements and was the start of the slippery slope we are on today with regard to vaccine mandates in Maine.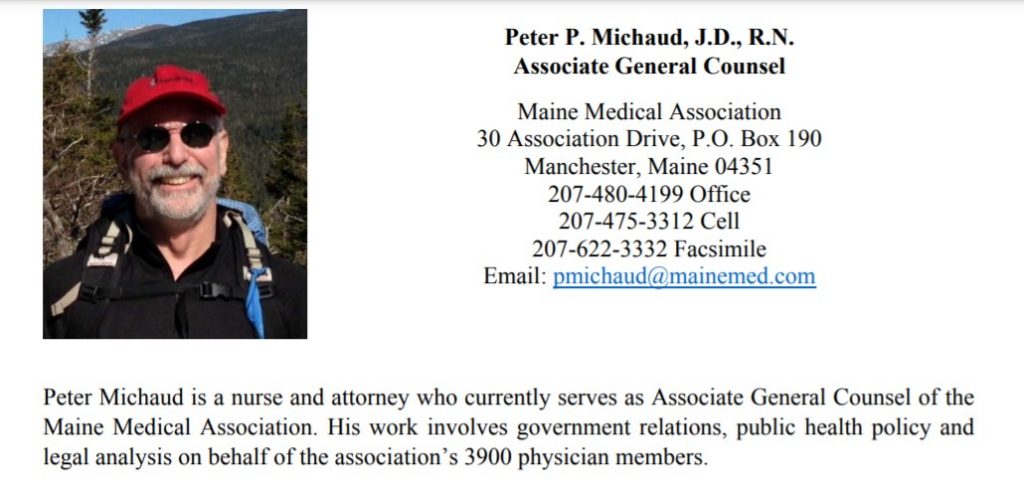 In the licensing board's Fall Newsletter, the Board Chair for medical doctors and physician's assistants, Maroulla S. Gleaton wrote: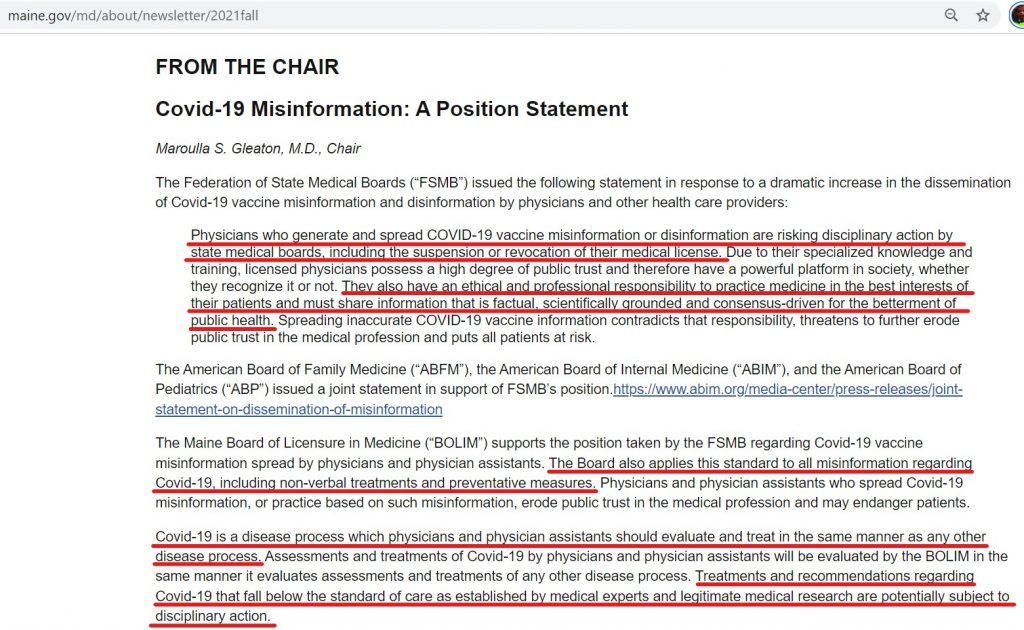 Labeling a treatment or recommendation as "misinformation" is a dangerous precedent especially since "misinformation" isn't clearly defined. Many, many conventional treatments used by healthcare professionals for many years changed when new information and studies became available. Who's to say what Dr. Gleaton is labeling "misinformation" today won't be the standard of care tomorrow or is actually a viable treatment today? In the meantime, she and her board members are suspending licenses based on the vague term "misinformation."
According to an article in the New York Times on July 1, 2019, "of more than 3,000 studies published from 2003 through 2017 in JAMA and the Lancet, and from 2011 through 2017 in the New England Journal of Medicine, more than one of 10 amounted to a "medical reversal": a conclusion opposite of what had been conventional wisdom among doctors. "You come away with a sense of humility," said Dr. Vinay Prasad of Oregon Health and Science University, who conceived of the study. "Very smart and well-intentioned people came to practice these things for many, many years. But they were wrong."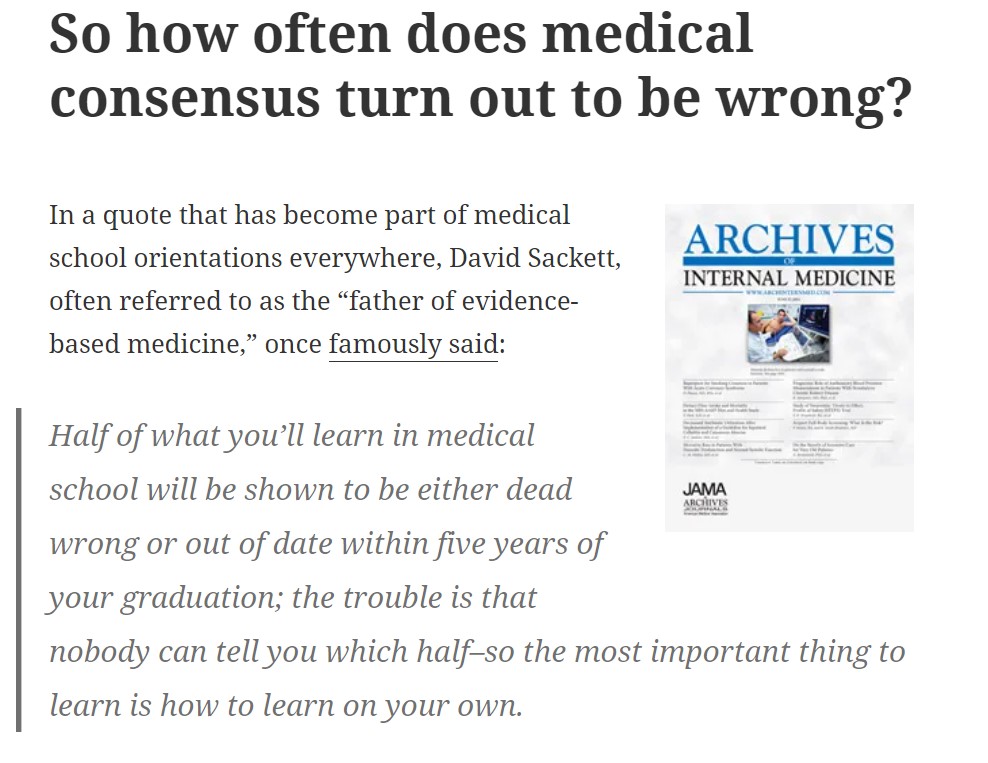 Dr. Meryl Nass sent a letter to the Licensing Board asking about "misinformation." Dr. Meryl Nass, a practicing physician in Maine and member of the Children's Health Defense scientific advisory board, asked the board to define what it means by "misinformation" and "disinformation," and to clarify what statutory authority the board has to discipline physicians on the basis of undefined transgressions. The letter, which includes the Nov. 16 testimony Nass gave to the New Hampshire state legislature, has been edited slightly for clarity. November 22, 2021 To the Maine Board of Licensure in Medicine: I am a physician, licensed in Maine for the past 24 years. I am concerned about the use of the terms "misinformation" and "disinformation" and the new threat to physicians' licenses issued by the board today for undefined behaviors. I require clarification regarding the board's definition of misinformation and disinformation and would like to know what statutory authority the board has to discipline physicians on the basis of undefined transgressions. Please tell me what law or regulation authorizes such threats for speech outside the clinic. I thought I would provide the board with some information I provide to the public to see if the board intends to term documented facts as misinformation, intends to censor these facts and whether those who provide these facts to the public will be at risk of disciplinary action.
All of this leads me to Paul Gosselin, DO and the suspension of his license by the Osteopathic Doctors Licensing Board for alleged "misinformation" and for writing Covid 19 Vaccine Exemption Letters. Local media were salivating like dogs with a bone over Dr. Gosselin's suspension.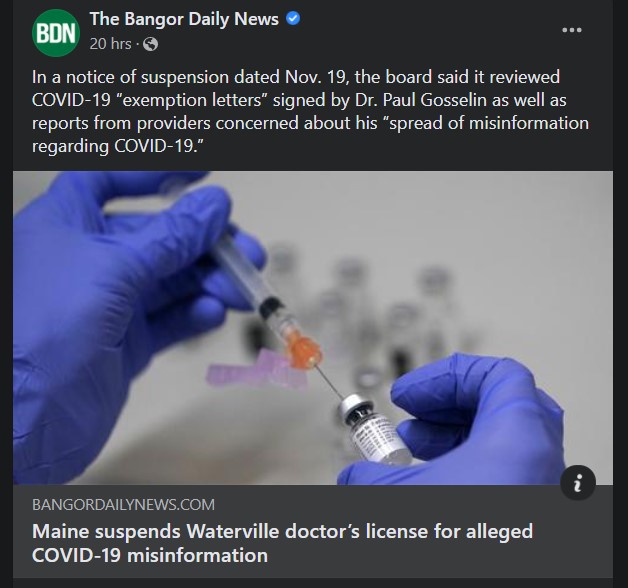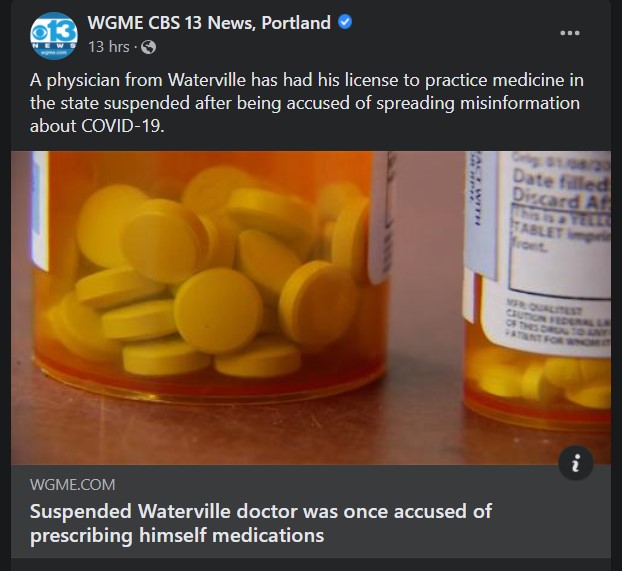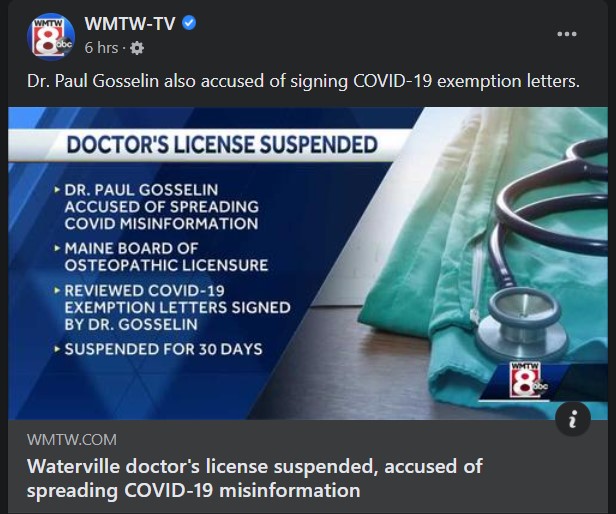 The Kennebec Journal and Morning Sentinel were asking patients to reach out to them with information on Dr. Gosselin.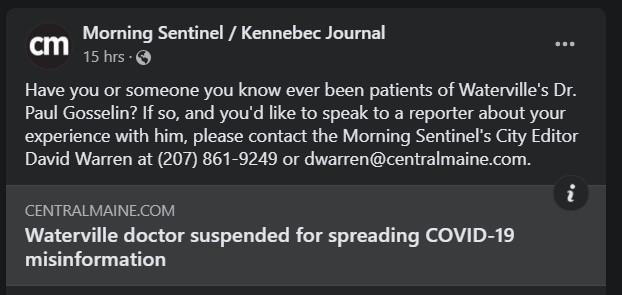 Dr. Gosselin spoke exclusively to Maine Journal News. While Dr. Gosselin has had past run ins with the licensing board, interesting personal views, a colorful personal history and deep spiritual beliefs, that doesn't change how much he cares about his patients' well-being. Gosselin says, "I am graced to be able to help my patients. We are working in a broken system, and we are supposed to be protecting patients. Instead, it seems the medical boards have turned into political animals. When a doctor uses functional medicine, they will be vilified."
A patient who was outraged by the medical board's suspension of Dr. Gosselin's medical license reached out to MJN to describe her and her husband's experience with Dr. Gosselin. In order to protect medical their privacy, we'll call them Jane and John. Jane tells MJN, "We got Covid from a fully vaccinated person who didn't believe she could get Covid or transmit it and didn't let us know she was feeling sick. We had been sick for about 10 days and John was very bad off. He went to the emergency room twice with a 104 degree fever, low O2 saturation levels and hallucinations. The ER treated him with IV fluids and pain medicine. That's it. Both times they did nothing to actually help and told him to come back if he got worse."
MJN asked "Did the ER offer John any treatment besides the IV fluids?" Jane responded "No. The ER doctors did nothing to help him and sent him home. It had now been 12 days and my husband was getting much worse. Because the ER was no help on the two previous visits, we made appointments to see Dr. Gosselin who was compassionate, caring and who appeared angry that people like my husband were needlessly suffering and not receiving proper treatment. He prescribed us several medications along with oxygen for my husband. Within 24 hours, both of us were feeling great."
Robert F. Kennedy, Jr. has a new book entitled "The Real Anthony Fauci." In the chapter called "Mismanaging the Pandemic," Kennedy writes: "His critics argue that Dr. Fauci's 'slow the spread, flatten the curve, wait for the jab strategy' all in support of a long term bet on unproven vaccines represented a profound and unprecedented departure from accepted public health practice…The best practices for defeating an infectious disease pandemic says Yale epidemiologist, Harvey Risch, dictate that you quarantine and treat the sick, protect the most vulnerable and aggressively develop repurposed therapeutic drugs and use early treatment protocols to avoid hospitalizations."
When doctors like Dr. Gosselin and others attempt to follow what had previously been accepted public health practice prior to Covid and Dr. Fauci's edicts, they are, in fact, vilified as Dr. Gosselin stated. Further, they are punished and threatened with losing their medical licenses for doing what they have been taught to do. Could one reasonably argue that Dr. Gleaton and others are, in fact, the ones not following the best practices for treating an infectious disease pandemic? You be the judge.
Off label use of medications is not new to the medical field. There are many medications prescribed to patients for which it was not originally intended. Trazodone was originally an anti-depressant but made patients very tired and is now prescribed as a sleep aid; Gabapentin approved for treatment of seizures and postherpetic neuralgia in adults, is used off-label for a variety of conditions including bipolar disorder, essential tremor, hot flashes, migraine prophylaxis, neuropathic pain syndromes, phantom limb syndrome, and restless leg syndrome; Prazosin is approved for the use of hypertension, but it is also used to treat nightmares related to post-traumatic stress disorder (PTSD), just to name a few.
Should patients have the right to try to get well to avoid hospitalizations and should doctors be allowed to prescribe FDA approved medications for off label use to treat Covid 19? The licensing boards in Maine punishing doctors for attempting to help their patients avoid hospitalization don't appear to believe so.
As always, thank you for reading Maine Journal News. You can follow or LIKE us on Facebook (should Facebook decide to allow a LIKE button to appear…tis a fickle thing that is): www.facebook.com/mainejournalnews. Please continue to email us story ideas, tips and screenshots at mainejournalnews@gmail.com or rsnyder@mainejournalnews.com.
As a final note: We are a completely self-funded independent organization. As MJN grows, we have more and more expenses, for websites, equipment (we just got some new mics so our live videos are easier to hear, for example), software, travel expenses, etc. so please consider donating to keep us doing what we've been doing here at MJN. Please note: MJN is not 501(c)(3) organization. As such, your donations are not tax deductible. No services or products will be rendered to you in exchange for your donation. We have two ways for you to donate so that we can bring you more content like the story above:
By Venmo: @MJN207
By PayPal: Donate (paypal.com)
Thank you for your continued support of independent journalism. Unlike local media, we consider all of you part of MJN and value your comments, emails and messages. We couldn't do what we do without you.