By: Maine Journal News -This article contains commentary which reflects the author's opinion
June 20, 2021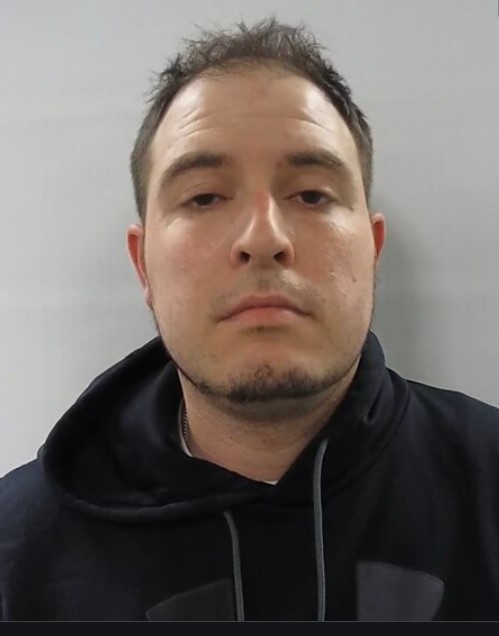 You may have recently heard the name Tony Glidden when he was arrested in March 2021 and charged with Home Repair Fraud and Theft. According to WABI, Glidden allegedly stole $25,000 from an 83 year old Belgrade woman. Glidden has not yet appeared in court for these charges though he was released on $2,500 bail.

Earlier this week, a customer of Mainely Roofing and Siding, LLC which is owned by Tony Glidden, reached out to me because he had work done by Glidden's company in November 2020. The customer paid Mainely Roofing and Siding in full but was served with a Summons and Complaint from Hammond Lumber Company seeking reimbursement for monies owed to Hammond Lumber by Glidden/Mainely Roofing. The complaint alleged that the customer was "unjustly enriched." Fortunately for the customer, he can prove that he paid Mainely Roofing/Glidden in full and, as such, was not unjustly enriched by the work done on his home. Imagine having a contractor do work on your home only to be sued by the materials supplier for non-payment of its bills? As this customer wrote in "Paid Tony and Mainely Roofing and Siding but they never paid Hammond for the materials. Got a summons from Hammond that now we owe them too. Do not do business here unless you have a lawyer on retainer."
Maine Journal News made a Facebook post on June 17 asking for additional information, if any, about Maine-ly Roofing and Siding or Tony Glidden. We received an earful. One message we received was from Glidden himself.
Glidden moans that we are trying to put him "on blast." As we said to Melissa and Donald Levesque, you'd never be on our radar if you conducted business in a manner where it didn't come to our attention that multiple customers have complained about a wide range of issues. I'm not a contractor but I am a businessperson and I know that if you take on so many jobs that you are unable to perform them properly and in a timely manner with good communication skills to customers, then you should reassess your capabilities and only take on the jobs you are able to complete in a timely and professional manner.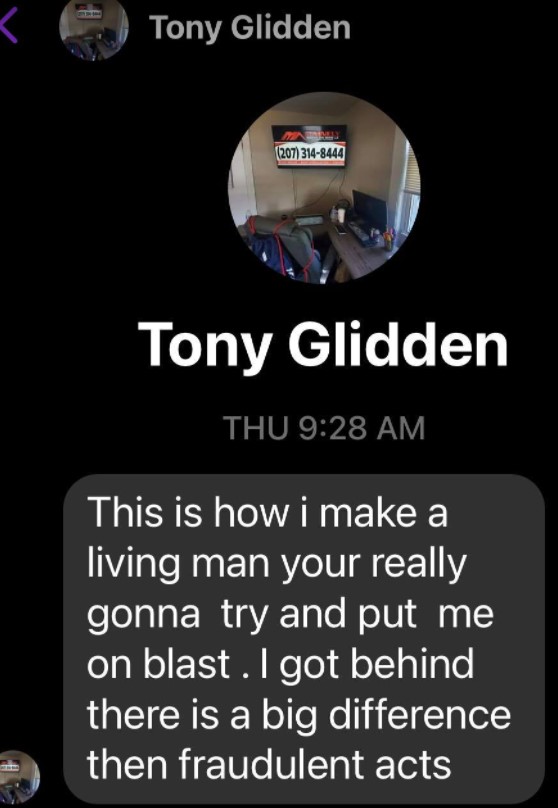 We replied to Tony and he told us a story that makes zero sense. According to Glidden, an ex-employee who was fired charged $16K with Hammond Lumber. Was a police report filed against the ex-employee for theft? If there was such a report, Glidden doesn't mention that. Then Glidden tells us he tried paying it off and Hammond wouldn't take his money. There's a couple problems with this last statement. Why would you "try" paying $16K if you didn't owe it? Why wouldn't Hammond take Glidden's money? Tony didn't tell us the whole story though he does complain about us not knowing the whole story. You'd think he'd tell us. Rather, he whines about Maine Journal News "running [sic] a man's way he feeds his family." Keep reading and you will see that Glidden doesn't like to take personal responsibility for his shortcomings and rather than blaming Maine Journal News for his problems, Glidden should look to his own business practices for ruining "a man's way he feeds his family." Glidden's business problems were evident long before we took at look at Mainely Roofing and Siding.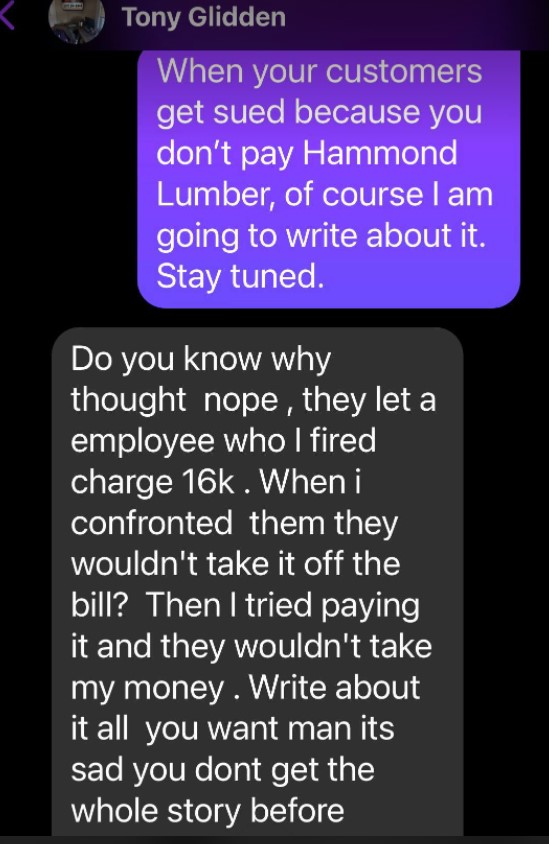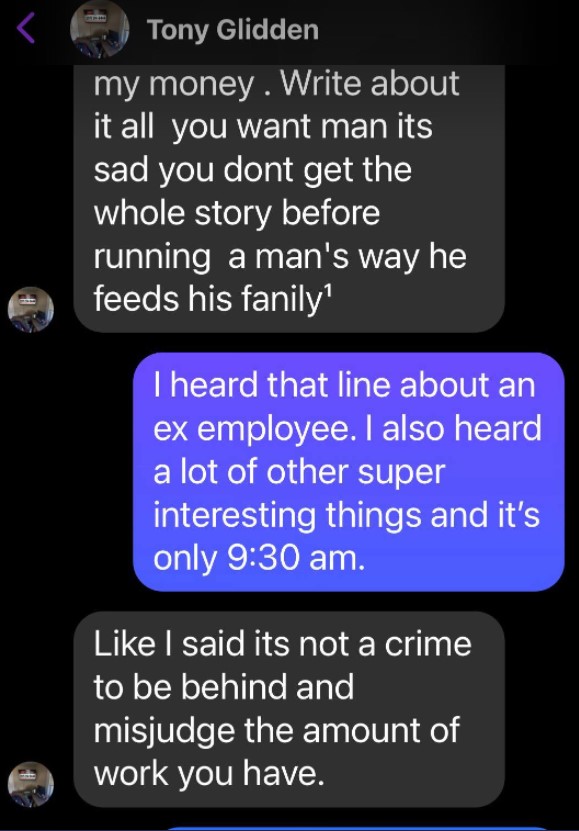 Despite friends leaving him positive reviews to help him out (even when they had no work done), at least one such positive Facebook reviewer wrote back to us "Oh, DO NOT GET WORK DONE FROM HIM…if that's what you were asking for — DON'T." Since our June 17 Facebook post several other positive Google reviews have appeared for Mainely Roofing and Siding.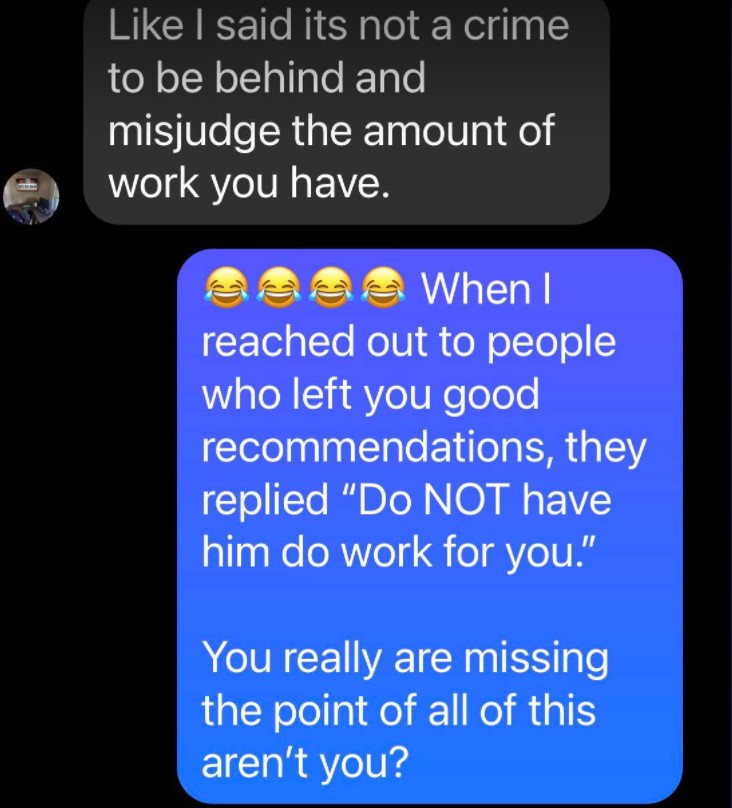 Glidden then blocked Maine Journal News from further message communications with him.

A couple of Glidden's friends showed up on the Maine Journal News post in which we requested information. Alivia Lee aka Alivia Gordon (who seems to have some Google trophies of her own) went on a rant about "trying to make someone look bad because ur miserable wuith [sic] your life." Apparently, we are also jealous and miserable with life according to Gordon. Newsflash Alivia, not that we'd take a single thing you say seriously, but the ONLY person making Glidden look bad is Tony Glidden himself. Brandy Marriner, a self described victim of Mainely Roofing and Siding / Glidden responds to Alivia setting the record straight with regard to her own dealings with Glidden and the old "check is in the mail" excuse.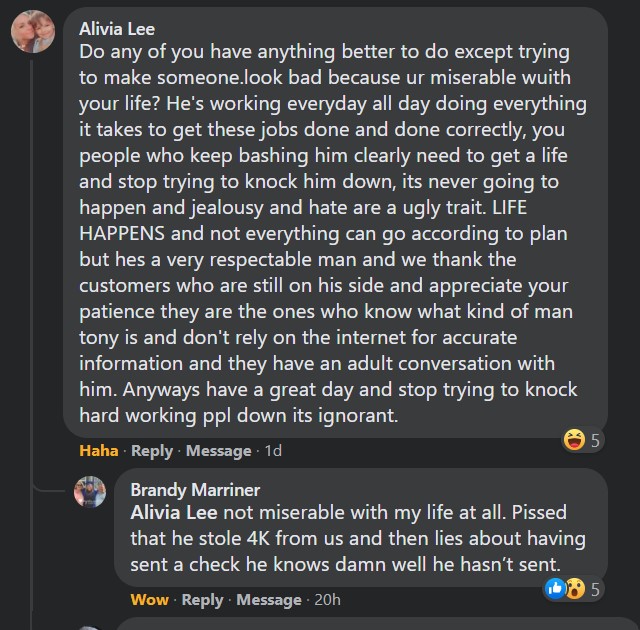 Dee Veilleux, made similar excuses and also showed up to defend Tony "I'm not responsible for what I do" Glidden and his business practices.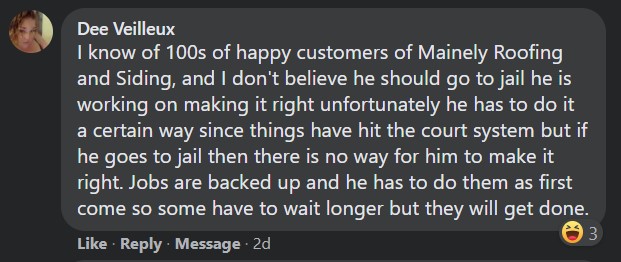 Glidden also showed up in our comments section. We didn't post an article…this is the article. We simply reached out to readers for information. Big Tony says letting people know about his UNHAPPY customers doesn't affect him a bit. We'll get to his UNHAPPY customers shortly.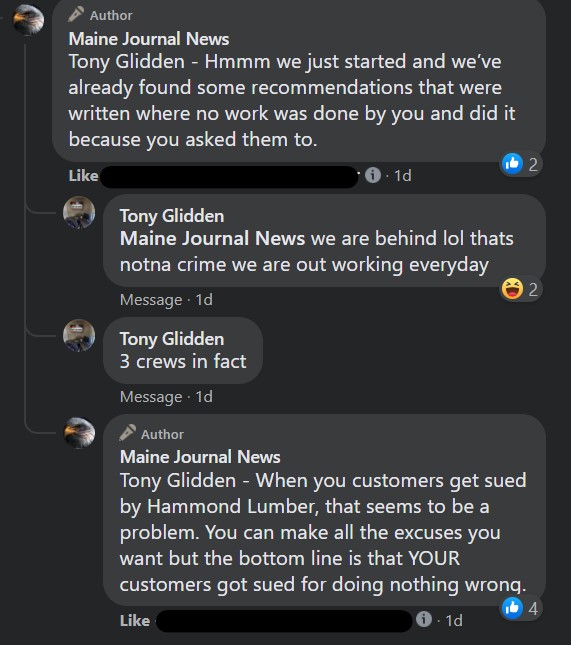 About those unhappy customers, Tony Glidden has said he has 100 happy customers (sometimes it's 200 happy customers), Glidden also says he has only TWO (2) unhappy customers. Shall we see if that's true?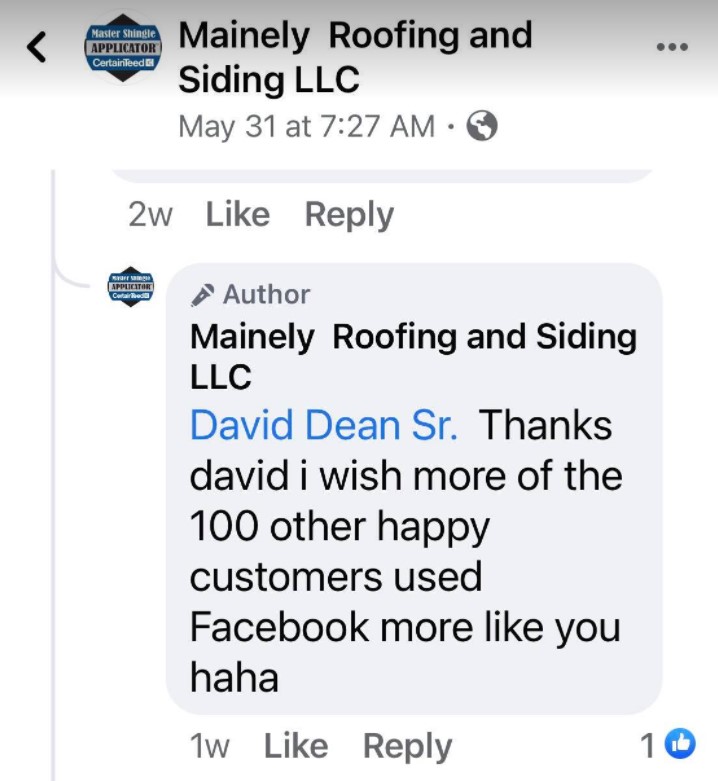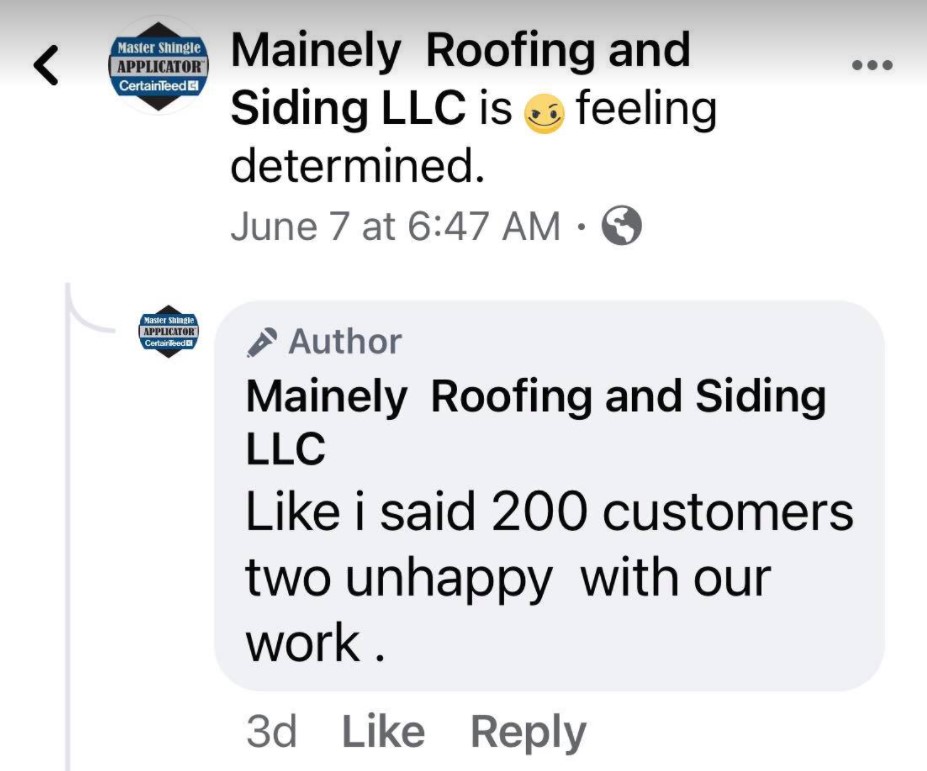 We've already mentioned the unhappy customer above who was sued by Hammond Lumber for unjust enrichment because Mainely Roofing and Siding owes money to Hammond Lumber. That's ONE (1). I'm sure the other co-defendants being sued for the same claim of unjust enrichment aren't terrible happy customers either.
Meet Kasondra Babb. She is unhappy customer TWO (2). Stephanie Harmon mentions her cousin also got served with a Hammond Lumber Summons and Complaint.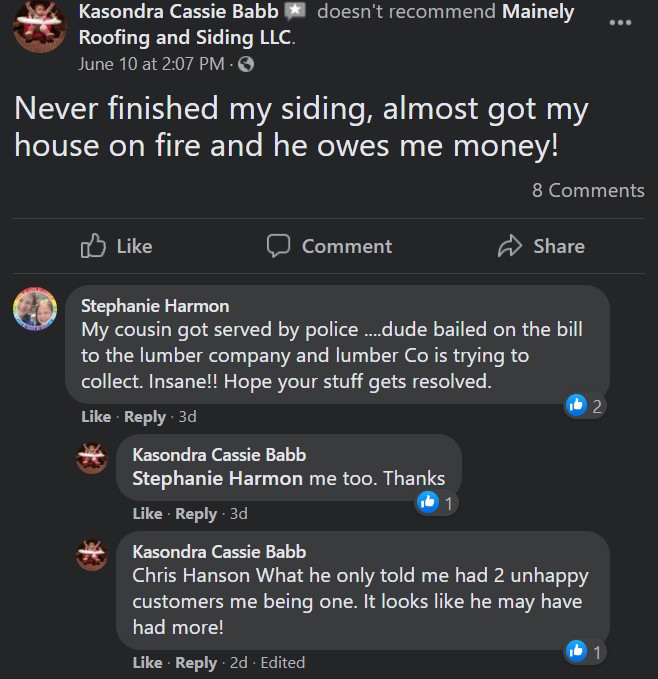 Meet Beth B who filed a complaint with the Better Business Bureau against Mainely Roofing and Siding. She is unhappy customer THREE (3).

Speaking of the Better Business Bureau. Here is its listing information. That's 3 more unhappy customers mentioned by the Better Business Bureau. We are now up to SIX (6) unhappy customers.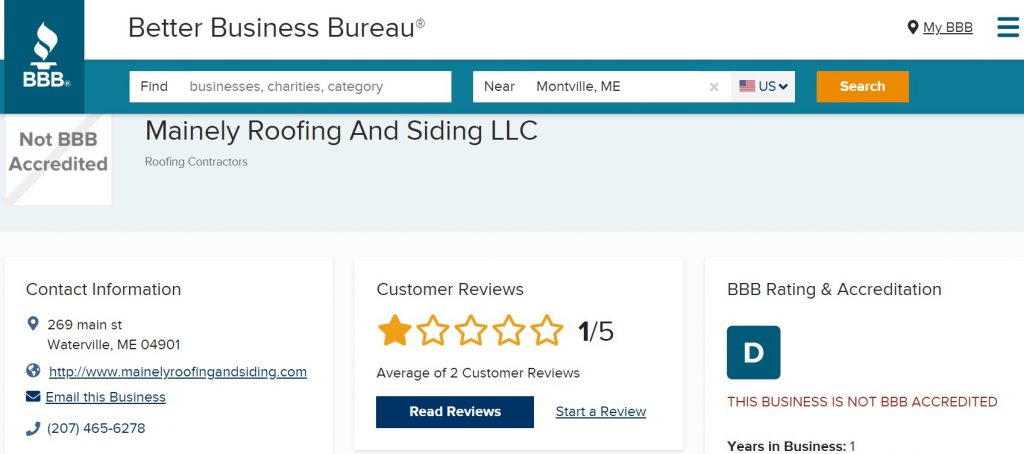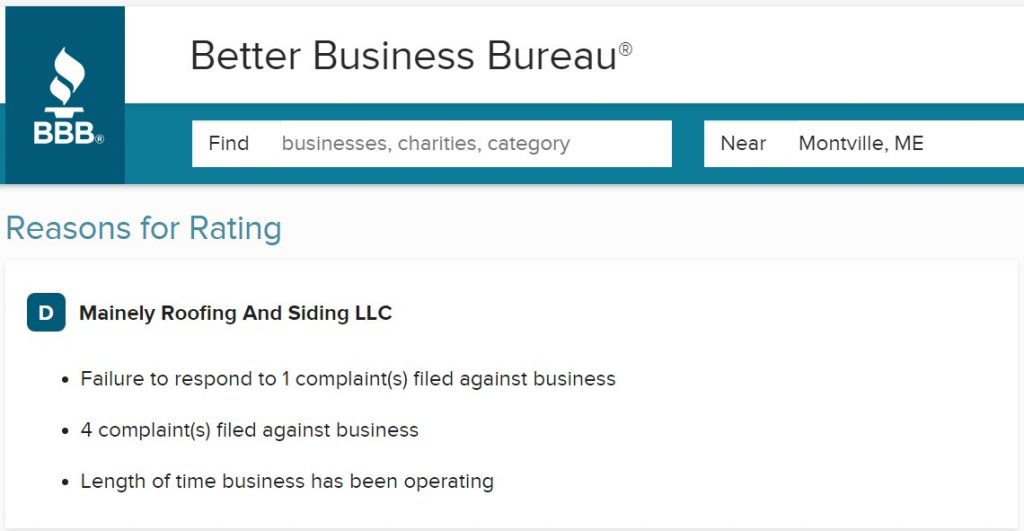 We received this email from another unhappy customer on behalf of his 78 year old mother. SEVEN (7) unhappy customers.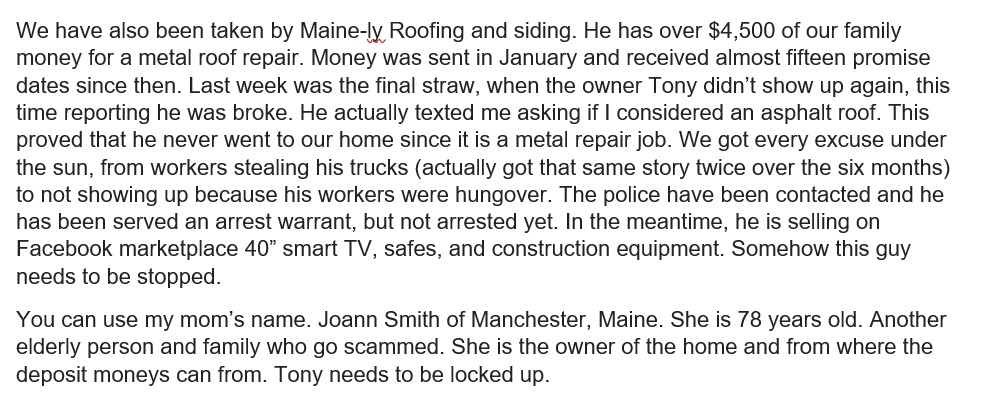 Mark and Gloria Cotter are taking Mainely Siding and Tony Glidden to small claims court over money they allege he owns them. It seems Aaron Zayac is doing the same thing. That's unhappy customers EIGHT (8) and NINE (9).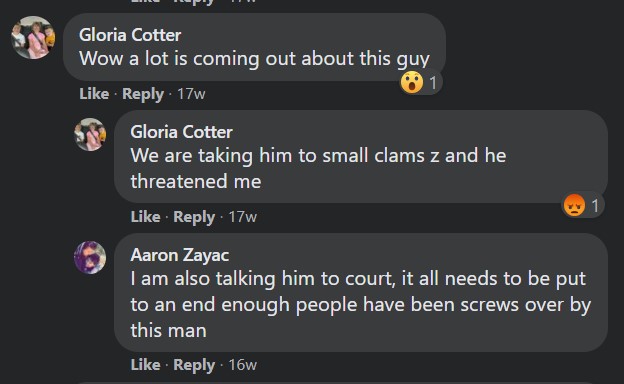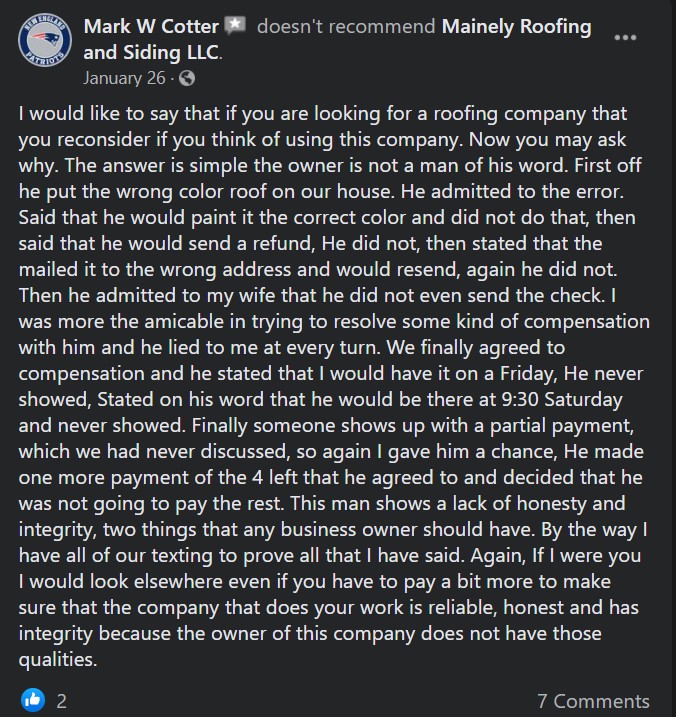 In addition to his Facebook review, Mark Cotter also posted a Google review to which Glidden responded. I don't know who Glidden's "mentor" is but if he's telling people to stop paying refunds to customers then I question the mentor's business advice.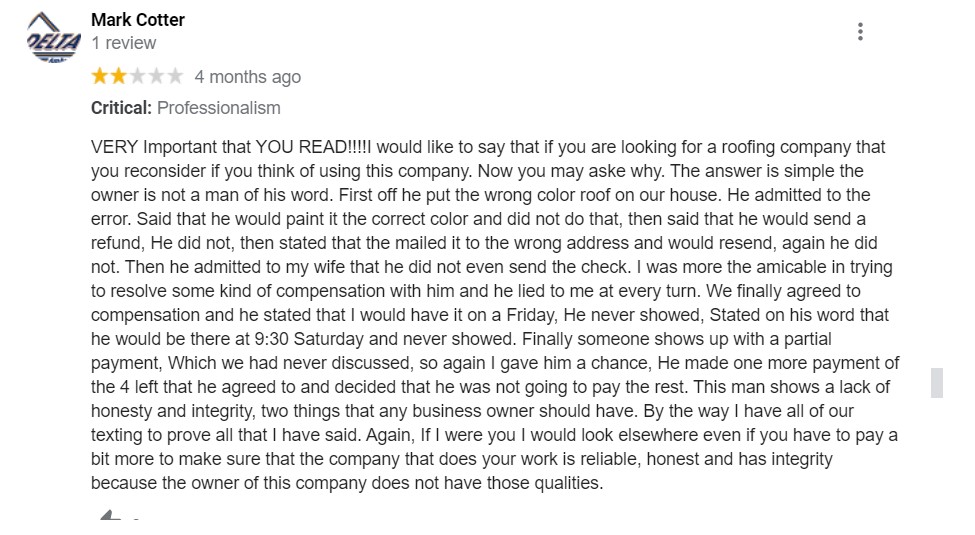 Lori Miller also had an unpleasant experience with Mainely Roofing and Siding / Tony Glidden. Big Tony responds to Miller's Google review. I wonder whether Tony's "mentor" gave him advice on how to respond to customers. We're up to five times the number of 2 unhappy customers Glidden claims. That's TEN (10).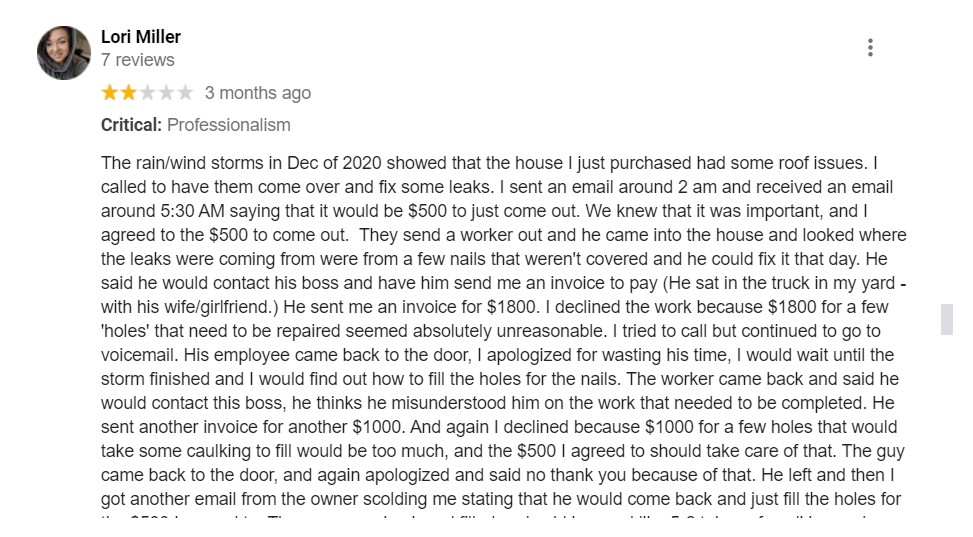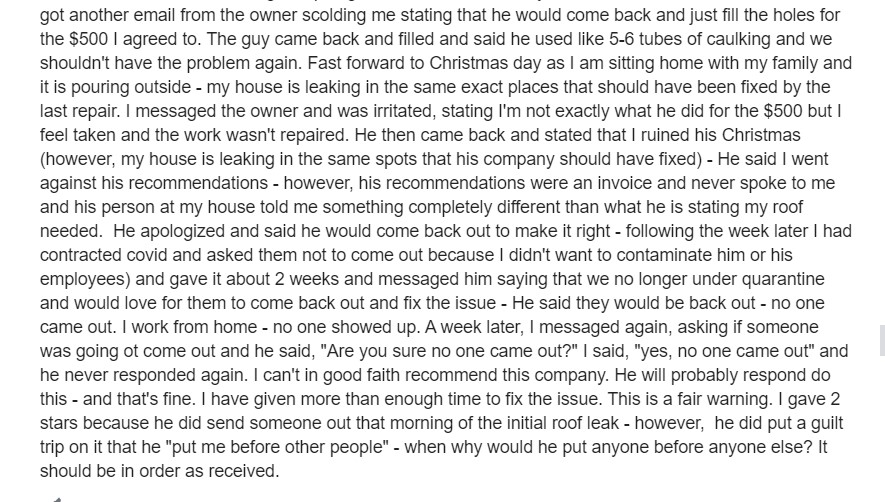 Don Emery sounds like a nice guy. Despite many, many issues with Mainely Roofing, he still gave them another chance because Glidden apologized. I wonder if he ever got the work completed in May of this year. I've seen several complaints about using the wrong sized plywood despite the correct size being listed in the contract. I'm still considering this an unhappy customer because of the issues listed in the initial review. This makes ELEVEN (11).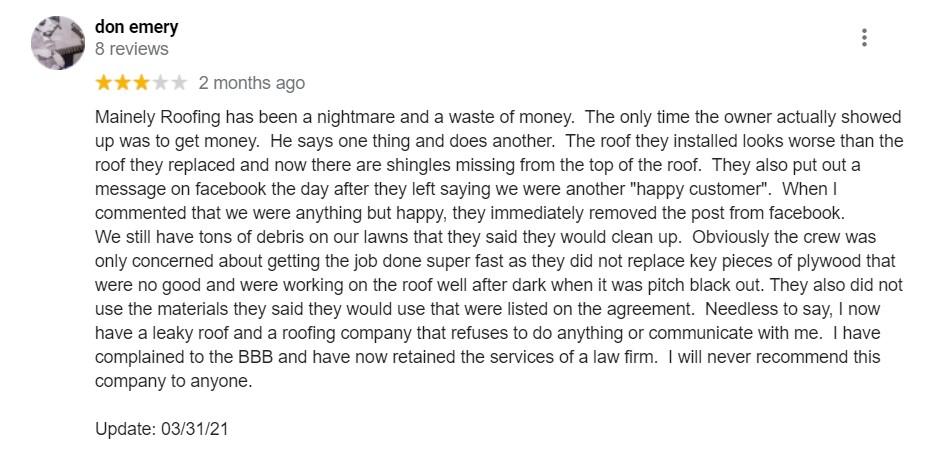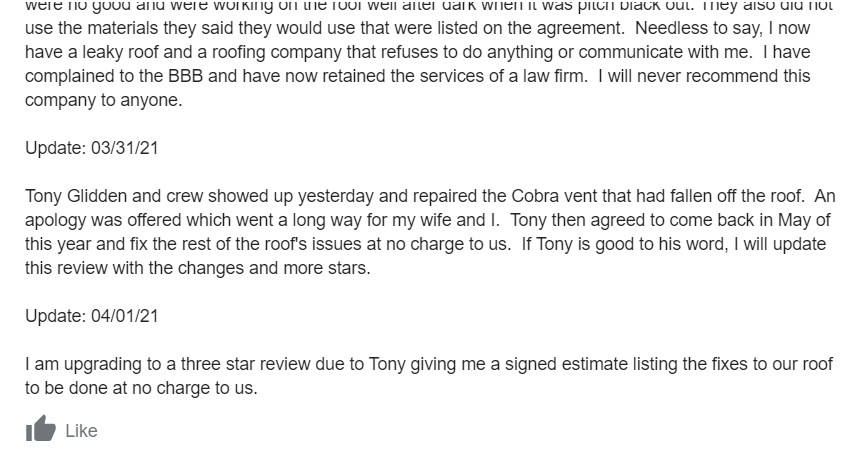 Corey Matheson left a Google Review 2 months ago and indicates he has contacted the Attorney General's office. This seems to have finally prompted yet another "professional" response from Glidden. Glidden again indicates he only has TWO issues being resolved. This makes TWELVE (12).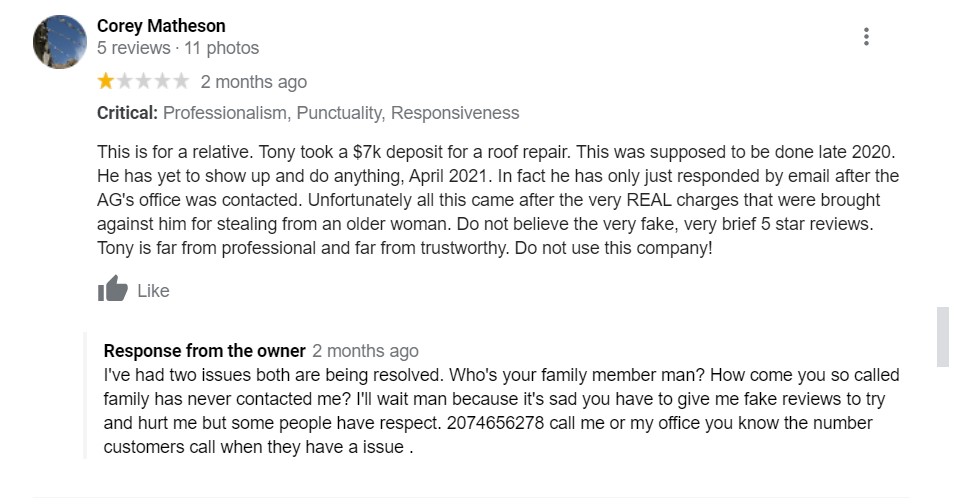 Lastly, our research came up with Brandy Marriner who is yet another in a long line of unhappy customers. Here is her review and Glidden's response thereto.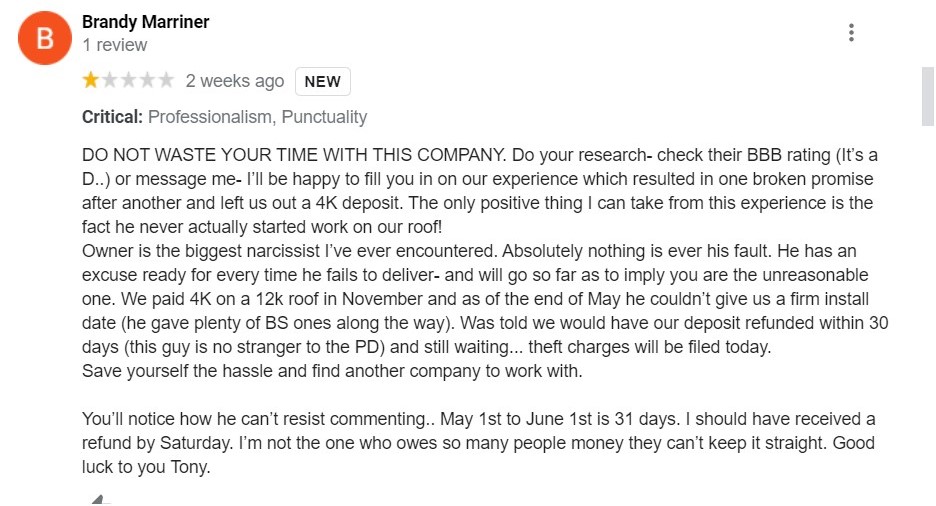 Marriner also provided us with screenshots of text messages between herself and Glidden. We reached out to Marriner this morning. Despite Glidden's claim that he would be sending her a refund (which should have been refunded by May 31 or June 1 according to the customer and Glidden's own text messages), Marriner has yet to receive a refund from Glidden or Mainely Roofing and Siding. This makes THIRTEEN (13) that we able to locate with a day or so of research. If this is anything like the Melissa Levesque article we did back in February, I imagine we will hear from more folks about their experiences with Mainely Roofing and Siding / Tony Glidden shortly.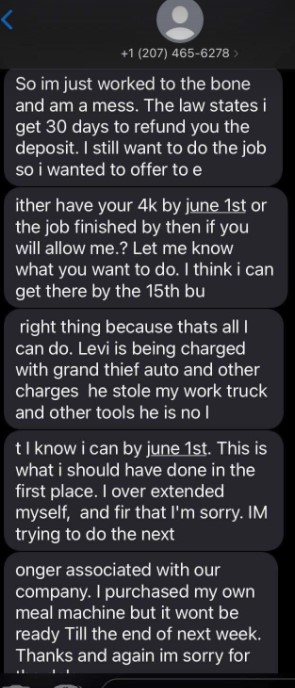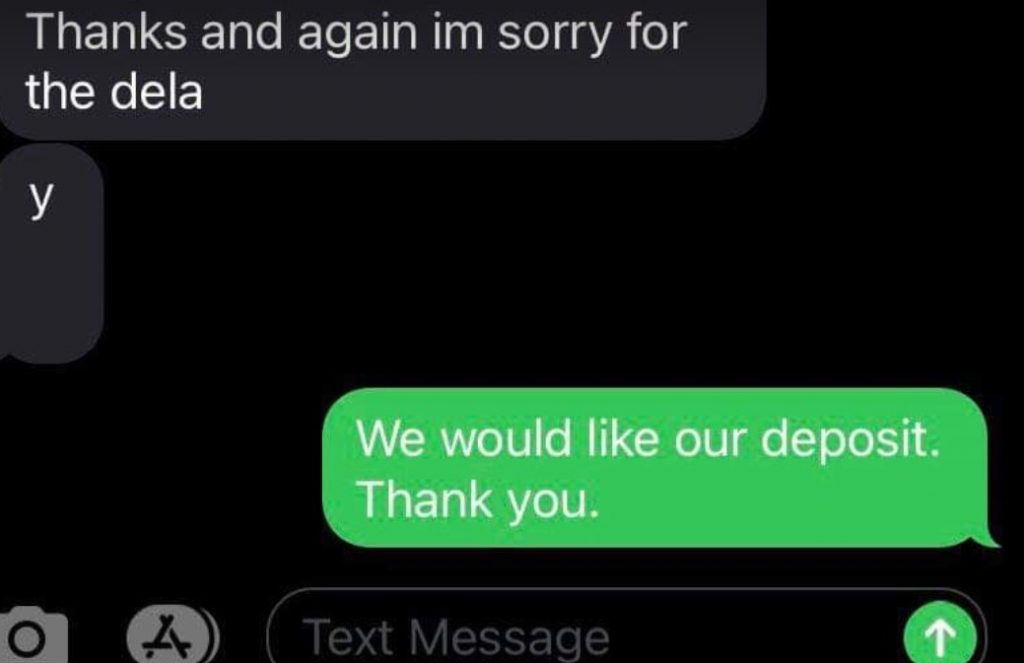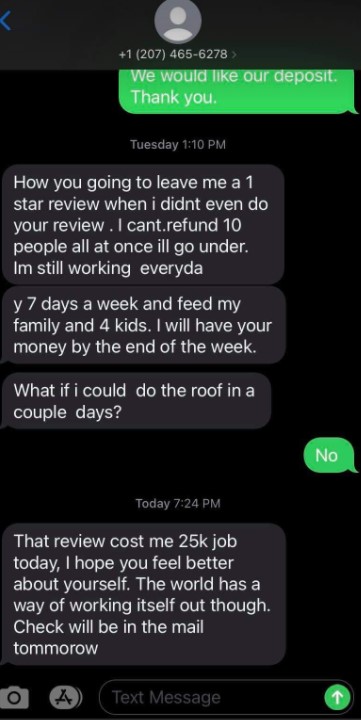 These text messages are interesting for several reasons: Remember when Glidden said he only had TWO unhappy customers? In his message he complains that he can't refund TEN (10) people at once. His truck seems to have been stolen multiple times based on other comments we've reviewed.. A guilt trip placed on the customer for his own shortcomings.
Mainely Roofing and Siding does have positive reviews as well though already having found some reviews that were written by friends "to help him out," I'm not giving a lot of credence to these reviews. Here's one where Glidden responds and says the other reviews are "lies" about him.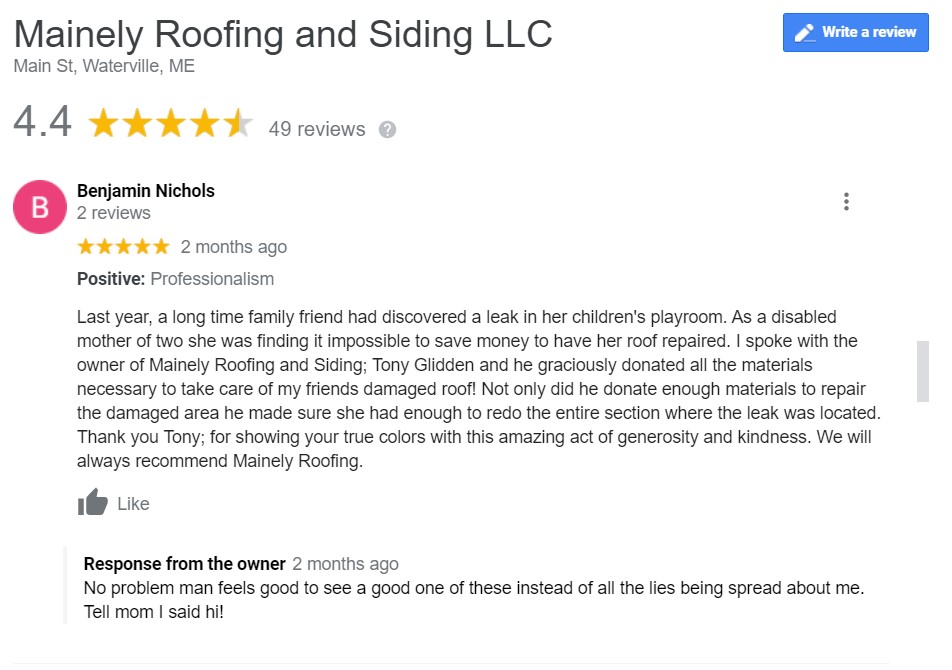 Lest I forgot the 83 year old woman who had charges filed against Glidden for Home Repair Fraud and Theft which resulted in his arrest in March 2021, it would bring the number of TWO unhappy customers to seven times that amount or FOURTEEN (14).
People "are lying" in reviews and in complaints is a Melissa Levesque-esque excuse. All of these people who do not know each other haven't gotten together to make nearly similar complaints and file charges with local police and sheriffs departments. People don't typically file charges or file lawsuits if they have been treated professionally and had outstanding business dealings with a company. Typically, one or two negative reviews are normal and wouldn't be cause for us to take a deeper look. In this case, there are at least 14 unhappy customers and not the 2 customers the business owner professes.
We're not saying that Mainely Roofing and Siding and Tony Glidden don't have some happy customers. They probably do. When hiring a contractor, it's important to have ALL information available to make a decision about who you want to work on your house. It's important that your contractor keeps promises and communicates effectively with you with regard to any delays. It's important that your contractor takes personal responsibility for the issues or problems surrounding your business dealings and most of all it's important you trust the person to whom you are giving thousands of dollars of YOUR hard earned money.
Copyright 2021 – Maine Journal News