By: Ronda Snyder – This article contains commentary which reflects the author's opinion.
There's no doubt that even hateful or bigoted speech is covered under the First Amendment and this includes Maine Representative Charlotte Warren's Facebook post on July 1, 2021 stating that "straight white men are too emotional to be in politics."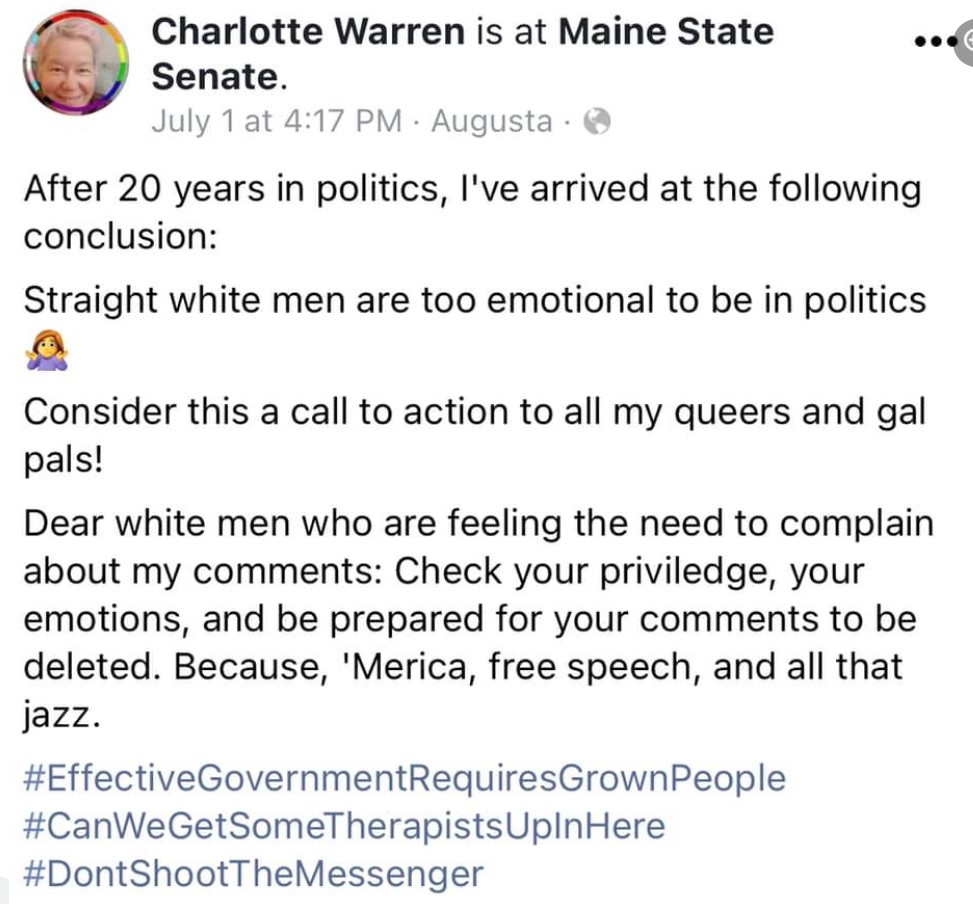 On Monday, July 19, 2021, several people protesting Charlotte Warren's comments were at the Statehouse to greet lawmakers. Protester, Jaime Dyer's, sign claimed Speaker Ryan Fecteau has double standards referring to a letter that Speaker Ryan, Charlotte Warren and other approximately 68 other legislators signed asking for the Commission of Public Safety to investigate Capitol Police Chief Russell Gauvin over Facebook posts made on his personal Facebook page. The January 2021 letter to the Commissioner stated, in part, that "Those who commit to public service are held to a higher standard for public comments." Protester Chris Clarke's message was clear and concise "Resign Charlotte Warren."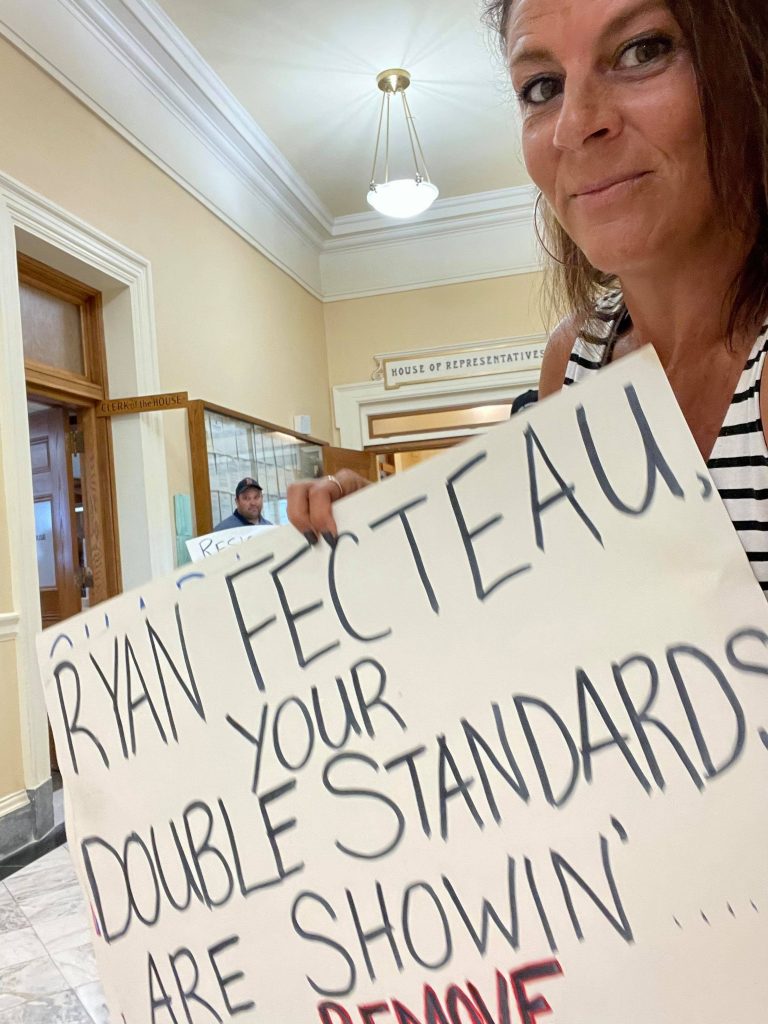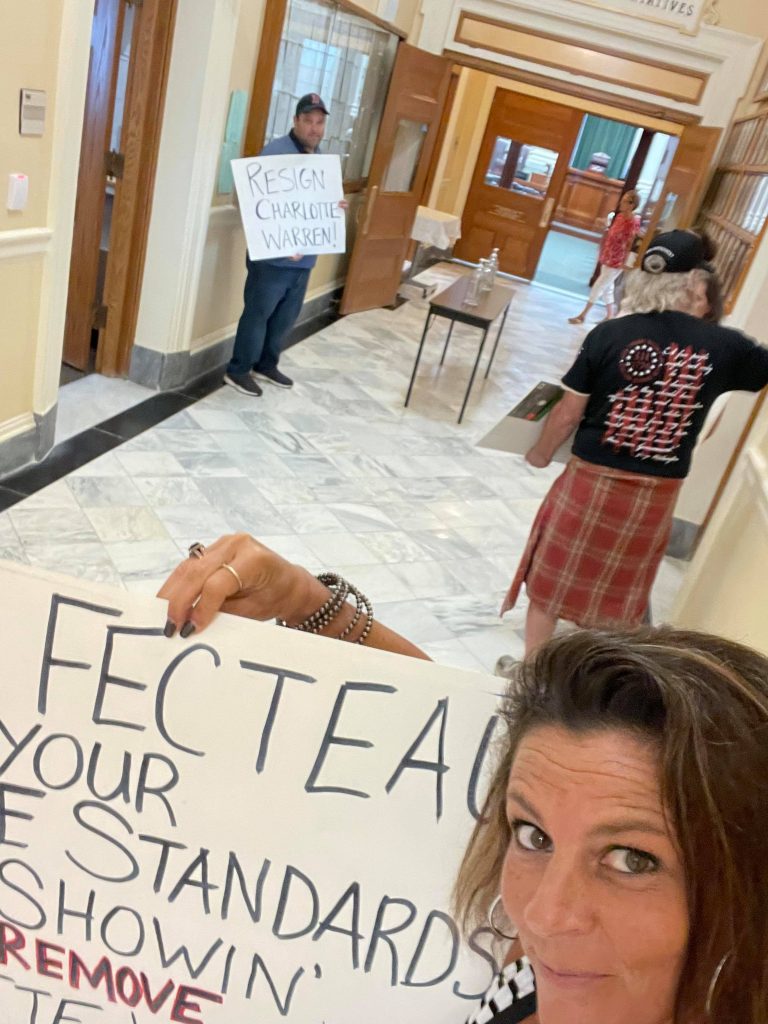 Another protestor who stood outside the legislative offices holding a sign is Sarah Crosby. Crosby encountered Representative Charlotte Warren while standing in the Statehouse. Crosby said in a Facebook post, "Not only does Charlotte promote division with her gender, race and orientation comments, but she actually had the gall to mock me and my protest toward her actions by saying 'we should take a photo.'" Crosby continues, "She [Warren] also said while the photo was being taken 'Look the only one in the legislature who's being protested against.'" Crosby additionally sent emails to Representative Warren expressing her displeasure over Warren's Facebook post. Crosby is a singer and songwriter who regularly played in Hallowell venues. One email response from Warren to Crosby is set forth below: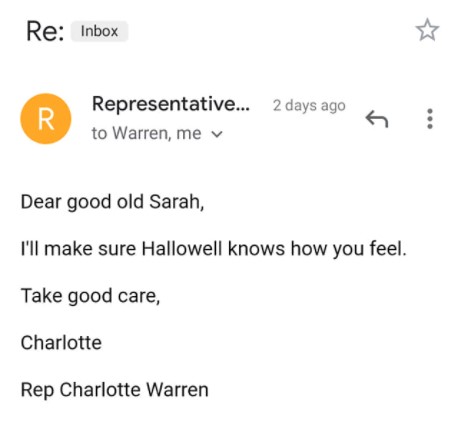 Much later that day at approximately 5:42 pm (July 19, 2021), Joel Stetkis introduced House Order 11 to Require Disciplinary Action against Representative Warren. NOTE: IF ONE OR MORE OF THE VIDEOS DIDN'T EMBED PROPERLY SO IT PLAYS, YOU CAN WATCH THE ENTIRE VIDEO BY CLICKING THIS LINK: YouTube Full Video
Michelle Dunphy (D-Oxford) then immediately rose and moved to indefinitely postpone the House Order. You may recall that Michelle Dunphy was one of the Representatives who was photographed without a mask in the Statehouse after Speaker Ryan Fecteau punished the six Republican and one Independent lawmakers by removing their committee assignments for not wearing masks but Dunphy did not lose her committee assignment.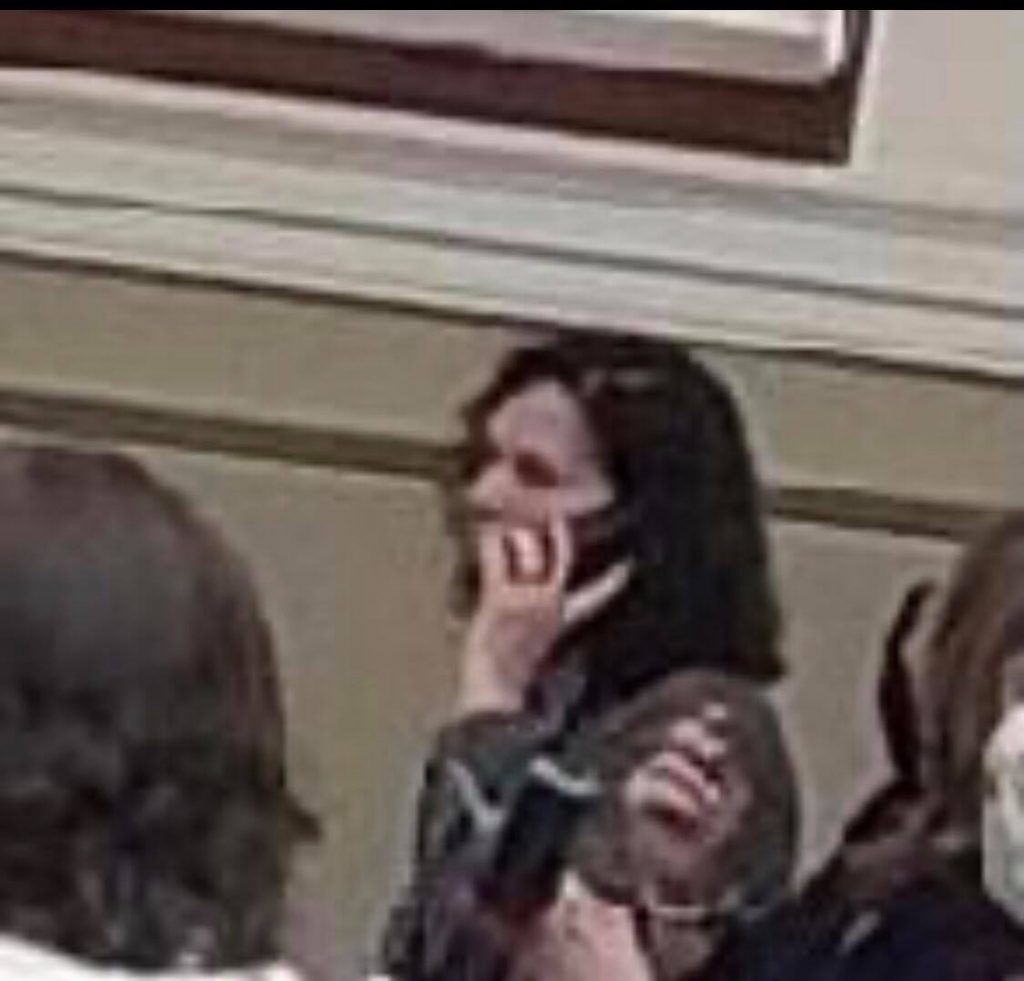 House Minority Leader, Kathleen Dillingham (R-Oxford), rose to support Representative Dunphy's Motion to Indefinitely Postpone Representative Stetkis' House Order.
House Minority Leader Kathleen Dillingham
Representative Joseph Underwood (R-Presque Isle) was the only Republican to rise and speak in Support of the House Order and against Dunphy's Motion to Indefinitely Postpone.
One would think that a House Order being introduced to take Disciplinary Action against a member of the Maine House of Representatives would be a serious and solemn occasion. Representative Rich Cebra (R-Naples) rose to support Representative Dunphy's Motion to Indefinitely postpone. What can arguably be described as "comedy hour" ensued.
Comedian and Republican Representative Rich Cebra
House Speaker Ryan Fecteau's solemn response to Representative Cebra's floor speech is set forth below.
House Speaker Ryan Fecteau
The Motion to Indefinitely Postpone House Order 11 passed 105-21 with 24 legislators absent. The Rollcall votes for and against Indefinite Postponement can be found by following this link. See how your Representative voted on the Indefinite Postponement of House Order 11 by clicking HERE.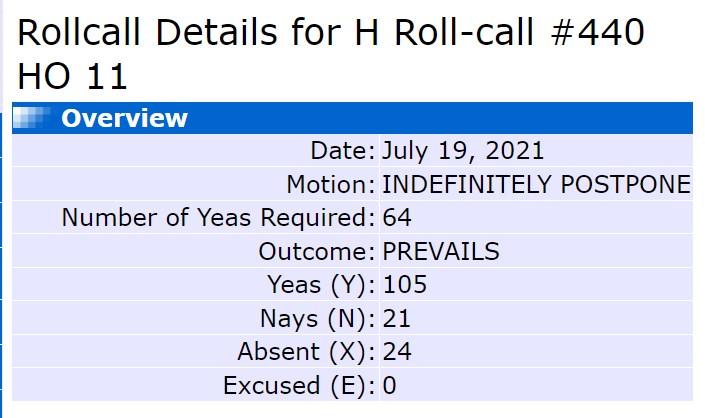 Warren never apologized for her disparaging words against fellow lawmakers, but she did double down on her sentiments by posting this on her newly re-activated personal Facebook page on or about July 24, 2021. Warren's initial outburst on July 1 was aimed at fellow legislators over a bill she co-sponsored, LD 967. The summary of the bill states " This bill changes the unlawful possession of scheduled drugs from a crime to a civil violation for which a fine of not more $100 may be adjudged, or if the defendant is unable to pay the fine allows the court to refer the person to a provider for an evidence based assessment for proposed treatment for substance abuse disorder." You can read the bill in its entirety here by following this link: Click here for full text of LD 967. The bill passed the House of Representatives with a 77-62 vote but failed to pass in the Senate.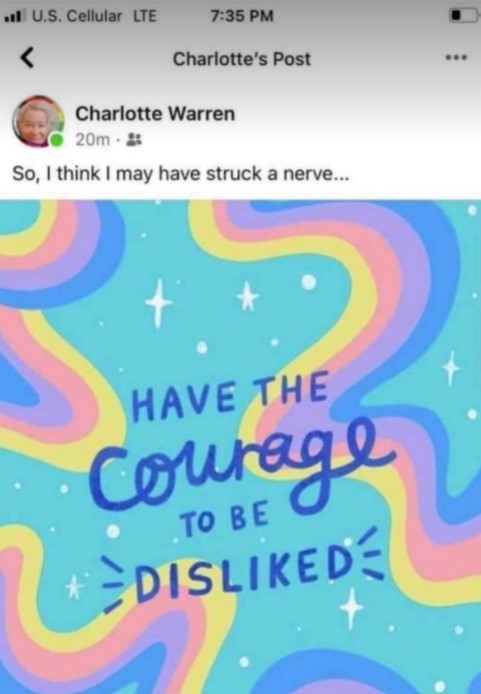 Over the past week, sources have reached out to Maine Journal News to inform us that Charlotte Warren and possibly two other legislators confronted Warren's Co-Chair on the Criminal Justice Committee, Senator Susan Deschambault (D-York). MJN reached out to Senator Deschambault on Friday, July 30, 2021 to ask whether the allegations were accurate. Senator Deschambault told us that she only had a discussion with Representative Warren and not the other legislators we mentioned. Our sources allege that Warren made comments that pressured Deschambault to take further action on the bill by telling her she would "take her [Deschambault] down." We asked Senator Deschambault if there was any truth to these allegations. Deschambault's brief response to MJN was "that conversation was between Charlotte and me."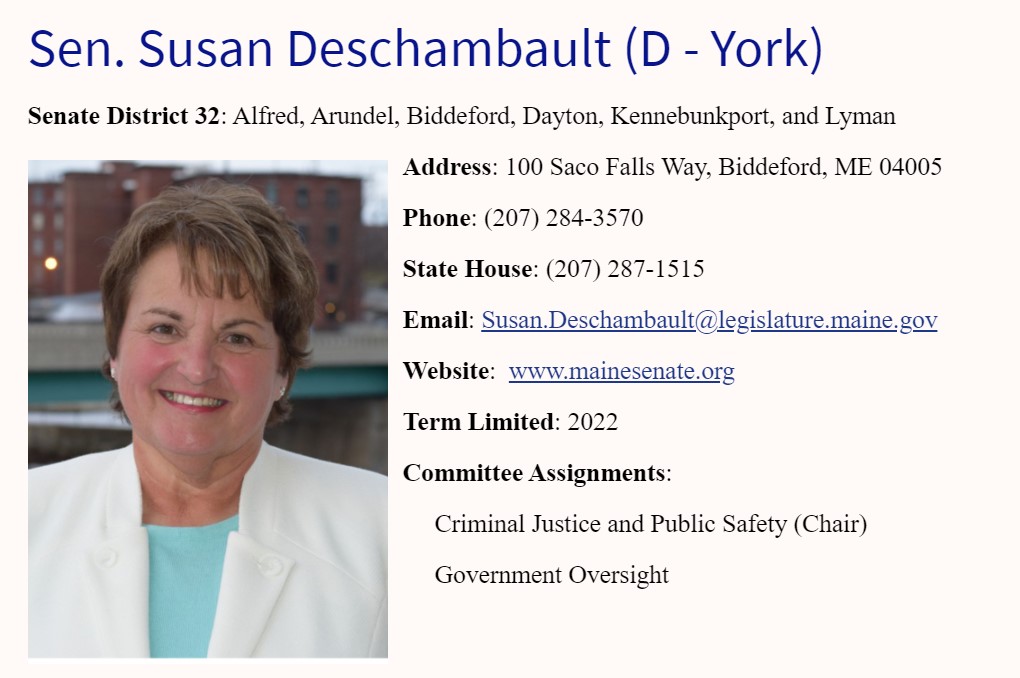 Several readers have told MJN that an apology and a little humility would have gone a long way with them when they expressed their displeasure with Warren's Facebook post. Instead, they tell MJN they got a massive amount of hubris, double standards and condescension from Warren which doesn't sit well with some citizens.