By: Ronda Snyder
This article contains commentary that reflects the author's opinion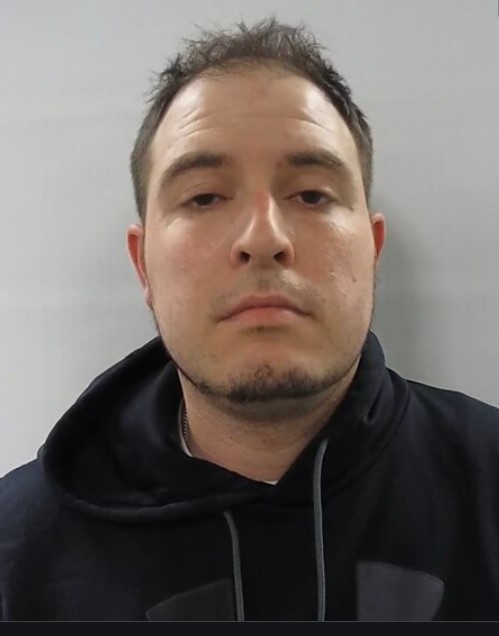 This is part 3 in our series about Tony Glidden and Mainely Roofing and Siding. You can read Part 1 HERE and Part 2 HERE. More people are claiming they have been victims of Tony Glidden's poor business practices at Mainely Roofing and Siding, LLC have reached out to since the first and second articles were published. In Part 3, we will take a closer look at some of Glidden's business practices and how he conducts himself.
One person who reached out to us after the second article is Beth M. Beth alleges that the Mainely crew started the job at her business by removing materials from the roof but left the roof without tarps. Rains came and flooded her business.
Water from the ceiling falling into the business grow area
Bethany M. claims that her business hired Glidden and Mainely Roofing and Siding in October 2020. This is her story and allegations as relayed to MJN. "Back in October 2020, we hired Tony to replace the rubber roof on the building I had just purchased and renovated for my business in Waterville. We needed the roof done before winter and he was the only roofer around who assured us he would complete the work before snowfall (within 2 weeks is what the contract says). So, I gave him a $7500 deposit and thus commenced the nightmare. For months and months he kept making excuses and blowing us off. It was one thing after another with more broken promises than I could possibly count. Finally, when I saw that he got arrested in Mar 2021, I told him that if the work wasn't completed within 2 weeks, we were going to call the cops. Three weeks later, Apr 20, 2021, his crew came over to start the work. They ripped off our roof and then left and didn't come back. They didn't tarp the open roof or do anything to protect it, so the following day when we got a huge rainstorm, it down poured into the building that I had just spent tens of thousands renovating, literally all of my savings. We called him immediately as my whole crew worked vigorously and unsuccessfully to stop Mother Nature from destroying everything we had worked for. He made an excuse that he was deathly ill and couldn't come, but said he would send someone over. One of his guys showed up a half hour later, looked at what was happening and left, never to return. They went completely MIA for three days after that. We had to hire another roofer to come tarp the roof, and we lined up someone else to complete the project before rain fell again. Then, a few days later, Tony popped up via text message. He was insisting that I allow him to come finish the job, and threatened to take legal action against me if I didn't. I told him how much damage he had caused and said I wouldn't let him touch our property without proof of insurance first. This is when he sent us what seemed to be fraudulent insurance. It took us a half an hour to call around and figure out these documents were completely fraudulent. I reported this to the police and I called him out on it, letting him know that he wasn't to step foot on my property again. For the next month, he harassed me non stop, threatening me and my business, as if he was going to retaliate against me in some way. I would be happy to send some screen shots. It was very scary and all-consuming. Just last night, I got another text from him in the middle of the night (probably because he saw my comment on your post). All in all, he caused tens of thousands in physical damages. We had to replace two whole walls, 2/3rds of the ceiling, tons of expensive electrical that I'd just installed, and almost all of our plants, which are our livelihood. The room has been closed off since as renovations have taken 3 months to complete. They just got finished late last week. More than any of that though, we lost easily $100k plus in lost business having to be closed down during our peak season. It has been an absolute nightmare, and he has made it a living hell with his constant threats and harassment. It's disgusting that a human being could be in so much denial about the damage he is causing. It defies all reason."
This is the insurance binder that Bethany M. claims was given to her by Tony Glidden. MJN has not been able to determine whether this is an actual policy or something bought off the web or a friend helping a friend. That determination will have to be made by the Kennebec County Sheriff's Office and Attorney General's Office.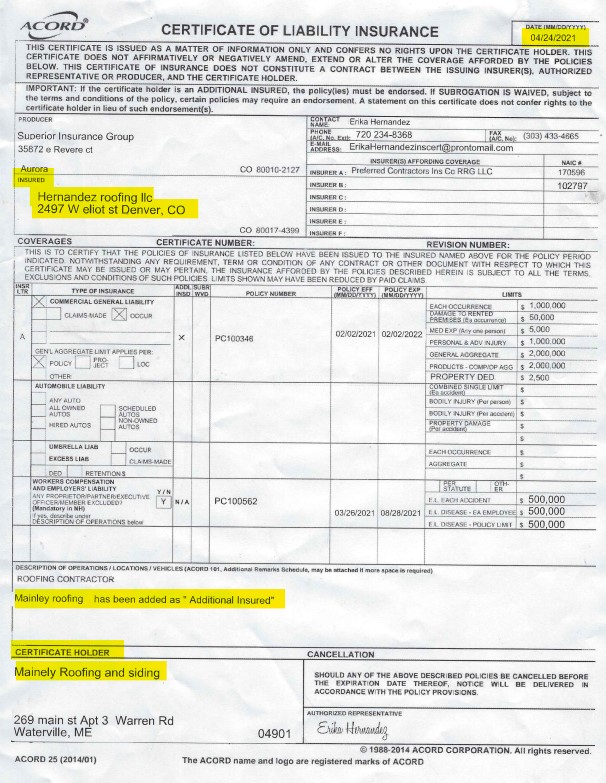 Bethany M. provided us with screenshots of some of her messages from Glidden. The first message you see is from April 29, 2021. The second is from July 19, 2021 at 11:07 pm. Glidden claims the insurance binder set forth above isn't fraudulent. He also very clearly tells Beth M. "smart girl like you should know when to talk and when to shut your mouth." That's sounds like a nice and professional way to speak to a customer. By the way, I received a "nice" message at 6:41 am on July 21, 2021 on my personal messenger. More on that later.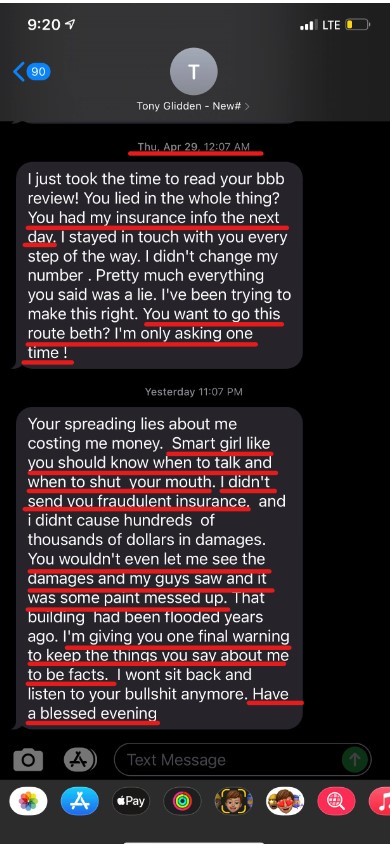 Bethany M. wasn't the only customer who raised the ire of Glidden because of a negative review. Emery contends "It is only because of my bad reviews that he has agreed to fix the issues. I just got done reading our texts back and forth. LOL, I think you will want all of them. (Yes we do and thank you) At one point he says F U in the message and calls me a bad Christian and it's people like me who keep him from the Church. And just like the narcissist he is, he tries to rewrite history and tries to say I said things I never did…" As we wrote in our last article, Don Emery is a very nice guy.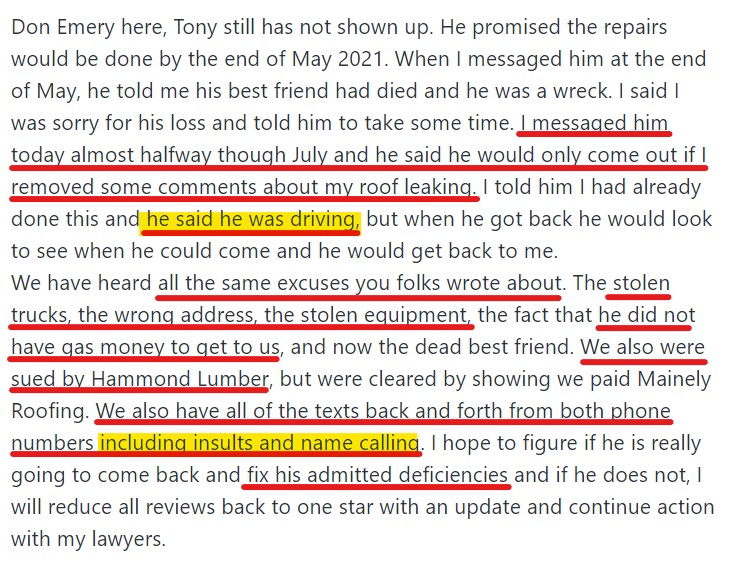 Let's take a look at the language on one of Mainely Roofing and Sidings estimates given to a customer and sent to MJN. Page 1 of the estimate shows Glidden's phone number as the business Tax ID.

In the estimate we reviewed at MJN, we were unable to locate the specific provision required by Maine law that prohibits payment up front of more than 1/3 of the contract price. Additionally, in the contract we reviewed, the total price was $27,950 which would mean a deposit of no more than $9,223.50 yet Glidden collected $11,000 from this customer.

Page 4 seems to contain very factually incorrect information. It is a statistical improbability that a company that has been in business has been in business just over a year has serviced over 500 customers. That would mean completing 1.369 different jobs every single day of the year. The Google review information isn't accurate either considering Glidden reached out to friends and asked them to say he worked on their mom's roof and it came out great.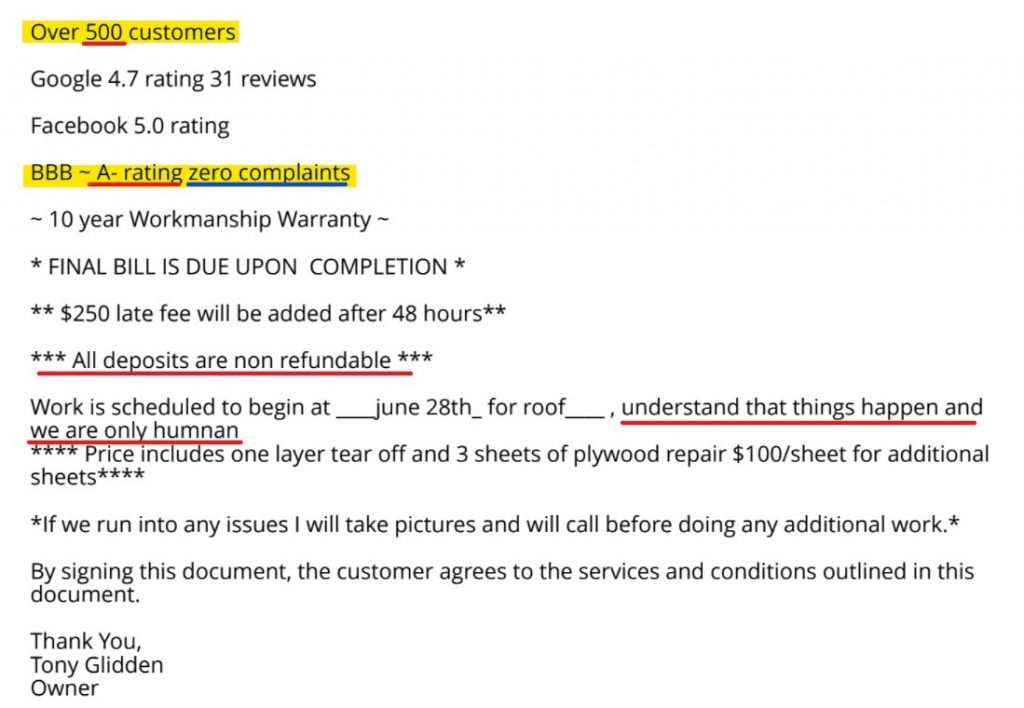 The BBB rating was never A- and the BBB website contains complaints which you can review and are dated MARCH 2021 and to which Glidden responded so he was aware there were complaints made to the BBB. As such, the zero BBB complaints is factually incorrect especially as of May 15, 2021.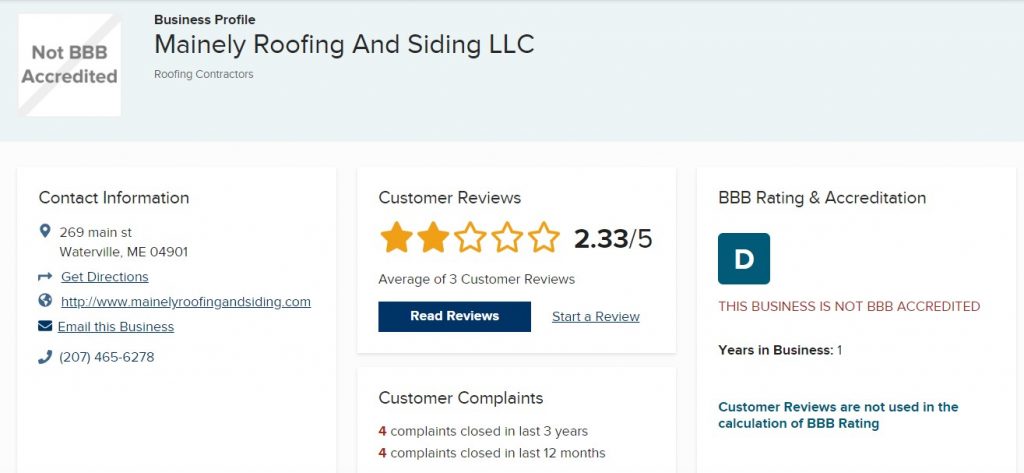 The work for this same customer in the above estimate, Nicole G., was supposed to start on June 28, 2021 per the terms of the agreement. Excuses were still being made by Glidden on July 12, 2021. In this message to Nicole G., (excuse the quality, it's the way it was sent to me) Glidden tells Nicole G. that he "got in a wreck this weekend and was in the hospital" which is fascinating because that same weekend on July 10, 2021 at 12:44 pm, Glidden was arrested on a warrant and charges of operating after revocation and violating conditions of release. Perhaps a "wreck" and "being hospitalized" is some sort of code for arrested? I don't even have a speeding ticket so I'm not up on the lingo and code words.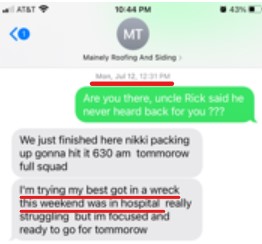 Customers aren't the only people who are upset with Glidden. One man, Adam Dudley, did some work for Glidden. Dudley tells us he had to chase Glidden around for 6 hours and finally took the materials to be dumped. This is Dudley's story and his claims: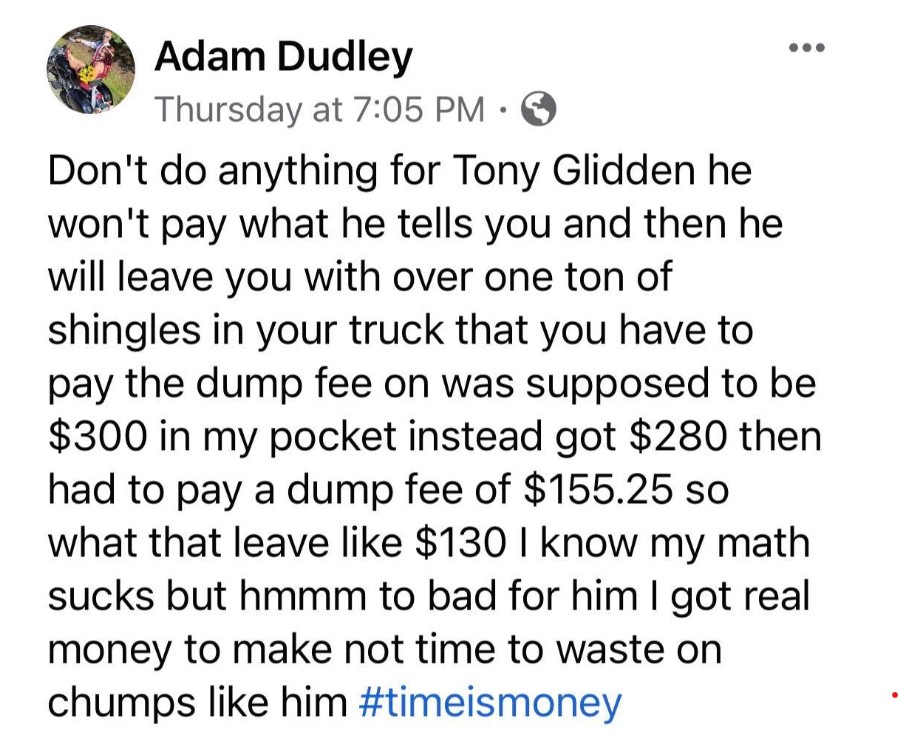 Glidden, who often makes posts on his business page then deletes them when he comes to his senses, posted this rebuttal. It doesn't sound like blackmail to me, in my opinion it sounds like someone wanting to be paid what he is owed but here you have both sides of the story and you readers can decide which version you believe is the accurate version of the events that transpired.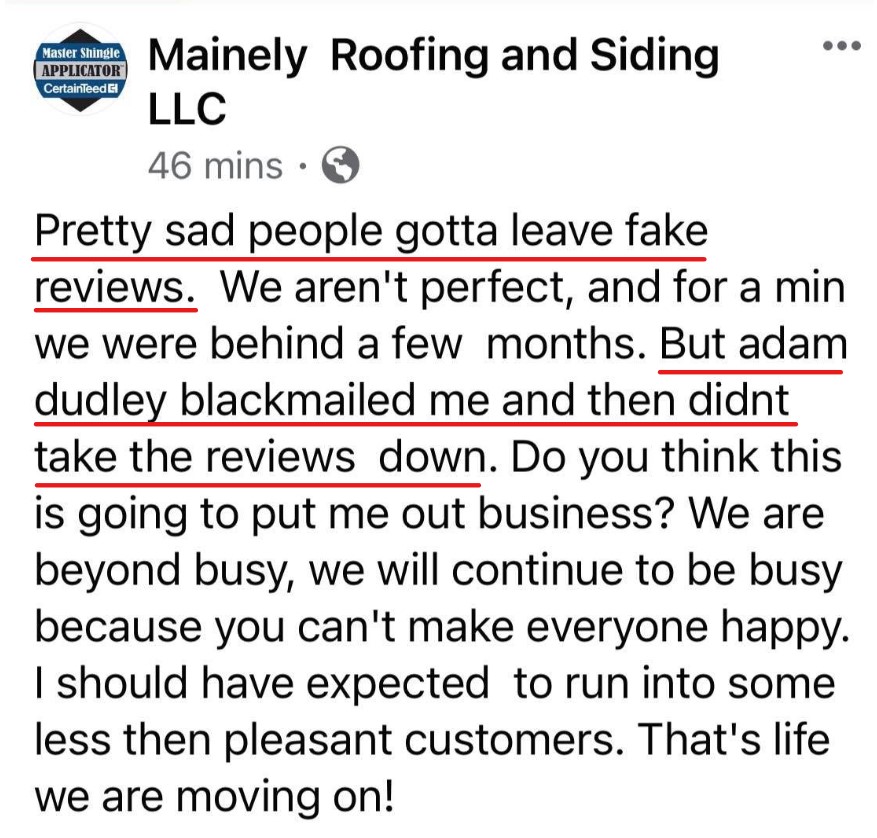 Glidden likes to blame a lot of people for his short comings such as myself and other writers at Maine Journal News. Prepare your brains for some whiplash as you read the message thread that Glidden sent to my personal Facebook page. The conversation starts out on a low note and proceeds to a mind numbing swing of opposite thoughts and emotions. I will readily admit that I'm a bitch but I'm a good bitch like Glenda was a good witch. There's nothing miserable about me.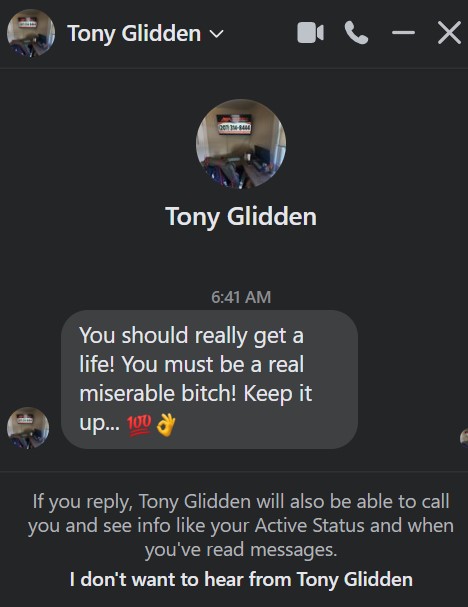 Once Glidden found out I called his message semi-threatening, I got another message letting me know he's a "teddybear" and people are getting the wrong idea about him. I responded (in blue).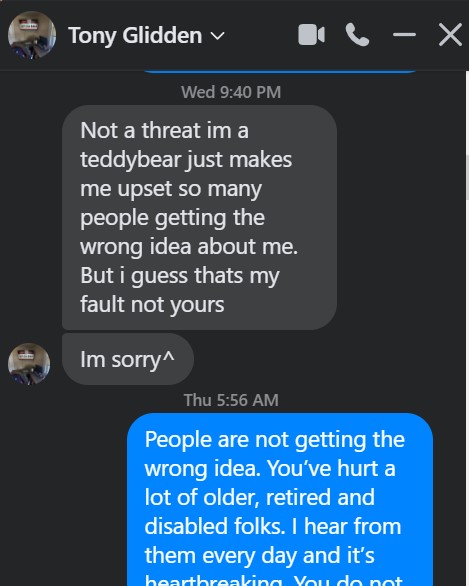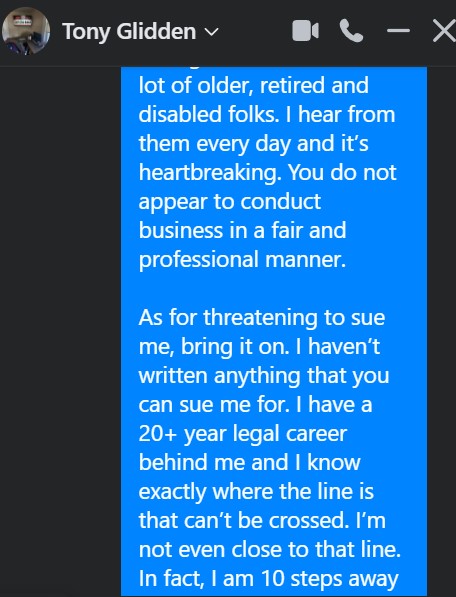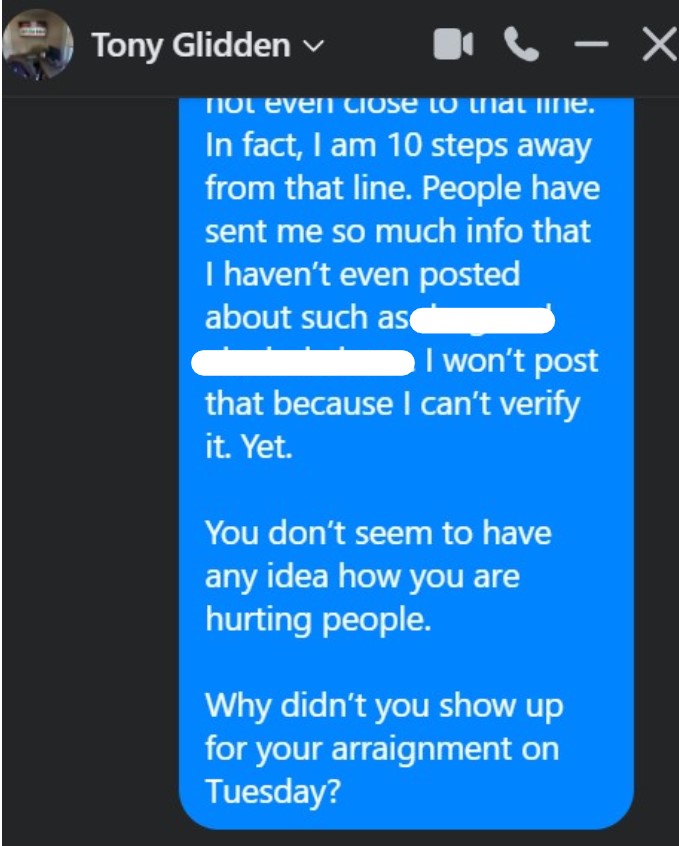 I've done my homework. I'm excellent at homework. I like homework. In this first message Glidden tells me I'm trying to make him look ridiculous. He also gets wrong my former career wrong. Details are important. He tells me that his revenue dropped 60% (remember that number because it will change soon) since I started writing about him "daily." I don't talk about nor post about Glidden "daily."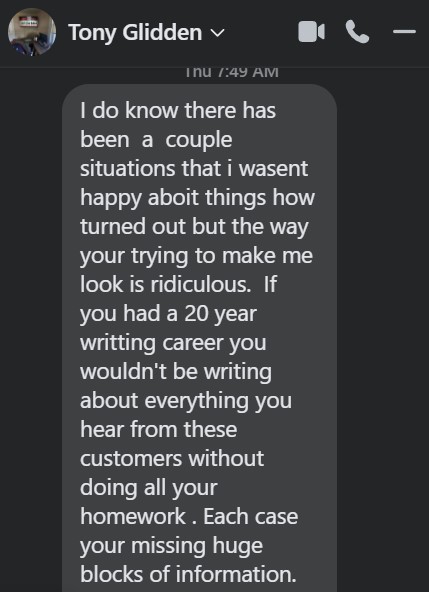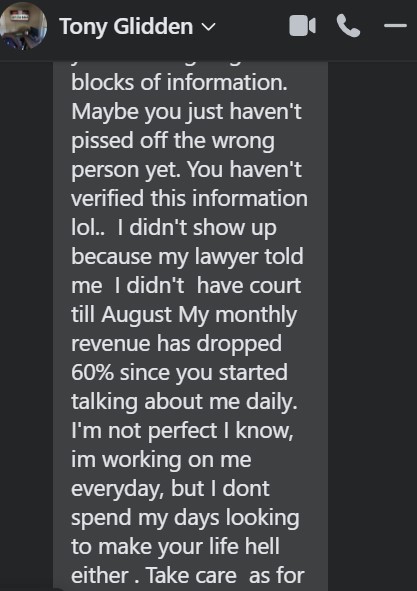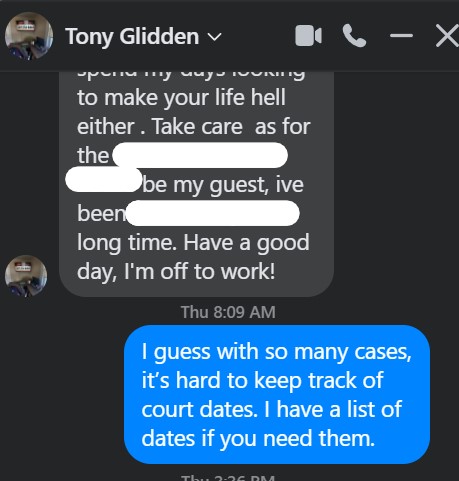 I find it extremely unlikely that a court will just tell a defendant to come in on Monday and simply get a new court date after the judge issued a bench warrant and a $5,000 cash, no third parties for Failure to Appear on July 20, 2021.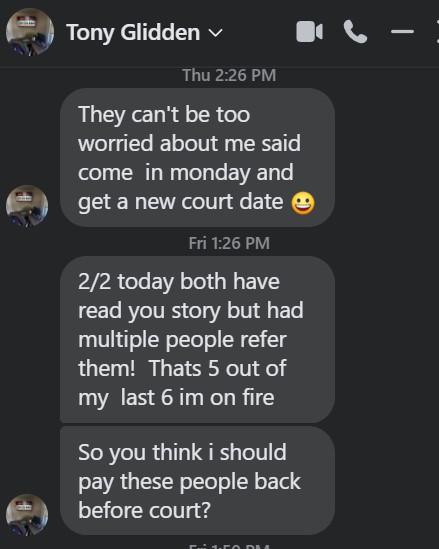 Is this harsh? It's that bitch thing, isn't it?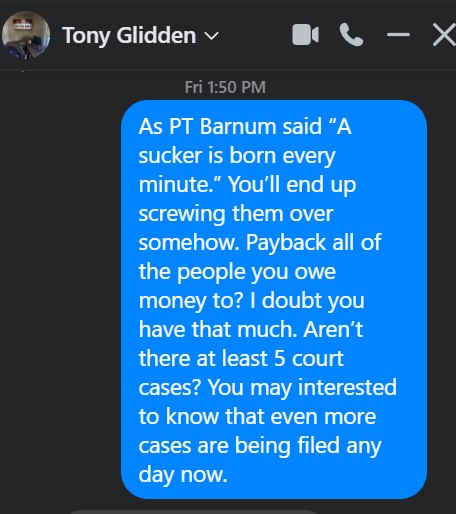 Now Glidden claims that customers from months and months ago that I hadn't even heard of before they started leaving negative reviews are in their position because of reports like ours at Maine Journal News? How does that work exactly? I found customers who were ALREADY having issues with Glidden and Mainely Roofing which prompted me to research him and his business. Details matter. Remember when I told you to remember the 60% number? Now it's 70-80% loss of "revenue" since I started writing about him in "March." Since I didn't write about him until June 20, 2021, that will be some interesting accounting gymnastics. Remember details matter.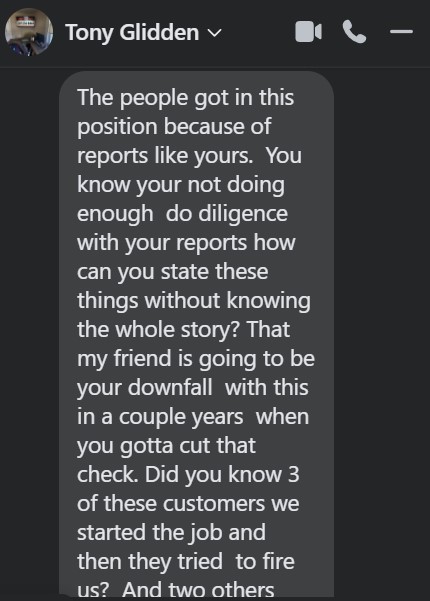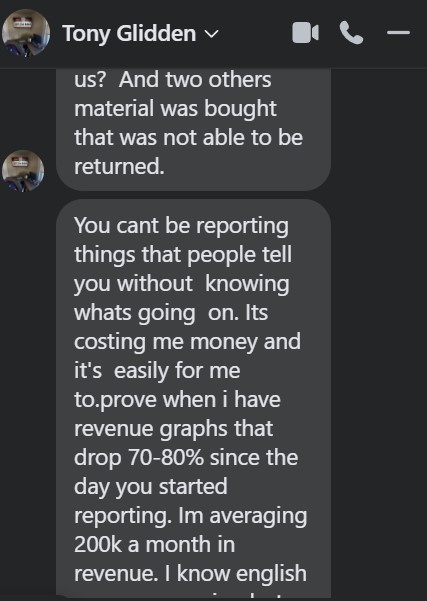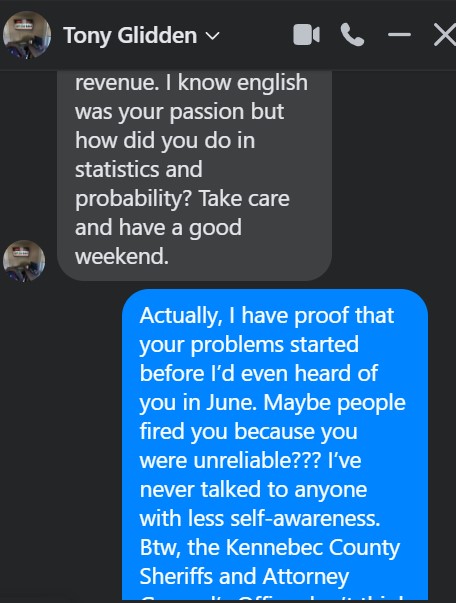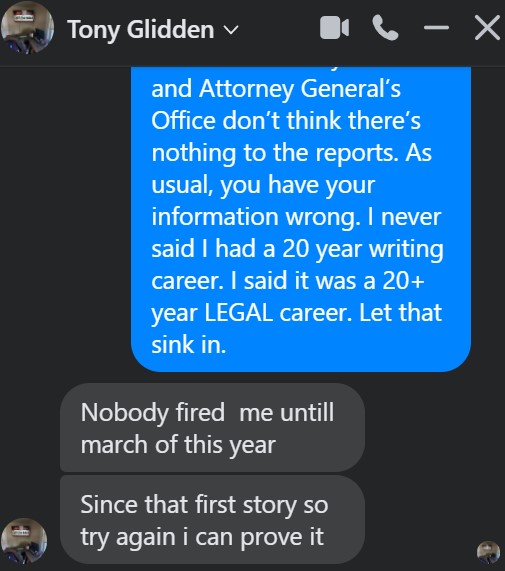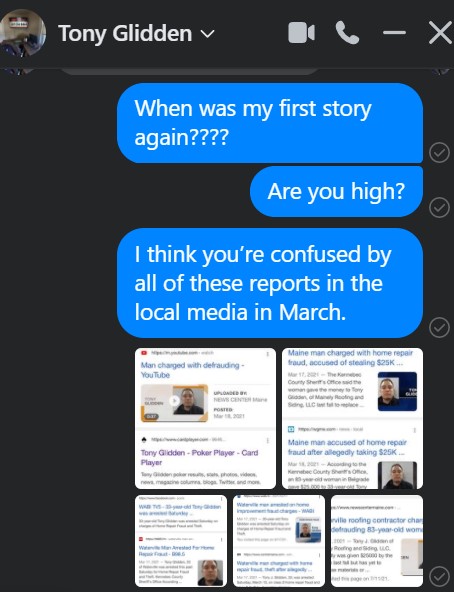 While Glidden blames everybody and their uncle for his business failures, it couldn't possibly be because of posts like this on his Mainely Roofing and Siding Facebook page. It's not exactly ringing business endorsement when a post contains language that starts "I have customers who are calling the sheriffs department…" or "For the customers who are having me arrested…" or "Two years from now all my charges…" or "would have got this done in a day if we wouldn't have ran out of material."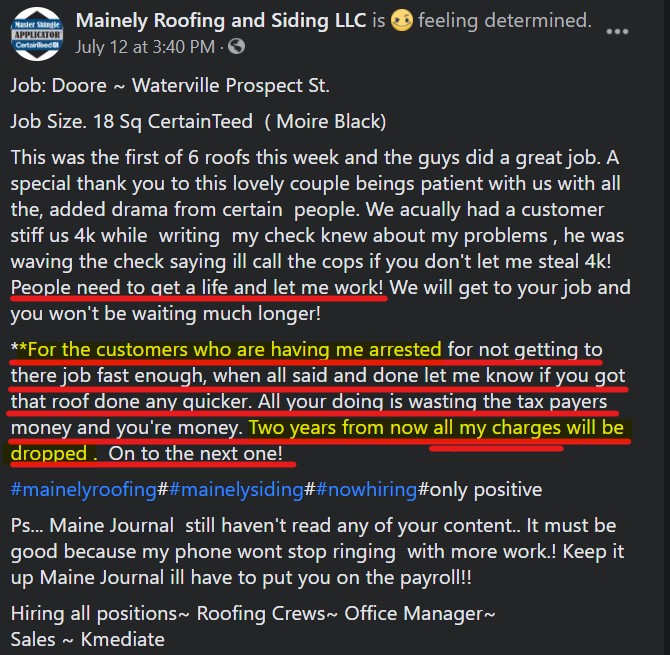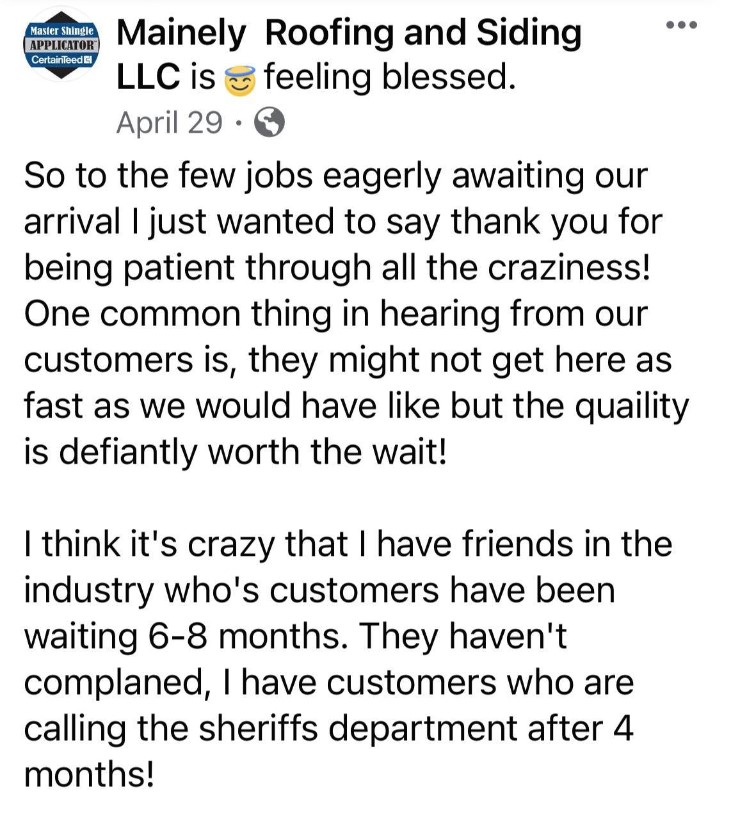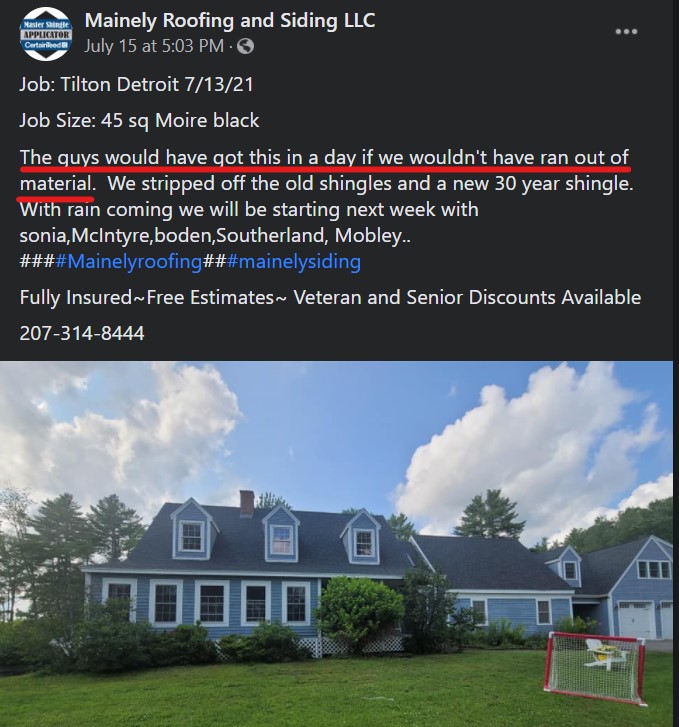 It couldn't be the unprofessional way Glidden responds to customers' reviews either that can be seen by the public doing a simply Google search. Wait, it's 100 roofs now? What happened to 500 customers?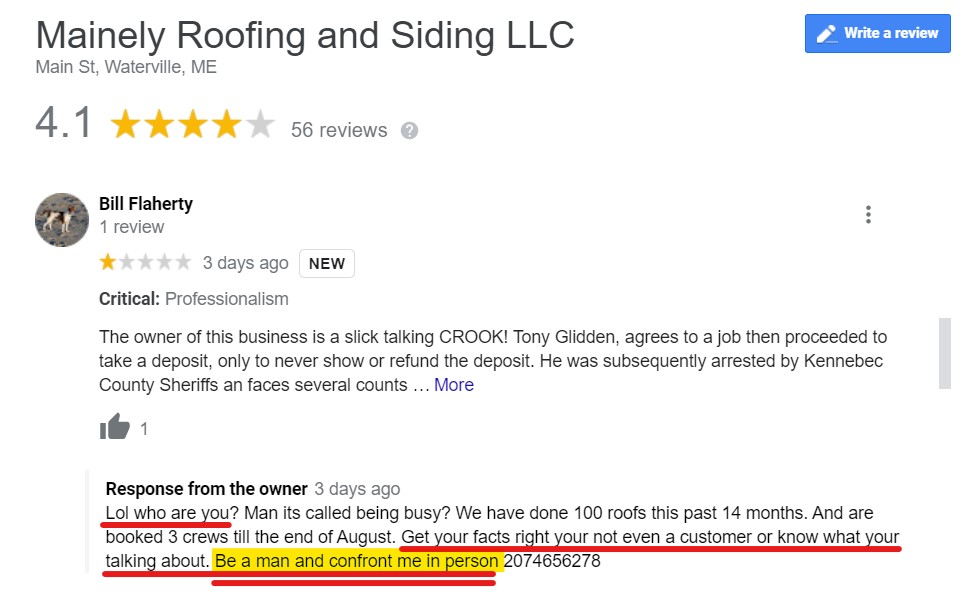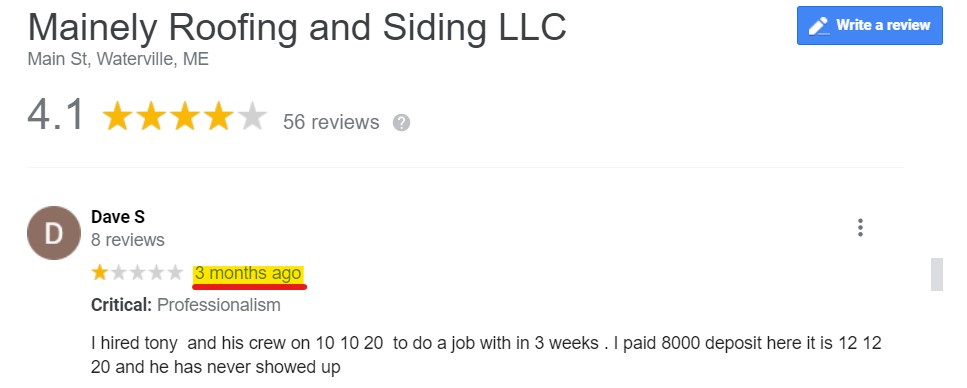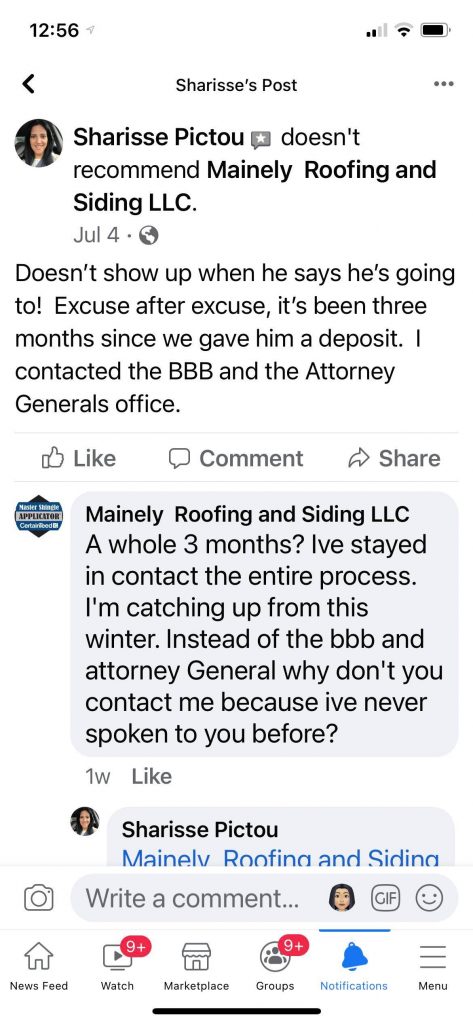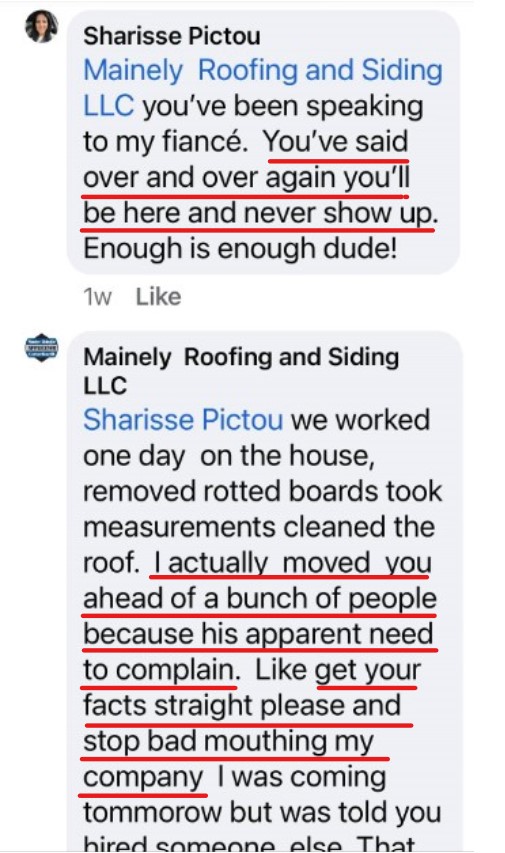 It's hard to have a lot of sympathy when one doesn't take responsibility for one's own actions. Do you know who I DO have sympathy for? JoAnn Smith, Heather Alley, Brandy Marriner, David Paquette and Sharisse Pictou, Linda Pawlick, Beth M., the Babbs, Mark and Gloria Cotter, Paul C. (and wife Laurie), Nicole G., Evelyn McGraw, Don Emery and more. If my good friend hadn't been sued by Hammond Lumber for unjust enrichment because of work done by Mainely Roofing and Siding, I wouldn't have started this long investigatory road or heard the heart breaking stories from the older and disabled folks affected by Tony Glidden and Mainely Roofing and Siding. Please folks, do your due diligence when hiring any contractor. Read everything you can. Every business will have one or two negative reviews so look further and deeper. Check the Better Business Bureau, check Google reviews including how the contractor responds to a customer's complaints.