By: Ronda Snyder
This is a long article and it needs to be so to give you full information about my travails in getting my FOAA request fulfilled by Maine DHHS which oversees the Maine CDC. It seems that I am fairly lucky that it only took a month for request to be fulfilled as other journalists with whom I've spoken are still waiting for their requests to be fulfilled 11 months later. Also, screenshots of the emails provided in the FOAA Request are all included for your review.
On August 25, 2021, Maine Journal News sent a FOAA Request to Kevin Wells, General Counsel of Maine DHHS requesting emails and other documents pertaining to adding dental offices in Maine to the vaccine mandate.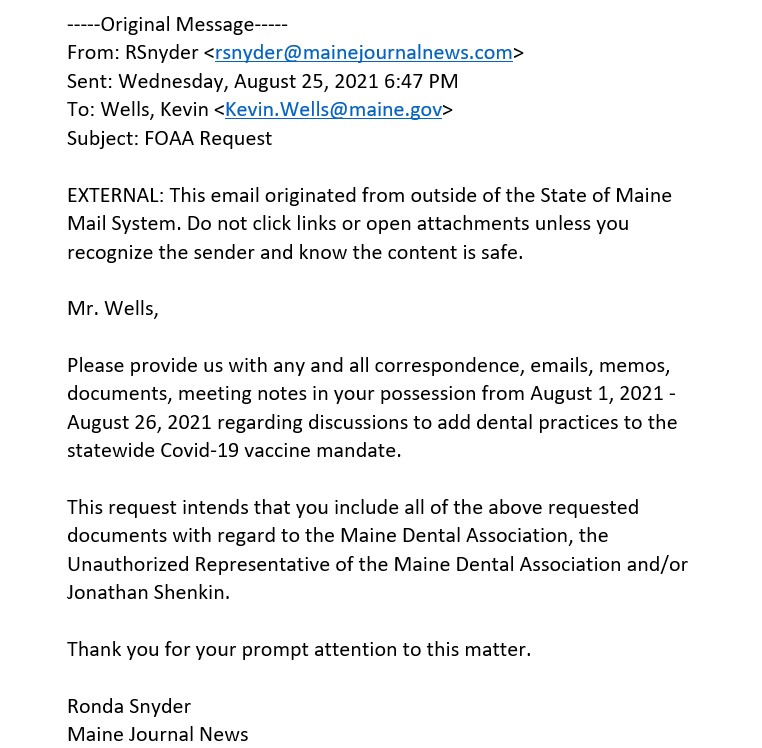 Under Maine Law, a FOAA Request must be acknowledged within 5 business days and as such we sent a reminder to Mr. Wells.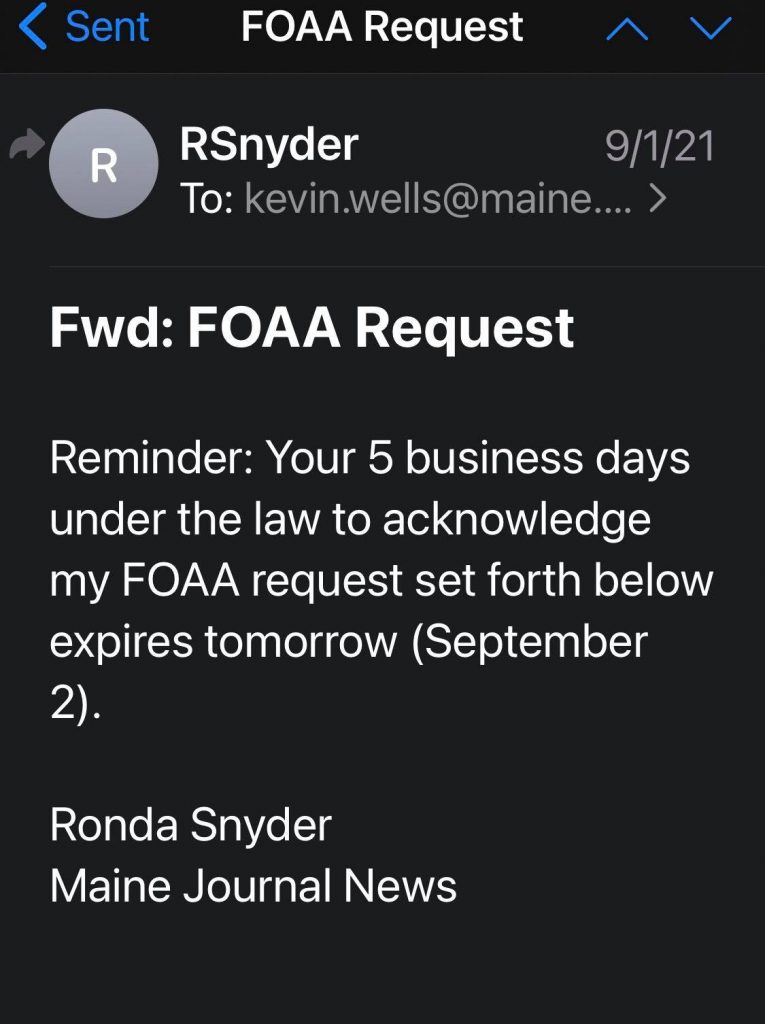 On September 3, 2021, we sent an email to Brenda Kielty who is the FOAA Ombudsman for the State of Maine.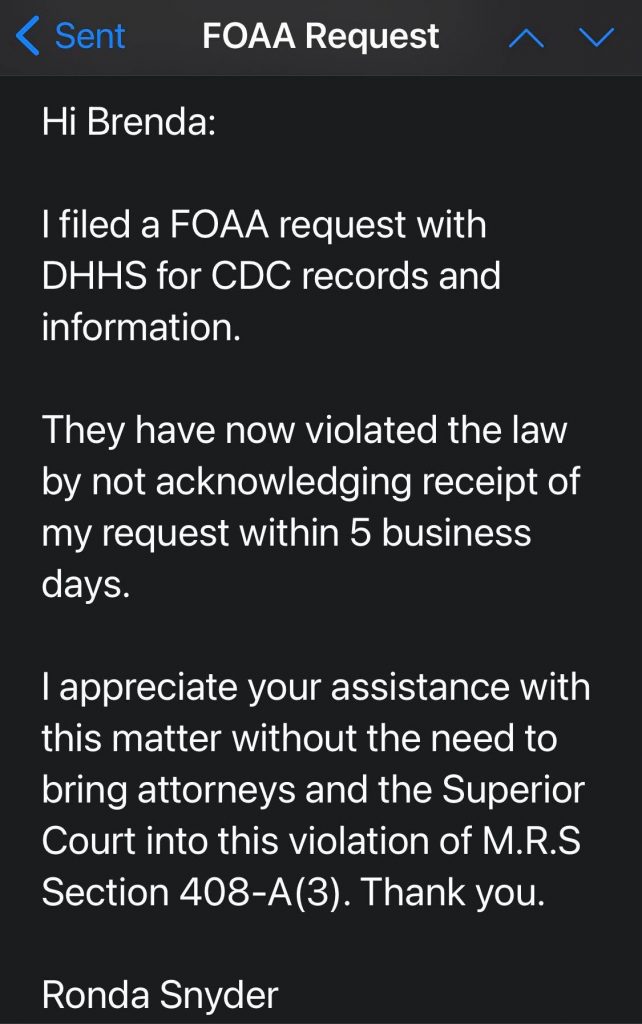 Ms. Kielty responded on September 7, 2021 to inform Maine Journal News that our FOAA Request somehow ended up in Mr. Well's junk mail folder.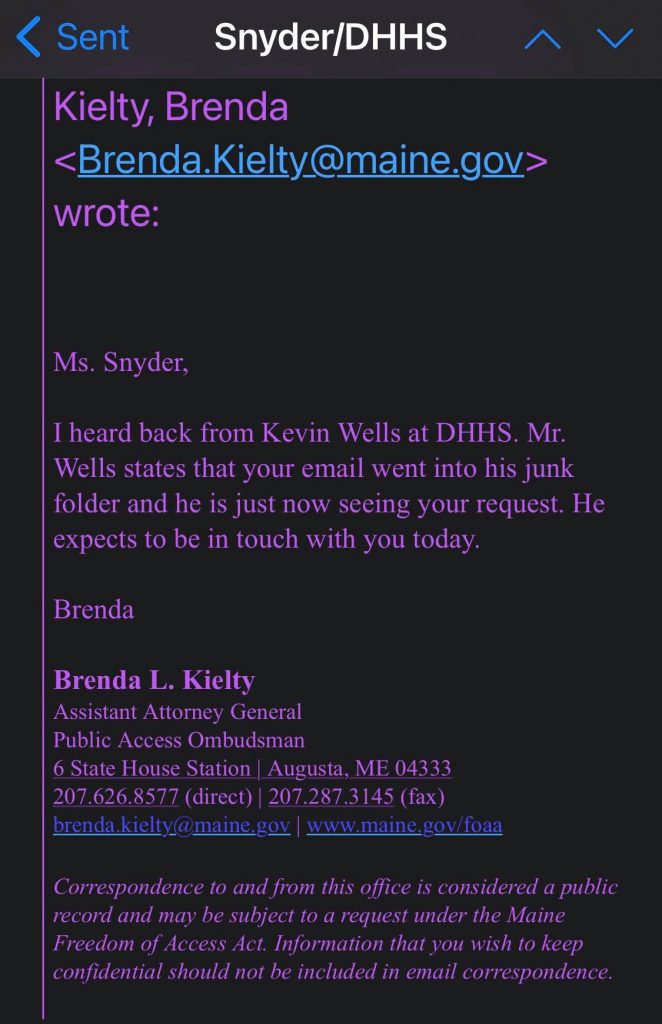 We finally received confirmation of receipt of our FOAA Request from Mr. Wells on September 7.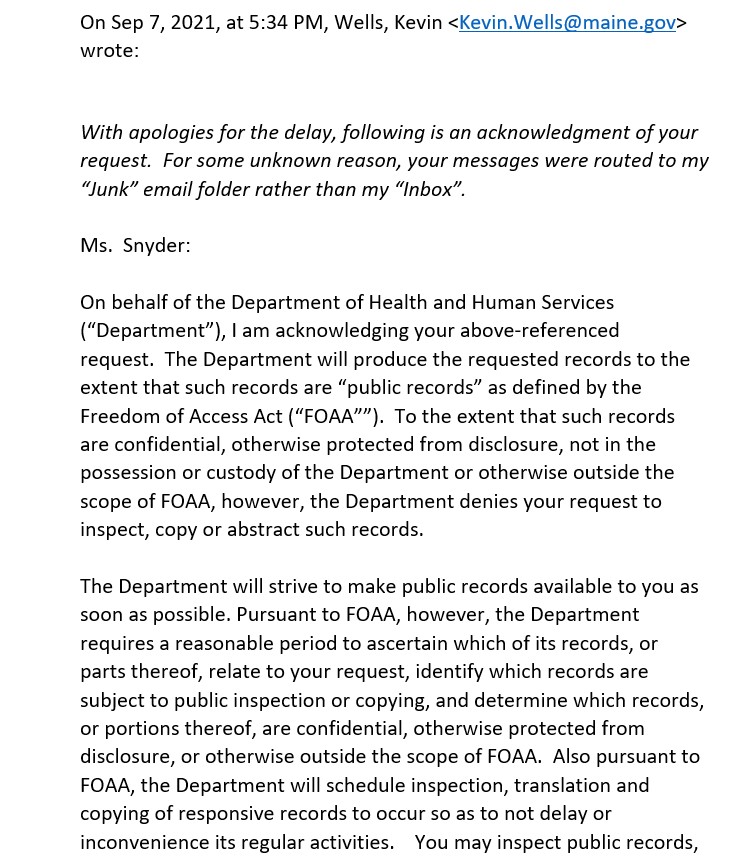 On September 15, 2021, Mr. Wells indicated they would be able to provide us with an estimate by the "end of next week which would have been September 24, 2021. When Maine Journal News did not hear from Mr. Wells on September 24, 2021, we sent a follow up reminding Wells that we had not heard from him. Finally, on October 5, 2021, we received a "final" response with allegedly all of the emails, documents, notes, memos, etc. that we requested with regard to this matter.
The first email produced from our FOAA Request is dated August 4, 2021, from dentist, Jonathan Shenkin, asking Dr. Nirav Shah of the CDC to consider including dental offices in the vax mandate and indicating the Maine Dental Association (MDA) voted to support this.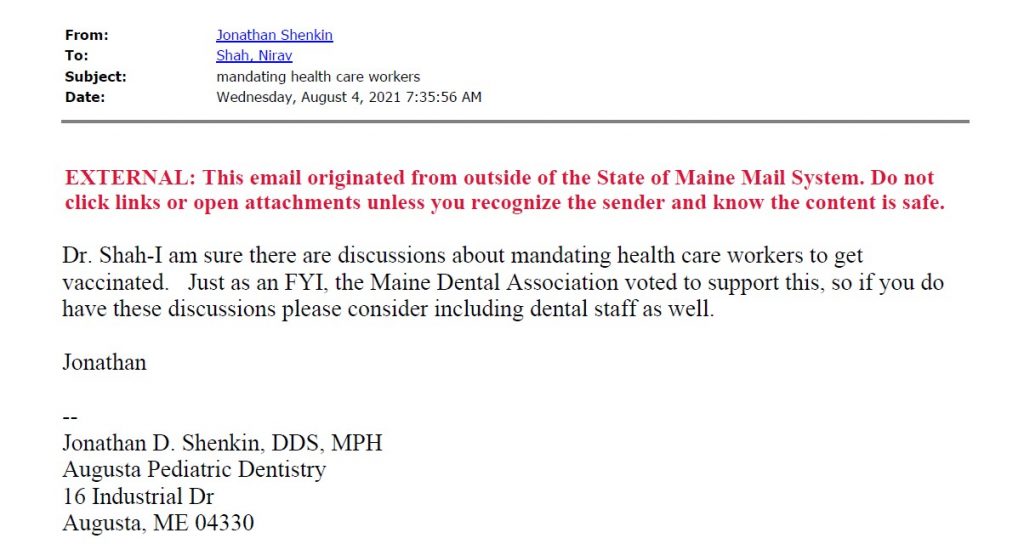 Dr. Shah acknowledges receipt of the email and thanks Dr. Shenkin for information on "both the vote and the inclusion of dental staff."

Dr. Shenkin then emails Dr. Shah (again on August 4, 2021 – 8 days before the vaccine mandate was announced) to inform him if he needs to have a discussion with the MDA about this, Shah should reach out to the MDA's Interim Executive Director, Kathy Ridley.

On August 4, Shah thanks Shenkin for Ms. Ridley's contact information. However, you will see that either Dr. Shah didn't reach out to Ms. Ridley (or we didn't receive these emails pursuant to our FOAA Request).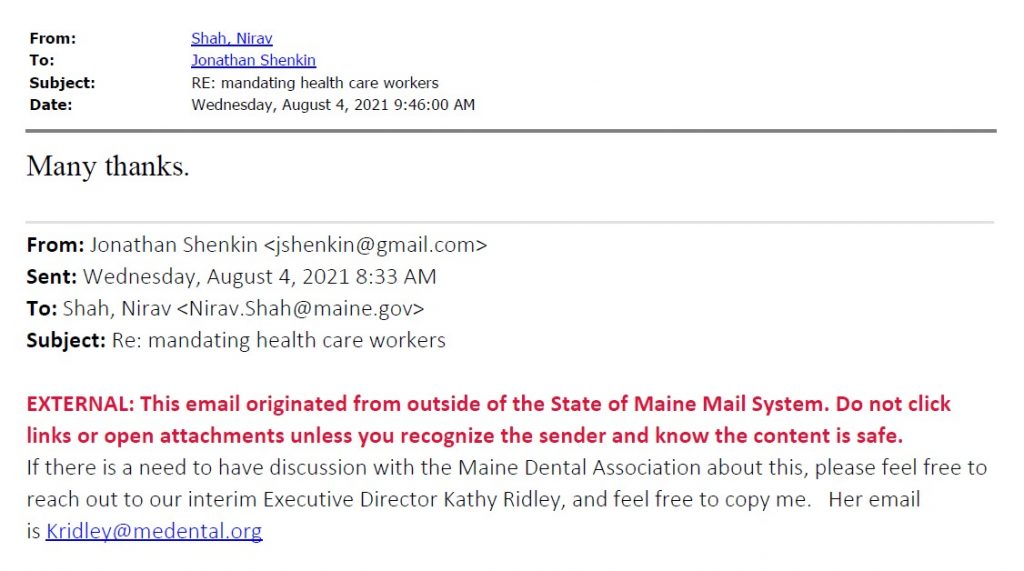 On August 10, Shenkin sends Shah the link to an article where "Washington just required dental offices to get vaccinated."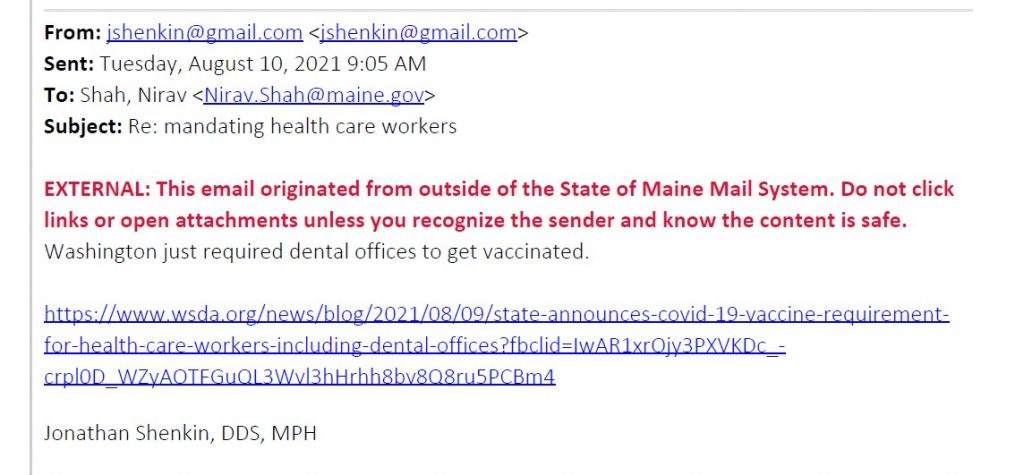 On August 11, 2021, Shah emails Shenkin to inform him that including dental health professionals in the vaccine mandate "rule," that they will be required to obtain not just COVID 19 vaccines, but all other vaccines listed in the rule. Shah asks Shenkin, "Is this okay?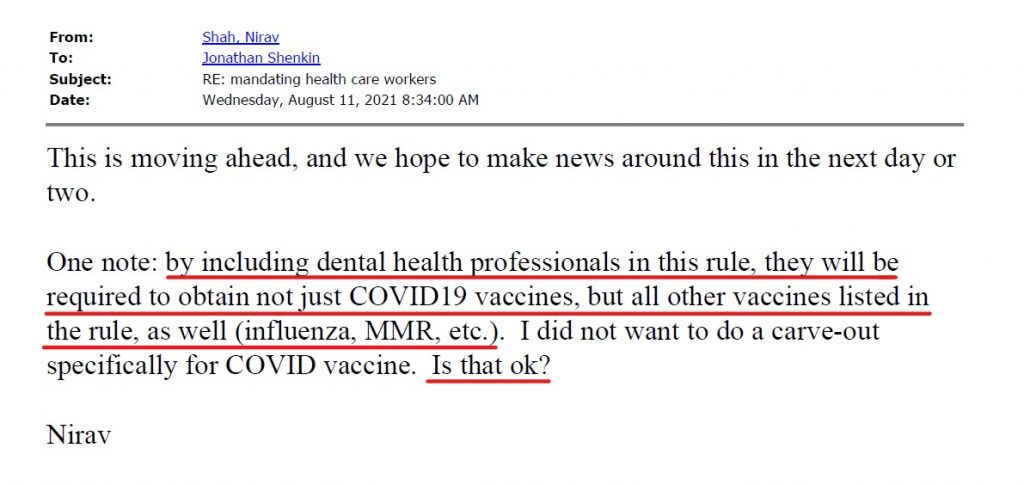 The day before the rule was to be announced, Shenkin responds and asks Shah if this rule would apply to providers such as dentists, hygenists and assistants or would it include front office (clerical) staff as well.

Shah replies that it would apply to all staff of dental practices.
Shenkin indicates he would let the MDA know which leads one to reasonably believe the MDA wasn't part of these discussions or aware of the detailed ramifications of being included in this rule.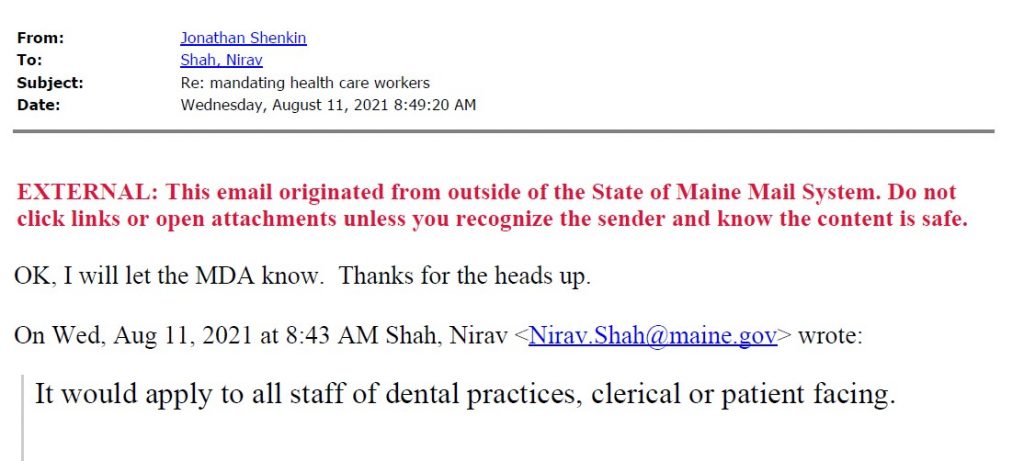 On August 12, Shenkin asks Shah whether the state will be providing a medical exemption form. Either Shah did not respond or we were not provided with the email as part of our FOAA Request.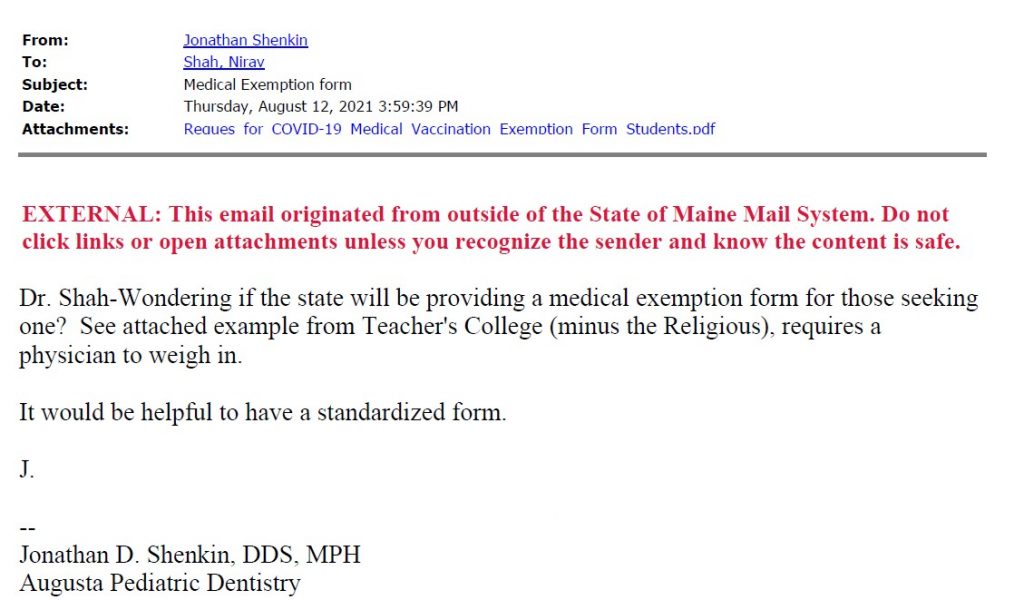 On August 18, 2021 (six days after the rule was announced), Interim Director of the MDA, Kathy Ridley, emails Shah with questions about the vaccine mandate rule. Either Shah did not reply to Ms. Ridley via email or contacted her by phone. We were not provided with any emails from Shah to Ridley pursuant to our FOAA Request.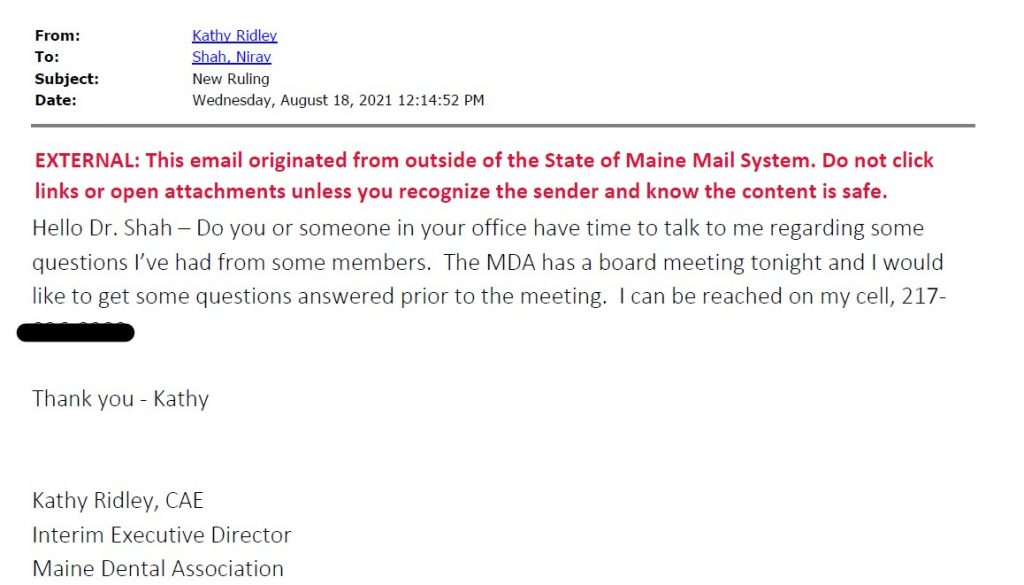 On August 20, 2021, Shenkin wrote to Shah to advise that he doesn't represent the MDA. We refer you back to Shenkin's email on August 4, 2021, where Shenkin clearly tells Shah to contact the Interim Director, Kathy Ridley, if he needs to have a discussion with the MDA.
On August 20, 2021, Shenkin further writes to Shah to indicate the vaccine mandate has been a major problem for dental practices.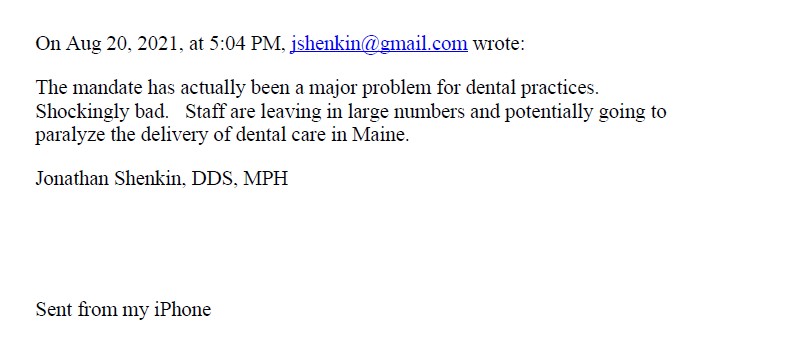 On August 21, 2021, Kathly Ridley emails Dr. Shah and others and attached a letter from the MDA Executive Board. Though we should have been provided with a copy of this letter as it was an attachment and part of our FOAA Request, we were not. Maine Journal News reached out to Ms. Ridley to request a copy and we have similarly asked Mr. Wells to provide a copy. We will update this article if and when we receive a copy of this letter.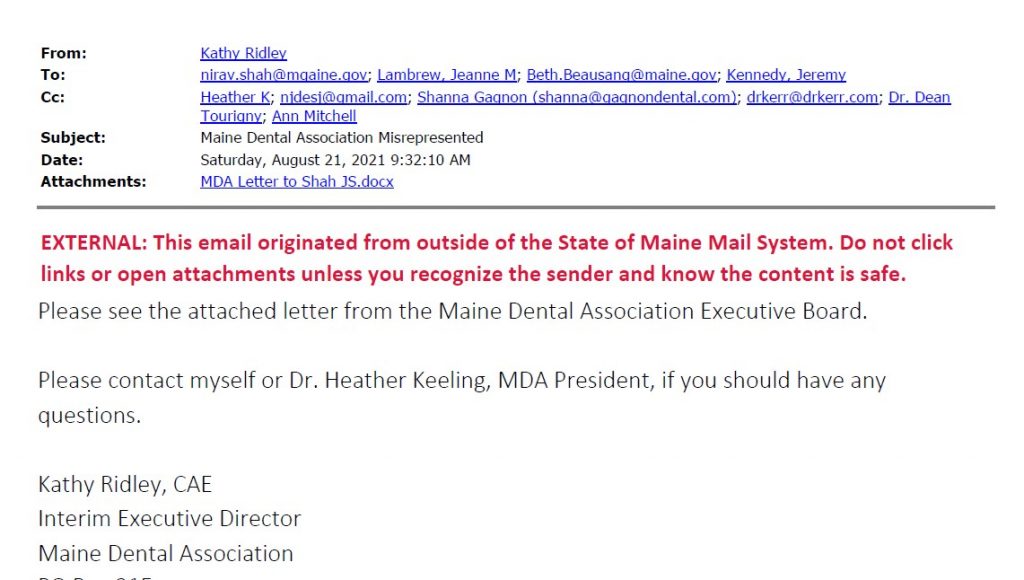 On the morning of August 23, 2021, Shenkin writes to Shah to inform him his role as a Long Term Delegate of the Maine Dental Associate was terminated. Shenkin reminds Shah he reached out to him as an individual. Shenkin also advises Shah that the CDC's statement that the MDA asked for this mandate. Based on the emails we've received in response to our FOAA Request (we presume we were provided with all information in the care and custody of the Maine CDC and DHHS pursuant to our request), we've seen Dr. Shenkin initially asking for inclusion in the mandate and referring Shah to the Interim Director of the MDA for further information.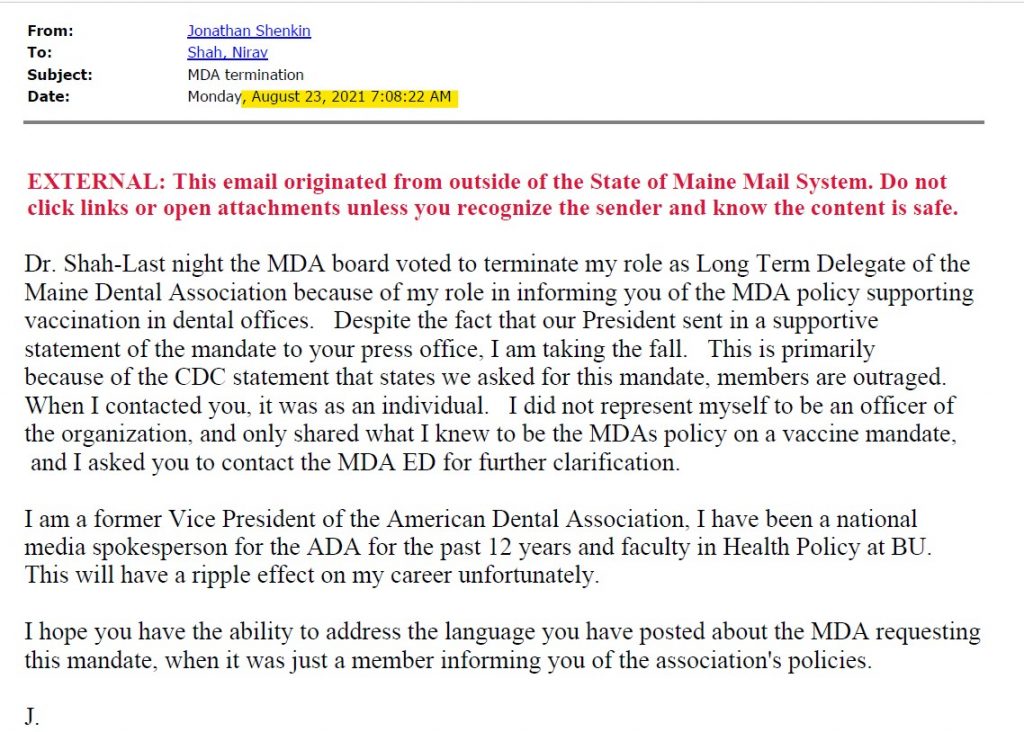 On August 23, 2021, Shah replies to Shenkin "I thought the MDA voted to support this?" It would appear, based on not receiving emails back and forth between Shah and the MDA on this issue pursuant to our FOAA Request, that the Maine CDC did not reach out to Kathy Ridley as suggested by Shenkin back on August 4.

Later in the morning on August 23, 2021, Shenkin again reaches out to Shah about the repercussions from the statement by the Maine CDC that the MDA asked for this mandate.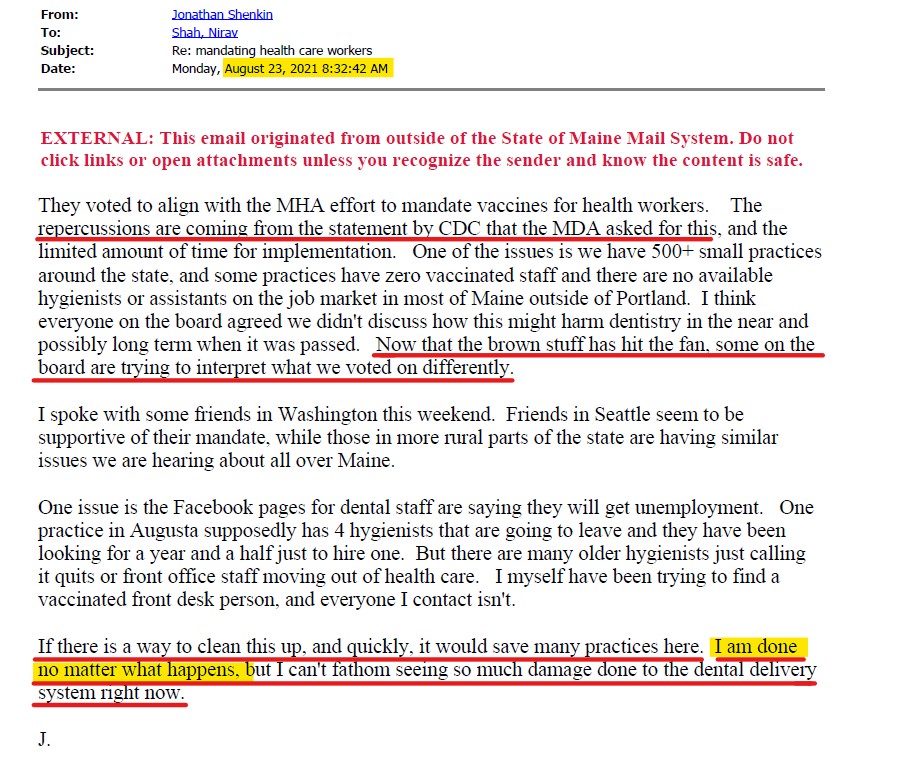 Shenkin reaches out to Shah again on the morning of August 23, 2021 to request that the CDC page is updated so it doesn't reflect that the MDA asked for the mandate and that the CDC and DHHS delay implementation in dental offices.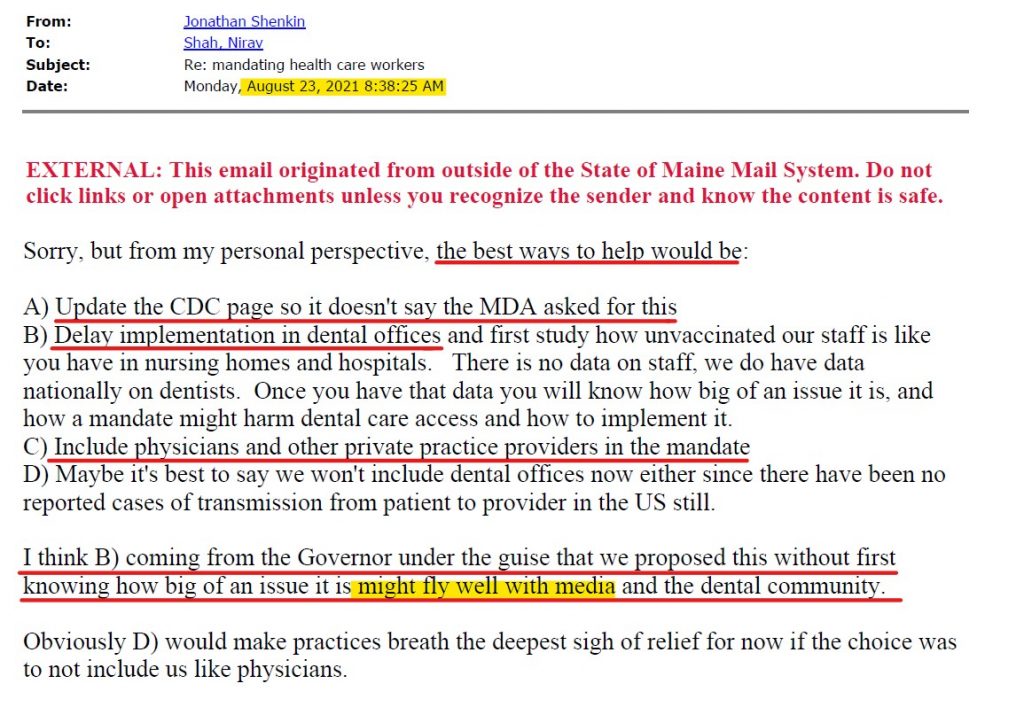 On the afternoon of August 23, 2021, the Maine Dental Association Board of Directors put out a statement regarding inclusion of dental offices and indicates it has been on a 10 day fact finding mission to determine how and why dental practices were included in the mandate. Oddly, none of those communications, if any, were provided to Maine Journal News in our FOAA Request.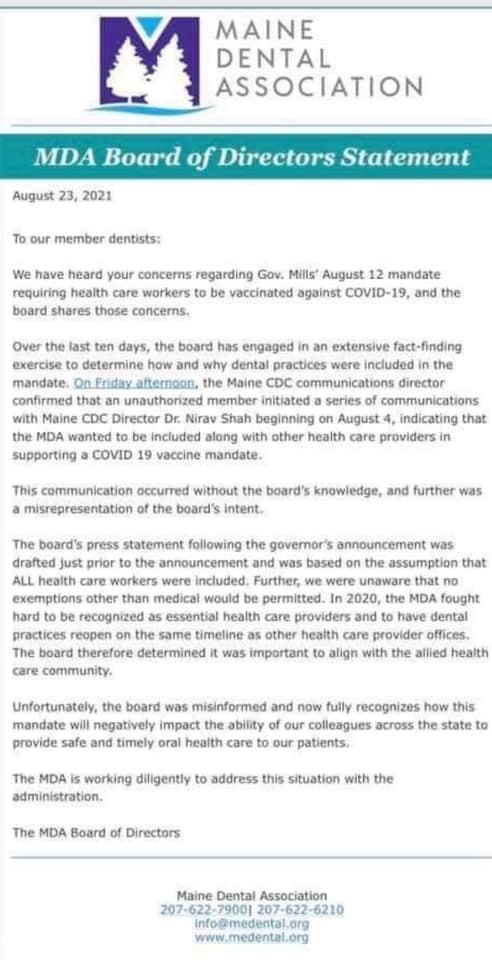 Tragically, on the evening of August 23, 2021, Dr. Shenkin took his own life. If Dr. Shah had included the MDA in discussions from the beginning or asked questions as Shenkin suggested in his August 4 email to Shah, could this tragedy have been prevented? We know it's likely that Shah didn't reach out to the MDA as he was seemingly unaware of the MDA's position on the morning of August 23 when he replied to Dr. Shenkin "I thought the MDA voted to support this?" If the Maine CDC had fully communicated the ramifications and details of the mandate for dental offices, would different decisions have been made by all parties involved? Unfortunately, we will never know because that doesn't appear to have happened.
As always, thank you for reading Maine Journal News. You can follow or LIKE us on Facebook (should Facebook decide to allow a LIKE button to appear…tis a fickle thing that is): www.facebook.com/mainejournalnews. Please continue to email us story ideas, tips and screenshots at mainejournalnews@gmail.com or rsnyder@mainejournalnews.com.
As a final note: We are a completely self-funded independent organization. As MJN grows, we have more and more expenses, for websites, equipment (we just got some new mics so our live videos are easier to hear, for example), software, travel expenses, etc. so please consider donating to keep us doing what we've been doing here at MJN. Please note: MJN is not 501(c)(3) organization. As such, your donations are not tax deductible. No services or products will be rendered to you in exchange for your donation. We have two ways for you to donate so that we can bring you more content like the story above:
By Venmo: @MJN207
By PayPal: Donate (paypal.com)
Thank you for your continued support of independent journalism. Unlike local media, we consider all of you part of MJN and value your comments, emails and messages. We couldn't do what we do without you.