By: Ronda Snyder
Meet Deon Cheers, Jr., 19 of Augusta, Maine. Cheers gets arrested…a lot. He has been arrested and charged with a variety of offenses just since December 2021. Note: Charges and an arrest do not reflect guilt. Guilt is determined at trial.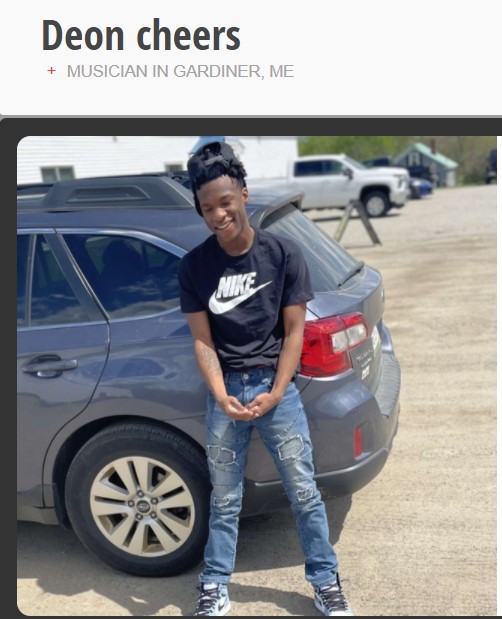 Along with being arrested frequently, Cheers is also an aspiring rapper. WARNING: This video contains disturbing language AND bad music.
I had to look up Purple Magic. It's a cocktail that a 19-year-old isn't legally allowed to drink. If you're as curious as I am, the recipe for Purple Magic is below. It contains 4.5 ounces of alcohol (thank you to the woke dope in legislature, Christopher Kessler, for pointing out my typo of 7.5 oz rather than the correct 4.5 ounces).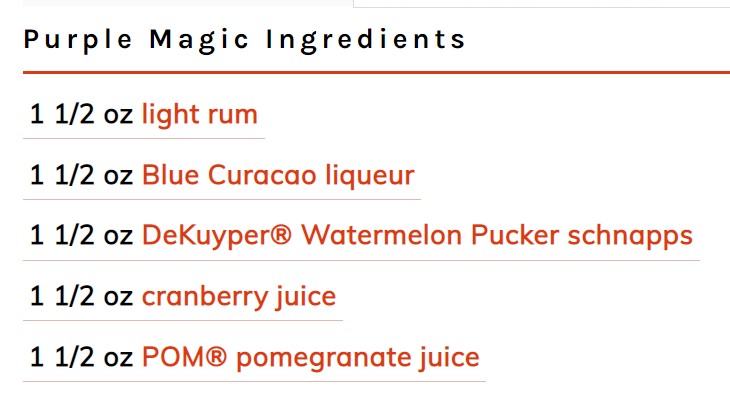 Cheers' most recent arrest is the subject of this article but let's take a look at his arrests since December which indicate Cheers, according to charges and arrests, doesn't appear to abide by his conditions of release and is indicative of a larger issue with Maine's criminal justice system. While I may have missed some, Cheers was arrested on: December 8, 12 and 14, 2021; January seems to have been a good month; February 19, 2022; March 8 and 29, 2022.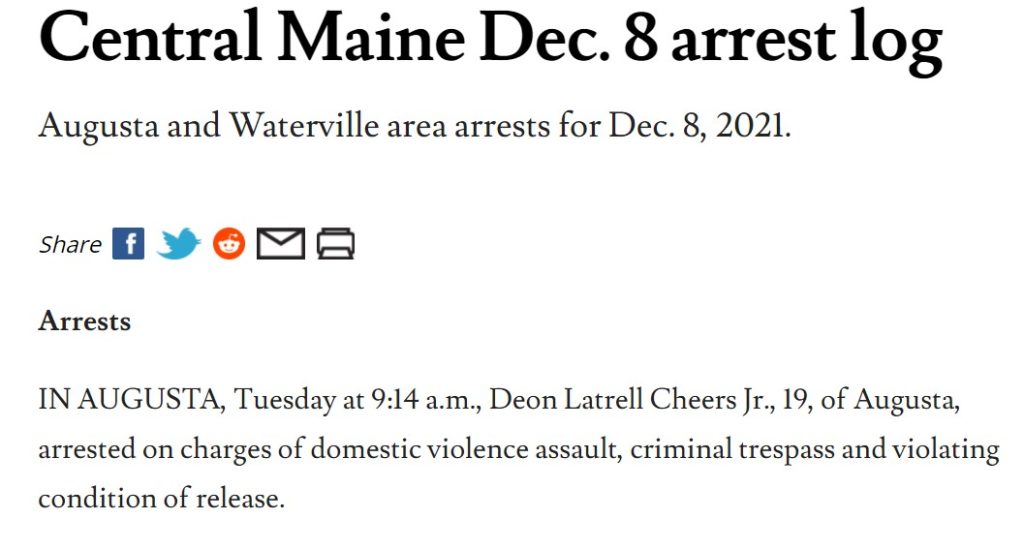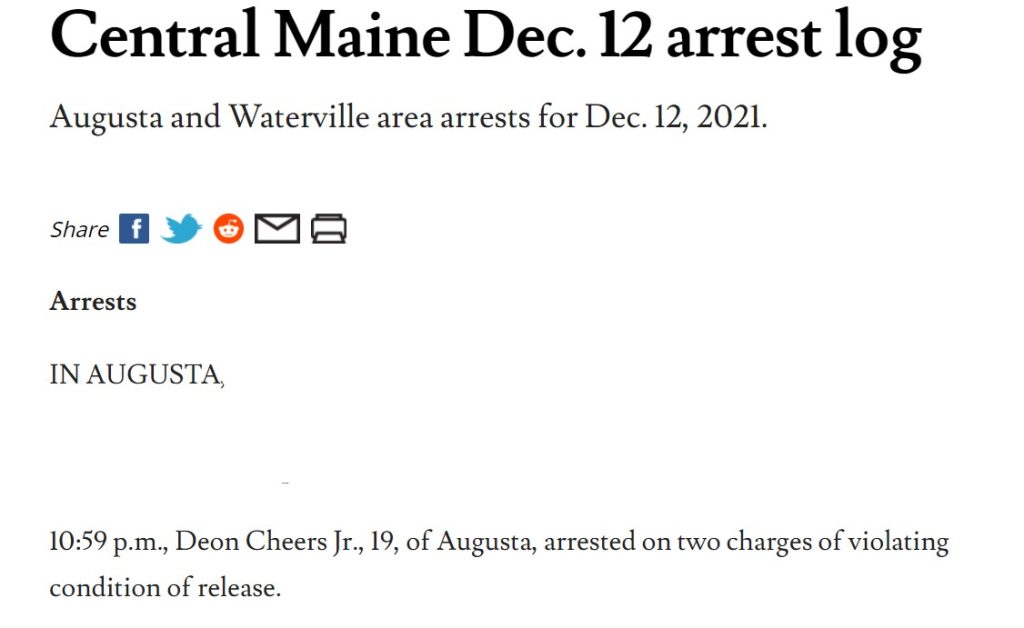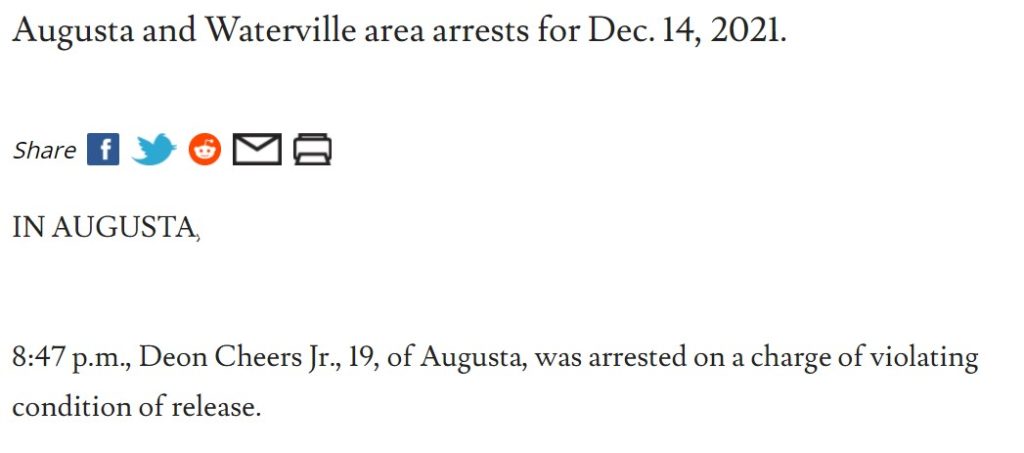 Cheers' most recent arrest occurred on March 29, 2022 stemming from an alleged incident at the YMCA in Augusta, Maine. The charges for that arrest are violating conditions of release, violation of privacy (emphasis added) and violation of probation. Again, charges do not reflect guilt.

When Maine Journal News received a tip on this arrest, we immediately sent a FOAA request to the Augusta, Maine Police Department. Sargeant Jesse Brann responded very quickly and denied our request pursuant to Title 16 Section 804 (1) and (2).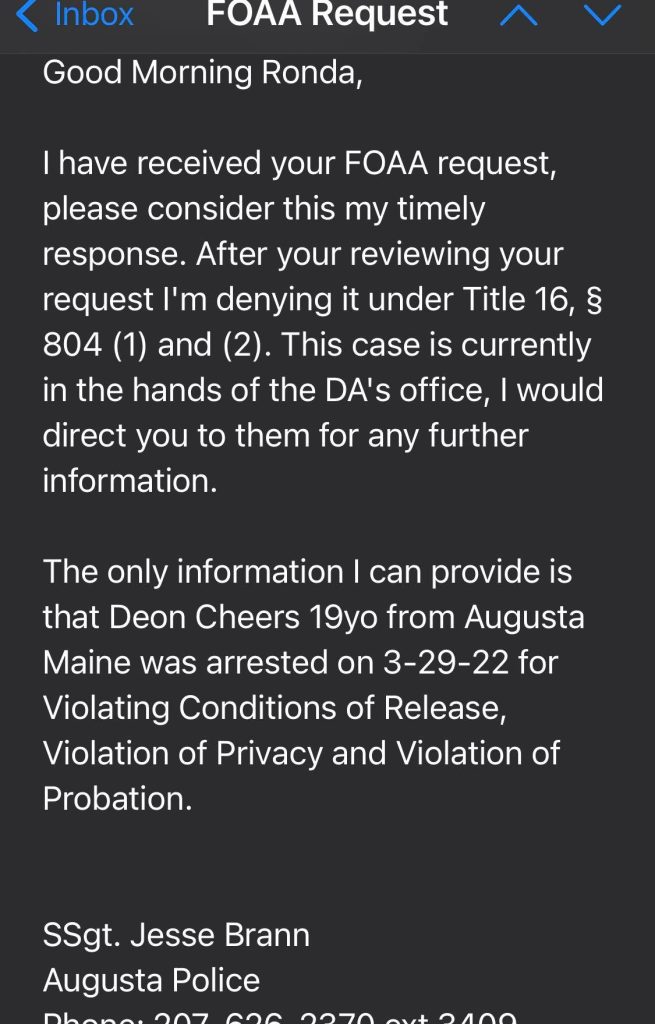 Title 16, Section 804 (1) and (2) relates to a criminal justice agency not disseminating information to any person or public or private entity if the police think it will interfere with law enforcement proceeding or result in dissemination of prejudicial information.

Back to the March 29, 2022 arrest. Maine Journal News talked to sources who are familiar with the events that transpired at the Augusta YMCA. Deon Cheers, Jr. was allegedly seen in the women's locker room at the Y early in the morning on March 29. Witnesses claim that Cheers was recording women in the changing/locker room.
After police arrived, our sources indicate Cheers locked himself inside a bathroom. It is our understanding that police are attempting to obtain or have obtained a search warrant for Cheers' phone to recover alleged videos.
We reached out to the Augusta YMCA for comment on this incident and/or a statement of how it plans to keep its members safe and protect their privacy going forward. Set forth below is a statement from YMCA CEO, Ranae L'Italien: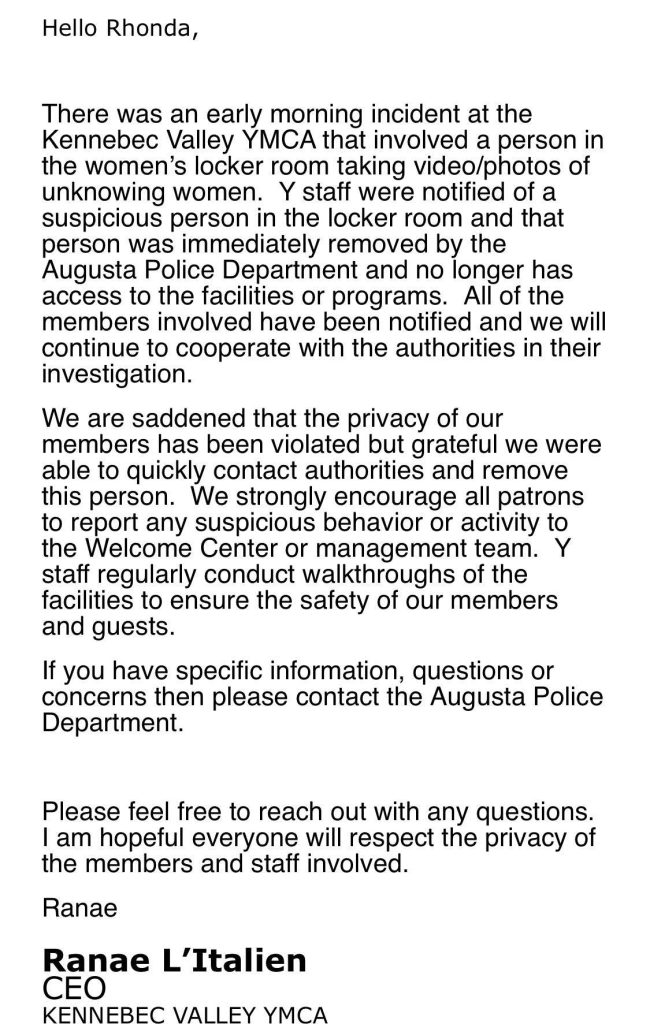 This is a breaking and ongoing story and we will continue to follow this case as new updates occur but for now Cheers is residing at the Kennebec County Jail. Here are a few questions: How many times does one need to be arrested in Maine for violating conditions of release before the judicial system takes action? Why are we seeing an apparent breakdown in Maine's judicial system and what can and should be done to prevent this in the future? Should Deon Cheers change his rap name to 'Deon Peers?'
As always, thank you for reading Maine Journal News. You can follow or LIKE us on Facebook (should Facebook decide to allow a LIKE button to appear…tis a fickle thing that is): www.facebook.com/mainejournalnews. Please continue to email us story ideas, tips and screenshots at mainejournalnews@gmail.com or rsnyder@mainejournalnews.com.
As a final note: We are a completely self-funded independent organization. As MJN grows, we have more and more expenses, for websites, equipment (we just got some new mics so our live videos are easier to hear, for example), software, travel expenses, etc. so please consider donating to keep us doing what we've been doing here at MJN. Please note: MJN is not 501(c)(3) organization. As such, your donations are not tax deductible. No services or products will be rendered to you in exchange for your donation. We have two ways for you to donate so that we can bring you more content like the story above:
By Venmo: @MJN207
By PayPal: Donate (paypal.com)
Thank you for your continued support of independent journalism. Unlike local media, we consider all of you part of MJN and value your comments, emails and messages. We couldn't do what we do without you.