By: Ronda Snyder
Updated September 14, 2022
Over the weekend of August 13/14, 2022, a disturbing video was posted showing Eric Dore, co-owner of Old Mill Pub "upskirting" a young lady who was leaning on a car to fill out paperwork. "Upskirting" is when someone surreptitiously takes a photo or video under someone's skirt or dress. Upskirting is illegal in Maine but the law has no serious teeth for this crime. The crime is often charged as violation of privacy which is a Class D crime (basically a misdemeanor) which is exactly how Eric Dore was finally charged. A Class D crime in Maine is punishable by not more than 364 days in jail and/or a $2,000 fine.
In many of these cases, the perpetrator's phone, laptop or other electronic devices are confiscated and searched by a computer forensics team. Since the Skowhegan Chief of Police, David Bucknam, did not return emails or calls, we don't know whether the investigation is ongoing or whether the video above was the extent of the investigation by the Skowhegan Police Department involving Eric Dore.
After Eric Dore's personal Facebook page and Old Mill Pub's Facebook were deleted or deactivated, the Old Mill Pub reactivated its page and posted the following message: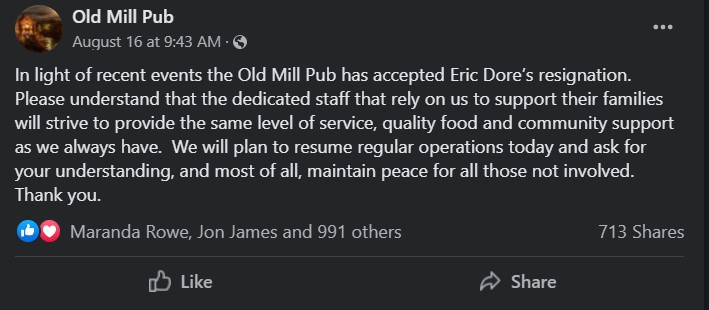 While it wasn't clear in the above statement the role for which Eric Dore resigned, it appears as though Dore is resigning his role as co-owner in The Dore Group, LLC which owns the Old Mill Pub in Skowhegan. Old Mill Pub via Benjamin Dore indicated that Eric Dore's wife will REMAIN a co-owner. Benjamin Dore also indicated it takes some time to complete the removal of a co-owner. It remains to be seen whether there will be a buyout of Eric Dore's shares in the LLC or if his shares will transfer to his wife with no buyout amount paid. There are many questions regarding the transfer of ownership that have yet to be answered and whether this resignation from The Dore Group, LLC will be a detriment or benefit to Eric Dore.
That's not the end of the Skowhegan Saga – There's another innocent victim:
That's not the end of the story in Skowhegan. There was another tangential victim in this incident who did absolutely nothing wrong or improper. There is a Facebook group called Skowhegan Neighborhood Watch and Information run by a couple named Todd Jones Sr. and his wife, Danielle Jones.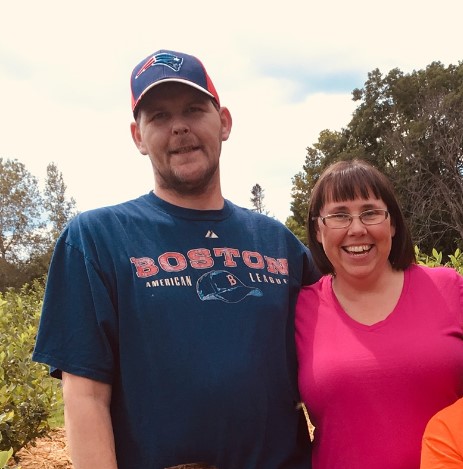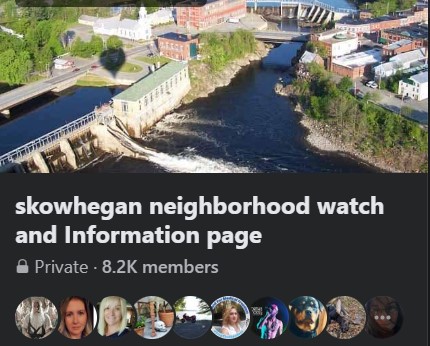 Update: Yesterday, Danielle Jones changed the name of the Skowhegan Facebook group and made a post updating the description of the group in the newly named group. It is now called "skowhegan Information page." There doesn't seem to be a lot of attention to detail. Skowhegan isn't capitalized and technically it's a group and not a page. The last line of the new group description is a bit ironic.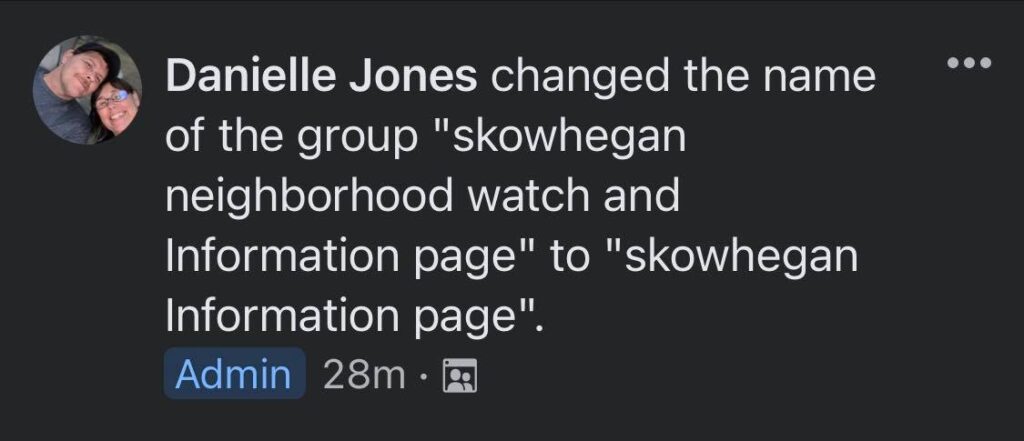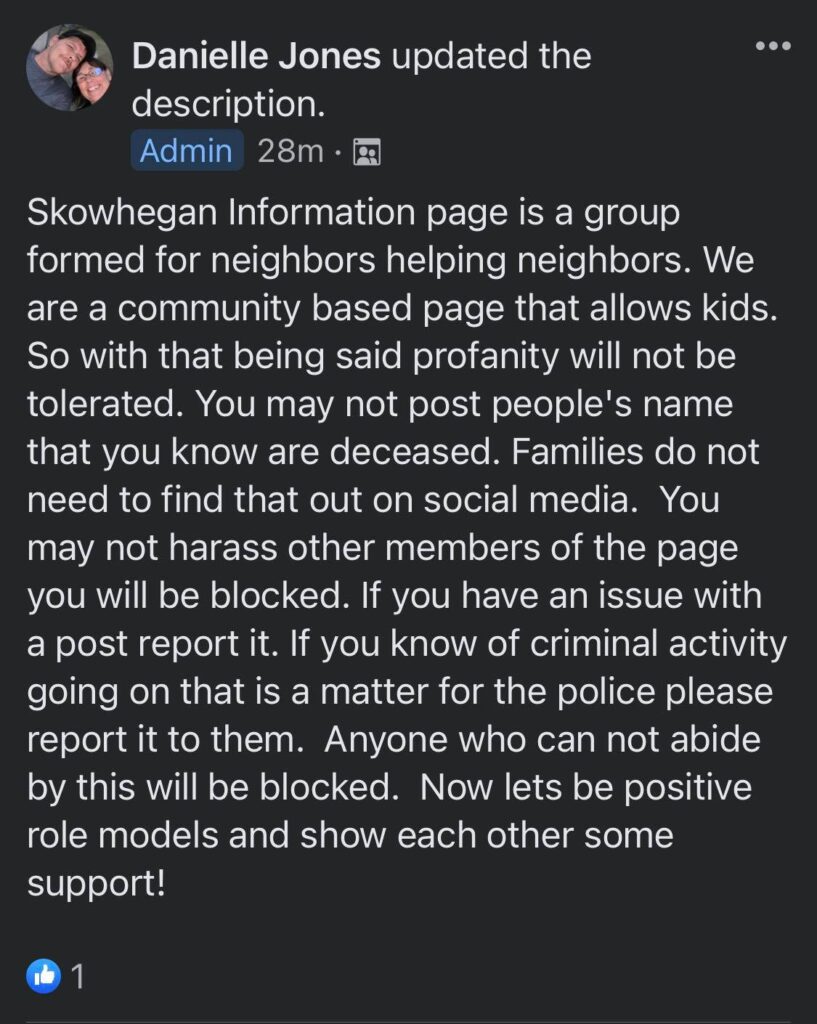 The Jones' refused to allow posts of the video of Eric Dore upskirting a young lady on a neighborhood watch page. They gave a variety of reasons from they don't allow posts that bully or shame businesses to Eric is a friend of mine to not wanting Dore's young children to see the video.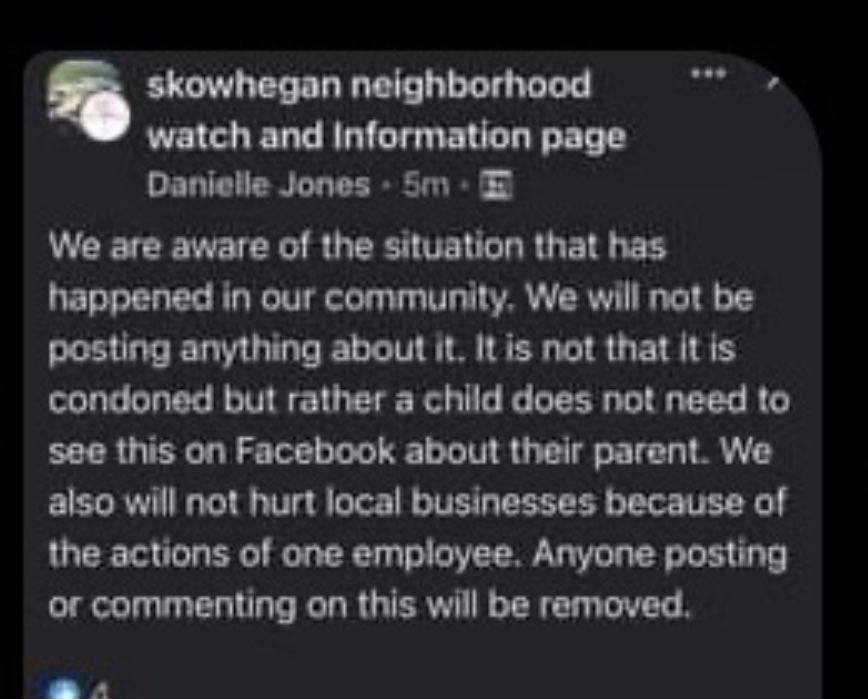 One could reasonably argue that posting the video was not intended to harm a business but rather serve as a public service announcement of a person who may have violated young women's privacy. Several folks have reached out and indicated that Todd Jones Sr. spends a lot of time at Dore's restaurant/bar and considers himself a friend of Eric Dore.
Finally, the argument that Dore's daughters may see the video is ridiculous on its merit. The video has been posted and broadcast on local news channels by local media. Dore's four daughters are well under the age for which Facebook allows accounts to be created. Additionally, it's a private Facebook group and as administrators, the Jones' could restrict membership.
Todd Jones Sr. owns a business in Skowhegan. In October 2021, Jones hired a woman named Vicky Wofford to work for him. By all accounts, Wofford was a good worker and she told Maine Journal News she received a raise before her one-year anniversary with Jones' company. On the weekend that Dore's upskirting video was posted, Wofford was out of town at a bachelorette weekend and didn't arrive home until Sunday night.
During the weekend, Wofford's husband and others sent several messages to Todd and Danielle Jones in their capacity as admins of the Skowhegan Neighborhood Watch and Information group with their opinions that the page should have posted the Dore upskirting video in the interest of public information. Some messages indicated, in their opinions, the Jones' were trying to protect Eric Dore rather than alert the public to a possible predator which is the typical purpose a neighborhood watch group.
Todd Jones Sr. sent various messages to people which show he was unwilling to allow posts on his FB page that would have alerted the public to a possible predator in town and many people took issue with that decision.
Various people, including Wofford's husband, sent the Jones' messages disagreeing with their decision not to post information regarding the upskirting video of his friend, Eric Dore. Here are a few of the messages from members of the Skowhegan Neighborhood Watch group and Todd Jones Sr.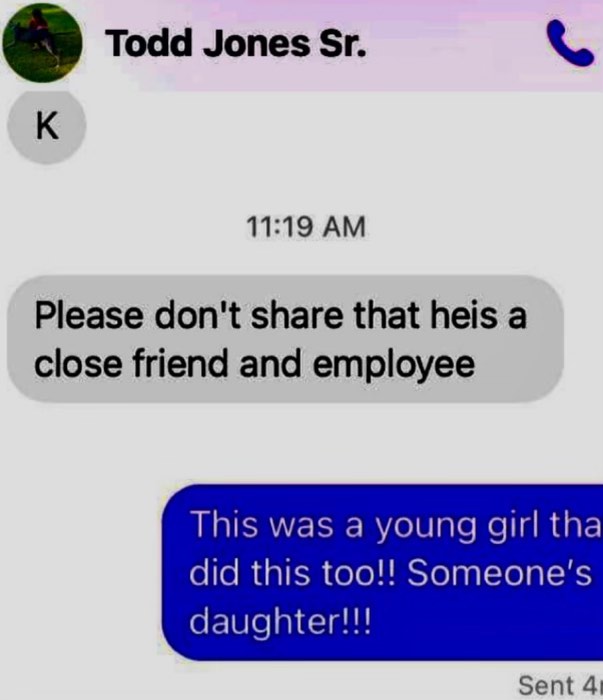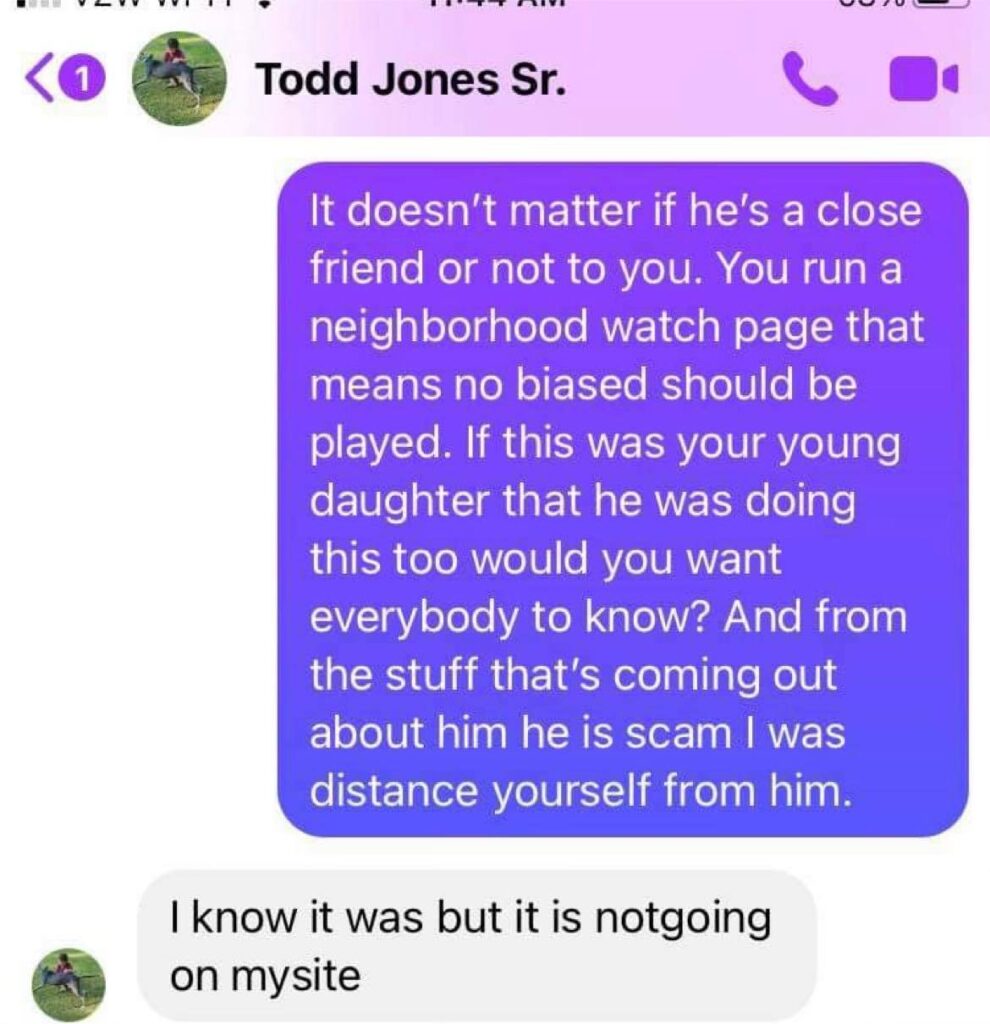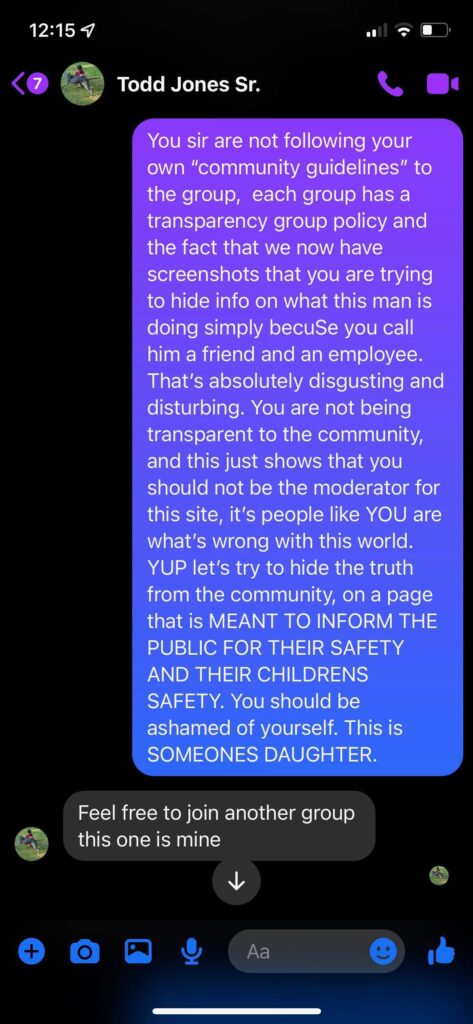 The Jones' took exception to messages who called out his lack of transparency and to messages from Wofford's husband, Wayne. Monday morning, Vicky Wofford woke up to a message from Todd Jones Sr. Wofford stating she had been fired from her job with the Jones' Skowhegan business.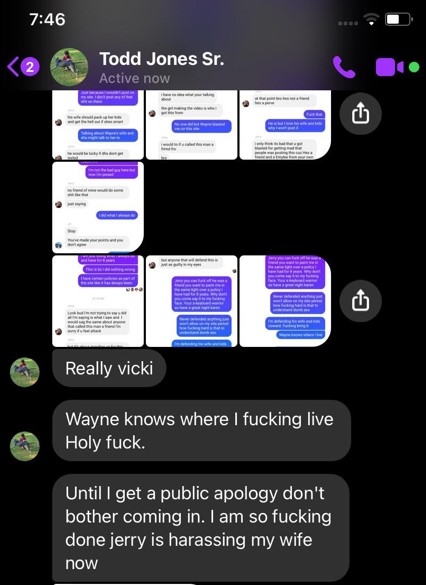 Wofford then reached out to Danielle Jones who had previously been a close friend to confirm that she really had been fired from Jones' company. Again, Vicky Wofford was not involved in personally sending any messages and was away for the weekend and she was unaware of what transpired with the Jones'.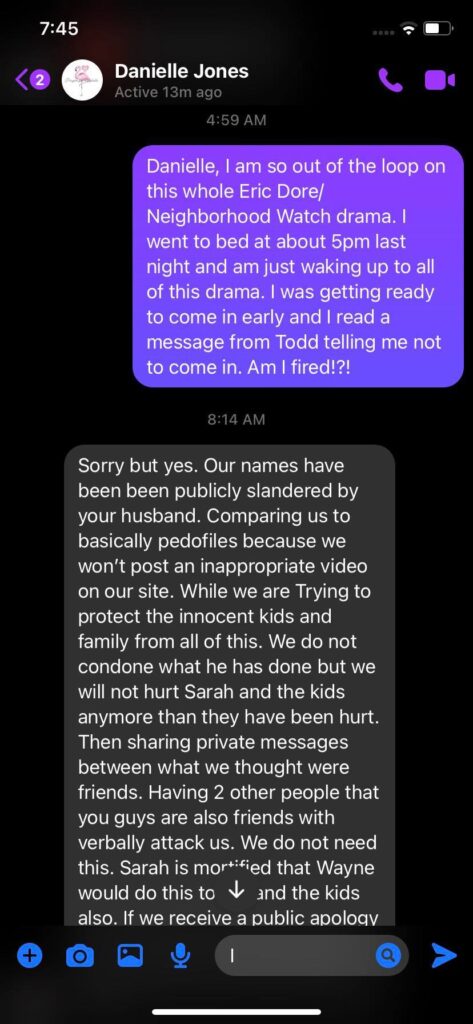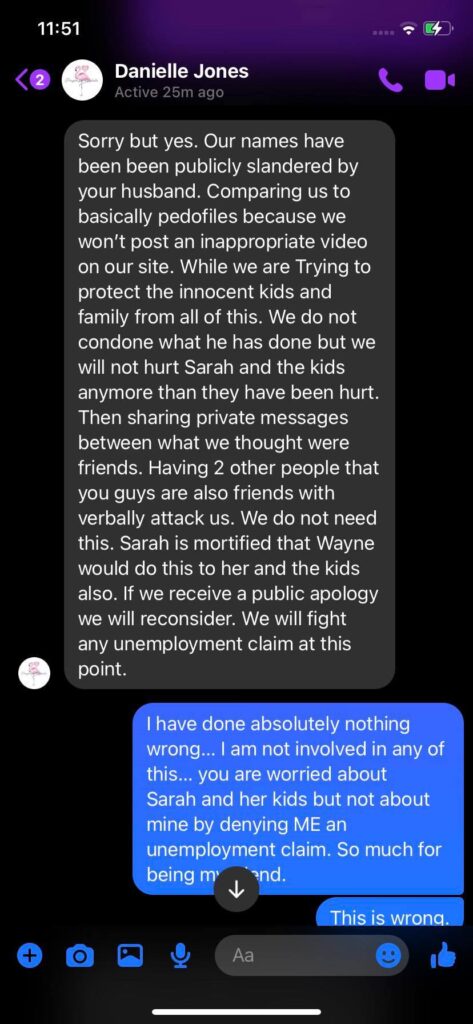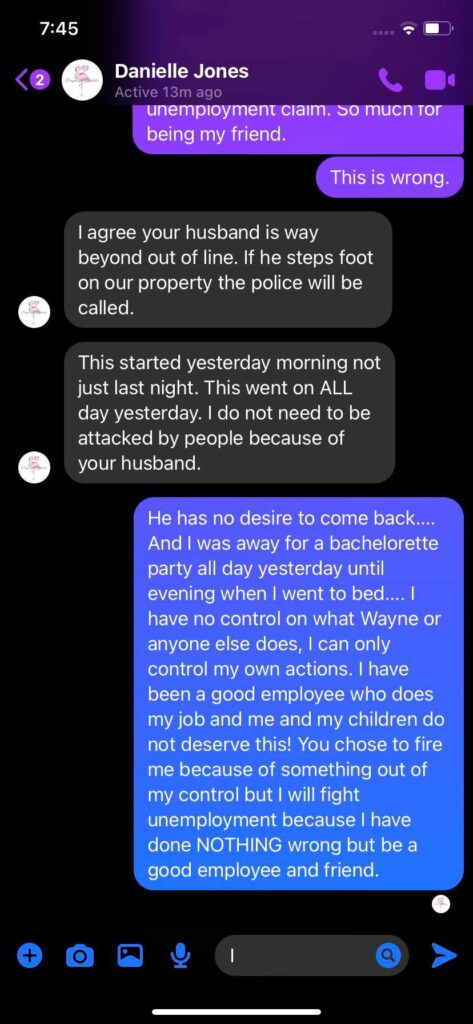 As of this date, Wofford is still out of work and was forced to apply for unemployment to help with family expenses such as food, shelter and clothing. Despite Danielle Jones' statement that "we will fight any unemployment claim at this point," Wofford was able to file for and receive unemployment benefits. However, Wofford is still falling short of the income she made with the Jones' Skowhegan business when she was unceremoniously fired for complaints made by others to the Jones' as administrators of their Facebook page, Skowhegan Neighborhood Watch and Information. No complaints were addressed to the Jones' in connection with their business.
In a telephone call yesterday, Todd Jones Sr. refused to comment on any of the questions posed to him by Maine Journal News. We still had several more questions for Jones but the call ended before we could pose those questions.
Maine is a work at will state and firing Vicky Wofford was likely legal. However, is firing someone for the actions of others (in alleged and seeming retaliation out of anger) morally just? You, the readers, can decide.
Please note that Todd Jones Sr's father owns a similar Skowhegan business and neither the business nor Jones' father are in any way connected to the matters set forth above in this article.
As always, thank you for reading Maine Journal News. You can follow or LIKE us on Facebook (should Facebook decide to allow a LIKE button to appear…tis a fickle thing that is): www.facebook.com/mainejournalnews. Please continue to email us story ideas, tips and screenshots at mainejournalnews@gmail.com or rsnyder@mainejournalnews.com.
As a final note: We are a completely self-funded independent organization. As MJN grows, we have more and more expenses, for websites, equipment (we just got some new mics so our live videos are easier to hear, for example), software, travel expenses, etc. so please consider donating to keep us doing what we've been doing here at MJN. Please note: MJN is not 501(c)(3) organization. As such, your donations are not tax deductible. No services or products will be rendered to you in exchange for your donation. We have two ways for you to donate so that we can bring you more content like the story above:
By Venmo: @MJN207
By PayPal: Donate (paypal.com)
Thank you for your continued support of independent journalism. Unlike local media, we consider all of you part of MJN and value your comments, emails and messages. We couldn't do what we do without you.