On July 11, 2020, Governor Janet T. Mills officiated the wedding of her former Executive Assistant, Melissa O'Neal (now the Director of Boards and Commissions at the State of Maine – Office of the Governor according to her Facebook page), to Ryan Low, University of Maine's Vice Chancellor for Finance and Administration. The Matron of Honor was Paula Thomas who works as a Senior Administrative Assistant for the Democrat House Majority Staff and the best man was Paula's husband, Kyle Thomas. Maine State Treasurer Henry E. Murphy was listed as Man of Honor.
I would like to give credit to the Facebook page, Real Maine Facts, for creating the video and bringing light this event of July 11, 2020. You can see the video Here
Some of the guests included:
Matt Moonen – According to his Maine Legislature bio, he is serving his fourth term in the Maine House of Representatives. He has served as House chair of the Joint Standing Committee on Judiciary and as a member of the Taxation Committee. Matt is a longtime leader in progressive politics in Maine, and currently serves as the Executive Director of EqualityMaine. In this position, he serves as head of the Democratic caucus of 89 members. He convenes Democratic members to discuss legislation and provide guidance on policy. His office provides staff and support to all the Democratic members of the House.
Jeremy Kennedy – Janet Mills' Chief of Staff.
Honorable Jennifer McGown – Assistant Clerk of the House.
Daniel Malloy – Chancellor University of Maine System
Jeff Kirlin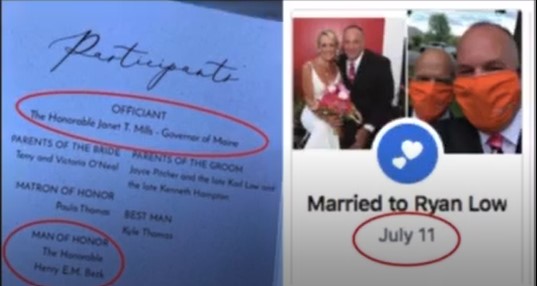 While the wedding ceremony itself was taking place it appears as though participants were all wearing masks. In fact, Ryan Low and his best man, Kyle Thomas took this photo of them wearing masks embroidered with wedding information.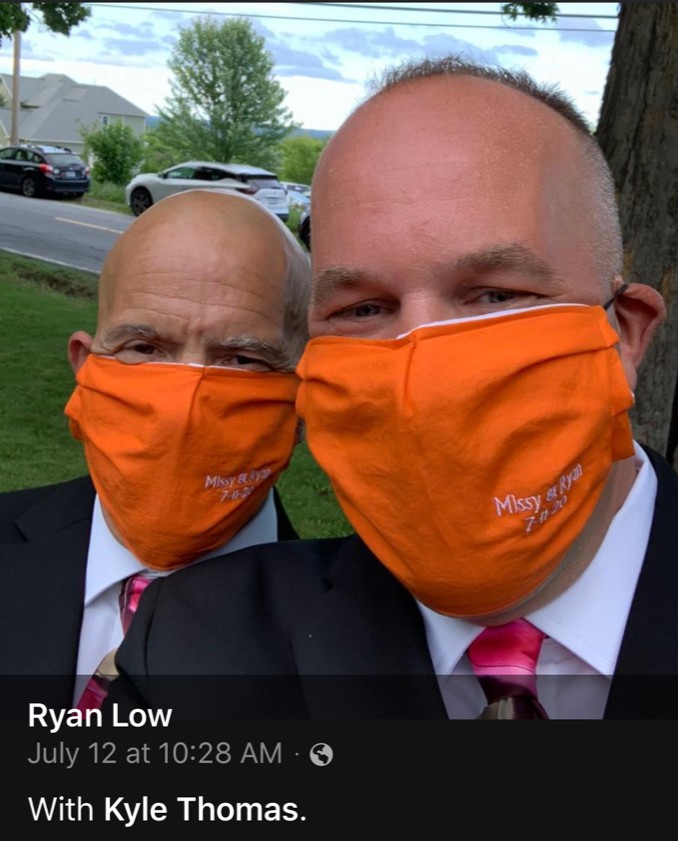 Jeff Kirlin also took this photo of himself and Janet Mills with the caption "Do Your Part Wear A Mask." Here's another with "Safe Wedding." It appears it was safe for only a short time.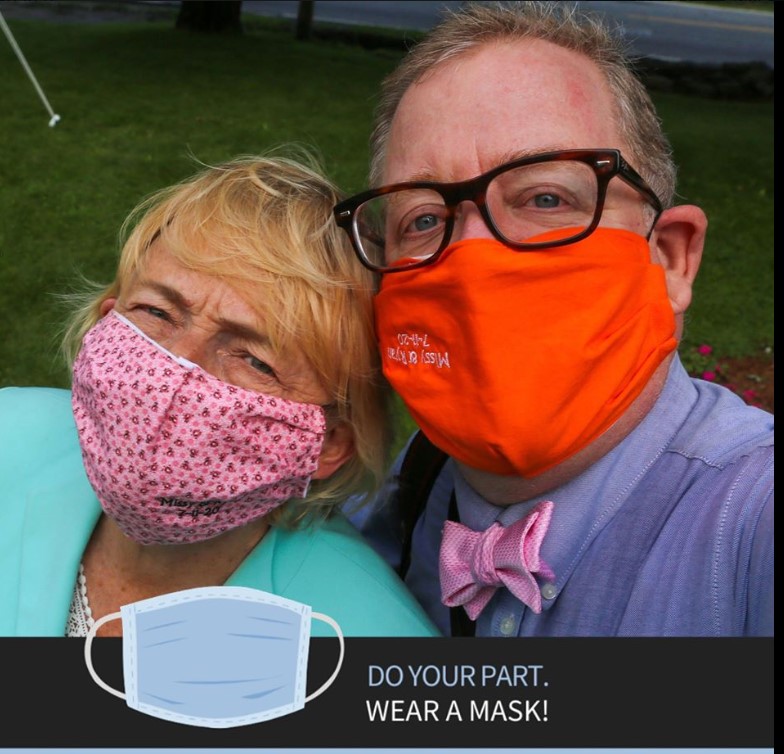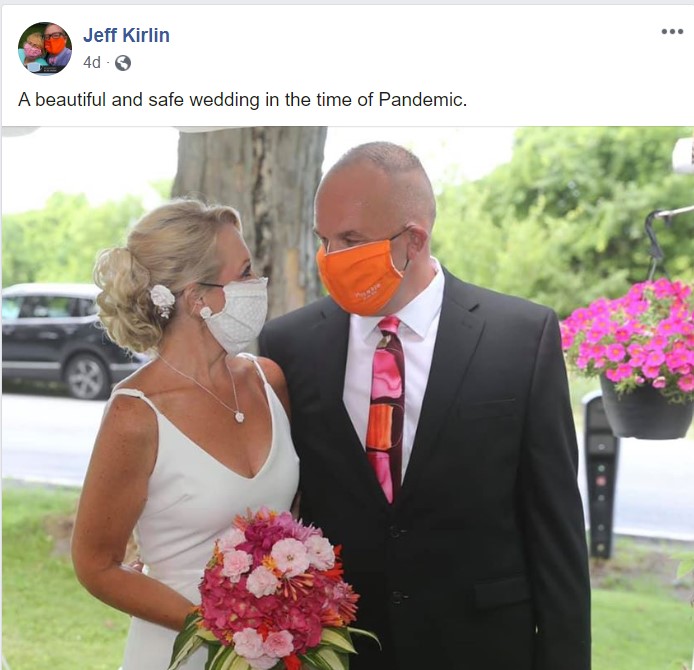 It appears Governor Janet Mills wore a mask throughout but the same can't be said about the wedding guests. Plenty of photos and selfies were taken and when one looks at the guests in the background or guests sitting at a table talking, there isn't a mask in sight. I stand corrected. One gentleman has a mask hanging from his ear. (Photos courtesy of Real Maine Facts).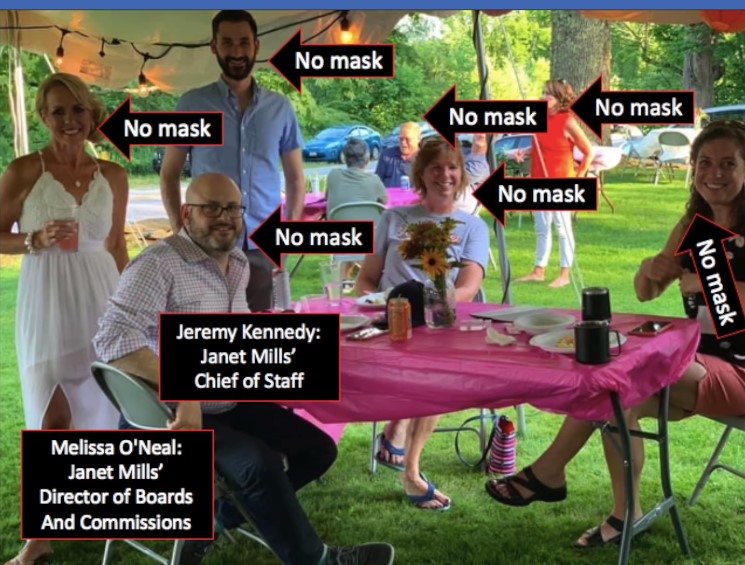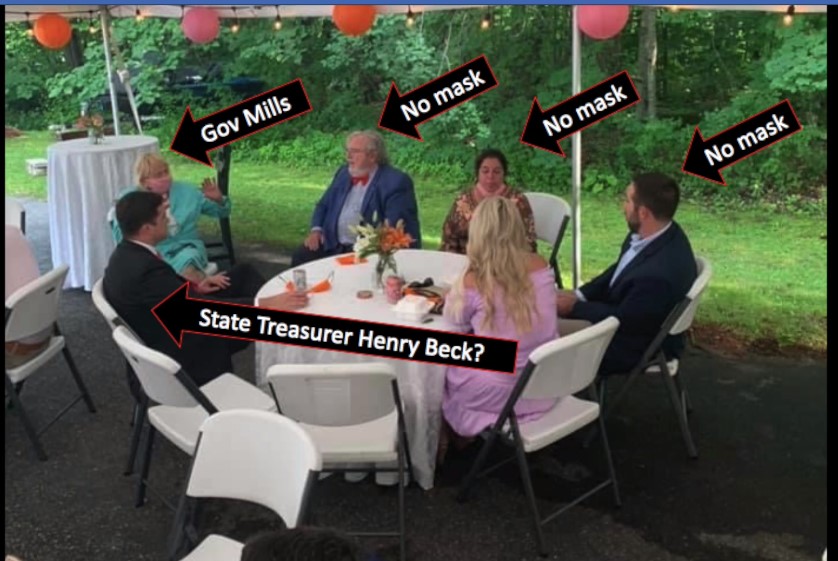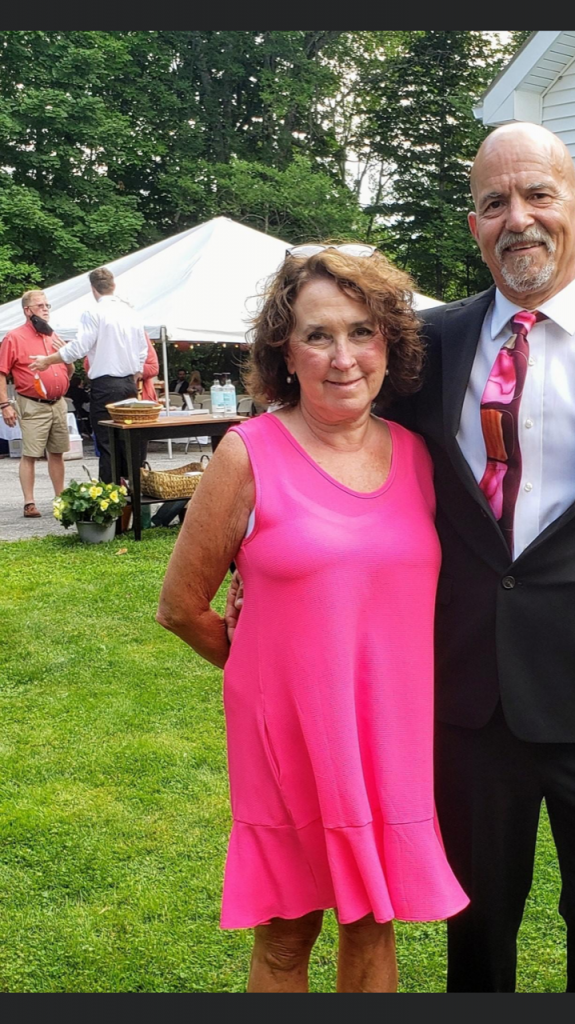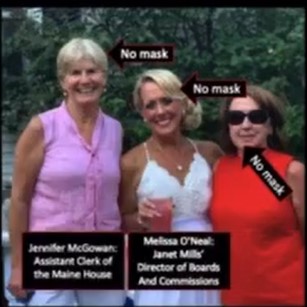 I already know the excuses these people will make. We were eating, we were drinking but look again at the photos closely. There's not a mask sitting on the tables that they just took off while eating or drinking. There's no mask in their hands just to take a photo. The bottom line is there appear to be different rules for different people.
While Janet Mills encourages citizens to report and turn in other citizens and businesses for mask "violations," her friends are given a free pass. I wonder whether the members of the group Maine: No Mask No Service who are profilic reporters of any perceived violation will report the guests at this wedding with the same fervor they report their fellow citizens.
I read a comment recently and it really struck home, especially when it comes to the Maine: No Mask No Service members – I've made a few edits: These people you are reporting today are the same people who helped your daughter change her tire in the rain; they are the people who help you or an elderly neighbor shovel their driveway; they bring food to those who are sick or in need; they are the people who will help you without question at the drop of a hat. Now the Governor who doesn't give a rat's ass about you, wants you to report your neighbors and their businesses. Go ahead and report other Mainers and their businesses but when YOUR NEIGHBORS and fellow citizens are no longer "neighborly" towards you, you won't have to wonder why.
Thank you for reading and supporting this small digital news page. In the meantime, if you have screenshots, information or tips you'd like to share, please send them to mainejournalnews@gmail.com.