By: Ronda Snyder – This article contains commentary which reflects the author's opinion
WERU Community Radio 89.9 FM serves the Midcoast, Down East and Central Maine areas. WERU portrays itself as the "Voice of Many Voices." The Vision Statement of WERU is "to empower and inspire individuals and community by sharing diverse music, information and perspectives." It includes in that Vision Statement its Guiding Values of Diversity, Equity and Inclusion, Civility and Respect and Social Justice, to name a few.
When we reached out to WERU by email (twice) to ask them about the false information contained in the videos below and asked about Amy Browne referring to Kevin Jenkins, a speaker at the event, as "the black guy," the videos you see below were quickly deleted from the WERU Facebook page without explanation. We understand the news makes mistakes, Maine Journal News has made a couple mistakes ourselves in Facebook posts ourselves but instead of doing a "dirty delete and retreat," we owned up to the error and made a post clarifying the information.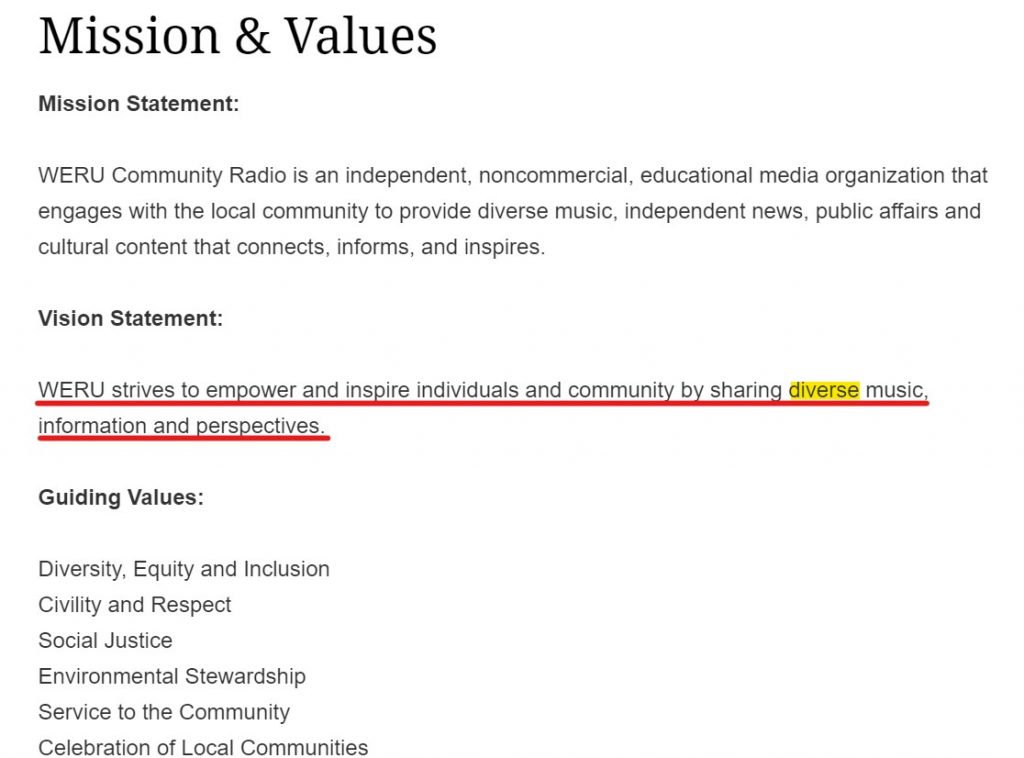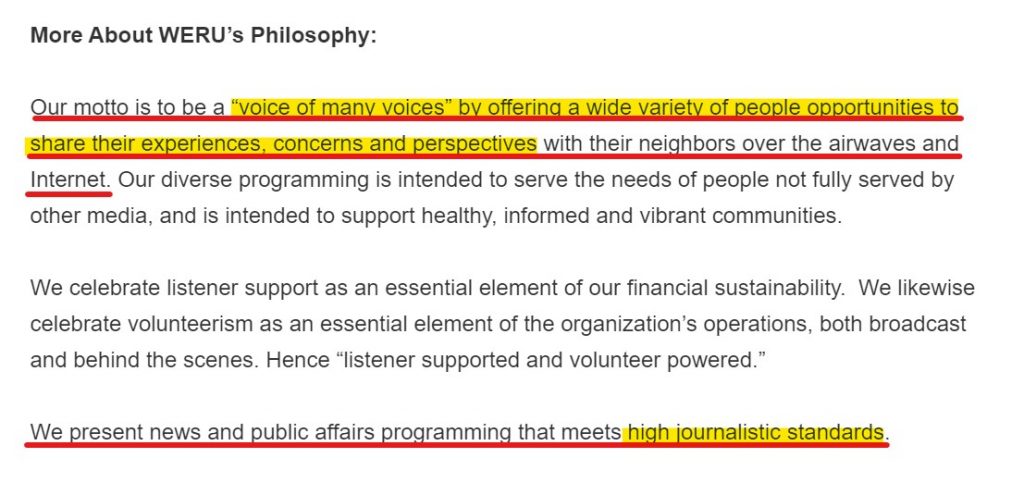 Amy Browne is described on the WERU website as News and Public Affairs Manager. Amy Browne reported live from the Arise USA meets Maine Stands Up event held at The Crosby Center in Belfast, Maine on July 27, 2021. That sharing of diverse information and perspective? Here is Amy Browne walking away when she hears diverse information.
WERU's Amy Browne walking away from a diverse opinion
When one of us at Maine Journal News covers an event, we do a bit of research about the event including the names of speakers at the event and whether a speaker is actually in attendance at the event. Here is Amy Browne relaying completely false information about Sheriff Mack who was not in attendance at event (he appeared via Zoom) and not knowing the name of "the black guy" who is Kevin Jenkins, a speaker at the event, and who was clearly named in the flyer for the event. Did Amy Browne treat Kevin Jenkins civilly and respectfully according to WERU's code of conduct?
Here is Amy Browne on her since deleted live video from WERU providing false information to people about Sheriff Mack and referring to Kevin Jenkins as "the black guy." Those "high journalistic stands?"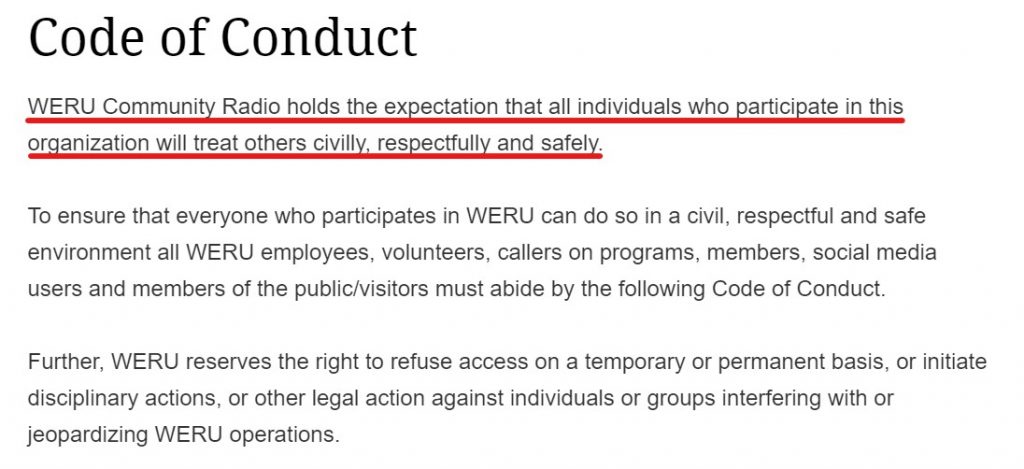 Despite the Code of Conduct and On Air Violation language, WERU had Christopher "Crash" Barry as a guest on a program on October 6, 2020 about Hate Groups in Maine. Within minutes Crash Barry refers to former Town Manager Tom Kawczynski while on air as "a twerp…an idiot."
How does WERU handle this apparent on air violation by Crash Barry? WERU rewards him with a show (and podcast) of his book to air on WERU starting August 17, 2021.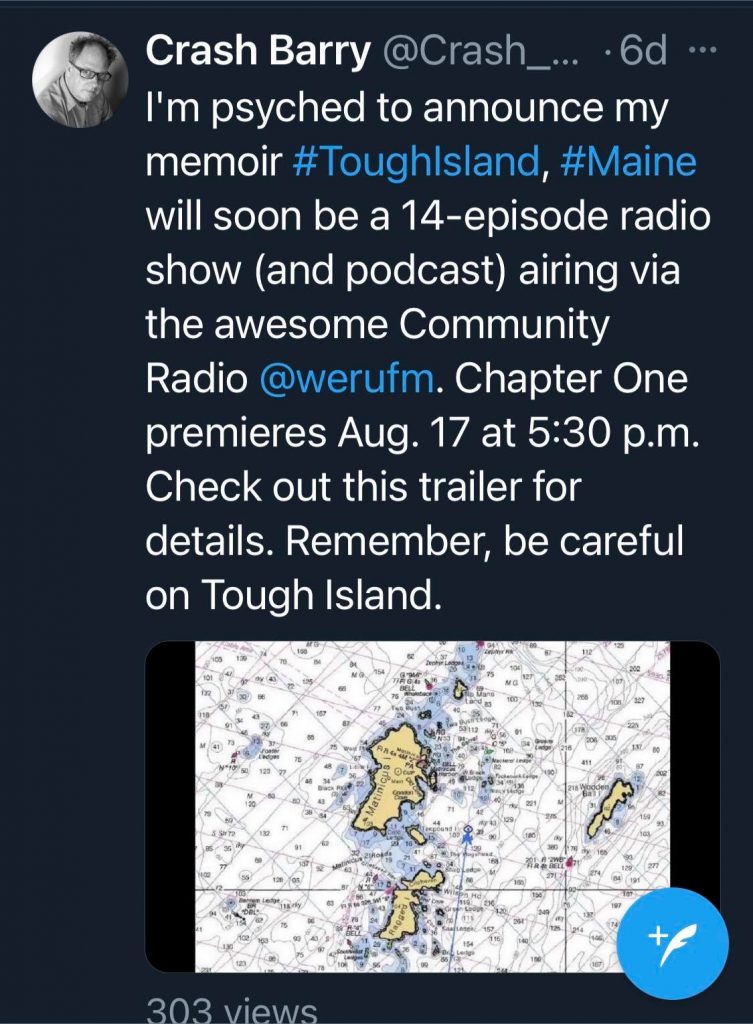 WERU doesn't appear to be in the business of providing diverse ideas and perspectives as it claims. From the information and programs we've researched, there is little to no diversity of perspective or ideas. Its News and Public Affairs Manager, Amy Browne, reported demonstrably false information in her Facebook live videos and it seems as though Browne did little to no research on the event and speakers. Rather than referring to Kevin Jenkins by name, she called him "the black guy." WERU should admit their errors and provide an explanation for why they quickly deleted these videos when Maine Journal News reached out to them for comment.