By: Ronda Snyder – This article contains commentary which reflects the author's opinion
On July 1, 2021, Representative Charlotte Warren, democrat, made a Facebook post on her personal page stating "Straight white men are too emotional to be in politics. You read the full article which broke the news HERE. We wrote a follow up article regarding Speaker Fecteau and the double standards between Representative Warren and Capitol Police Chief Gauvin over social media posts. You can view that article HERE.
On July 19, Representative Joel Stetkis (R-Canaan) introduced House Order 11. Set forth below is a copy of the House Order. We covered that story as well. Immediately after Representative Stetkis finished his floor speech, Representative Michelle Dunphy (D-Old Town) rose to make a motion to Indefinitely Postpone Representative Stetkis' House Order. The details and videos of House Floor speeches can be found by clicking HERE. It is important to remember that this House Order was brought because of Representative Warren's OWN WORDS. You'll see why that is important in just a bit.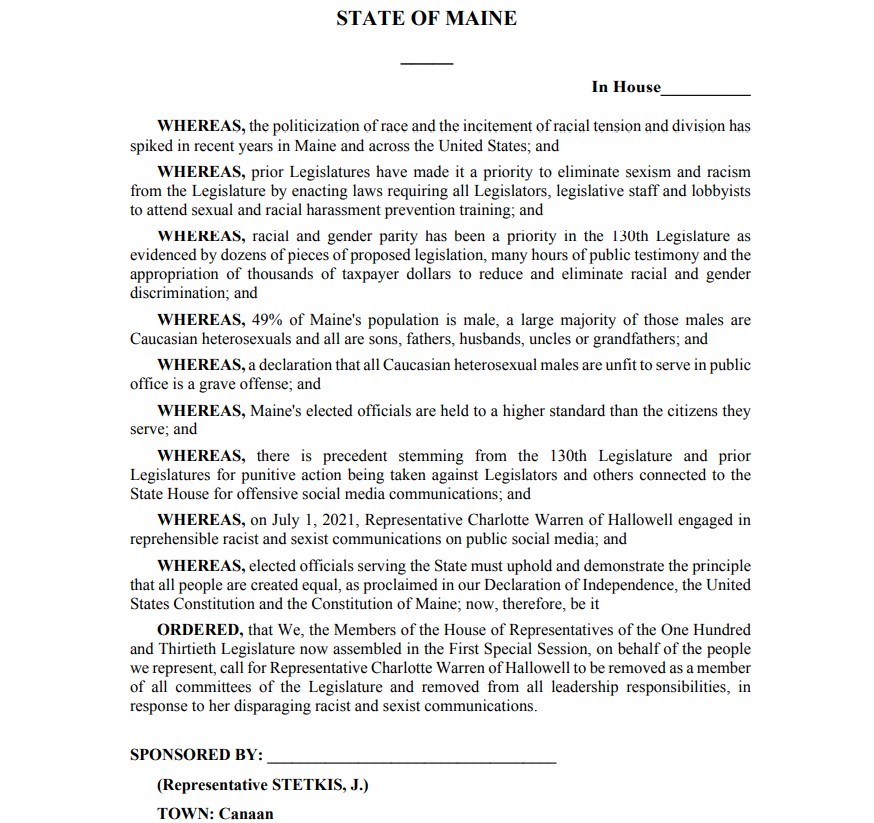 The Motion to Indefinitely Postpone action on House Order 11 passed Yeas 105 – Nays 21 – Absent 24.

For some reason, Representative Anne Carney is missing from the Rollcall information on the Maine Legislature website.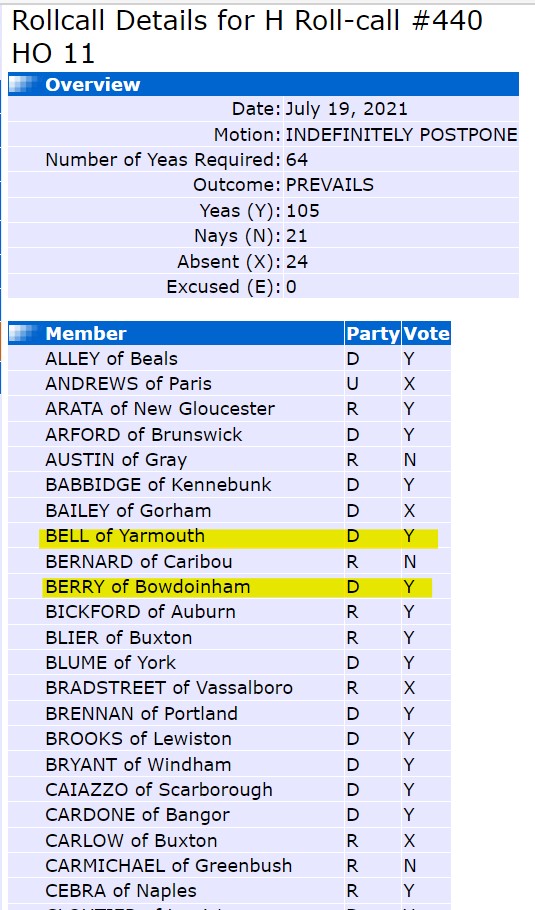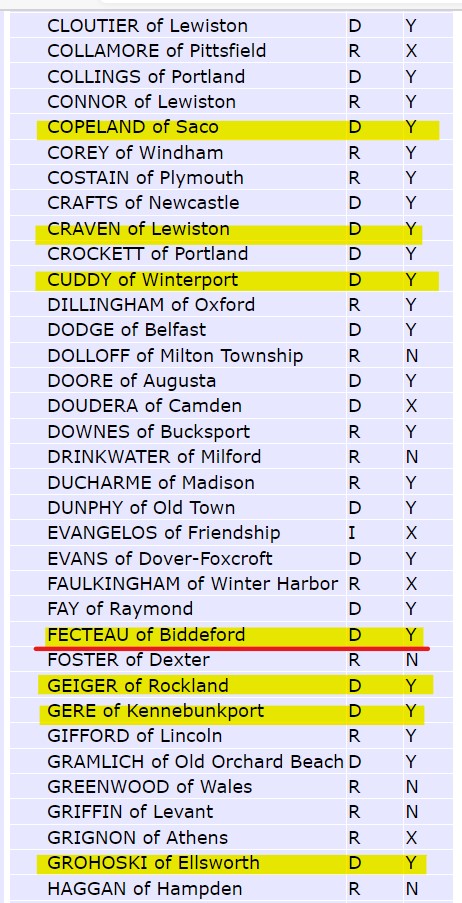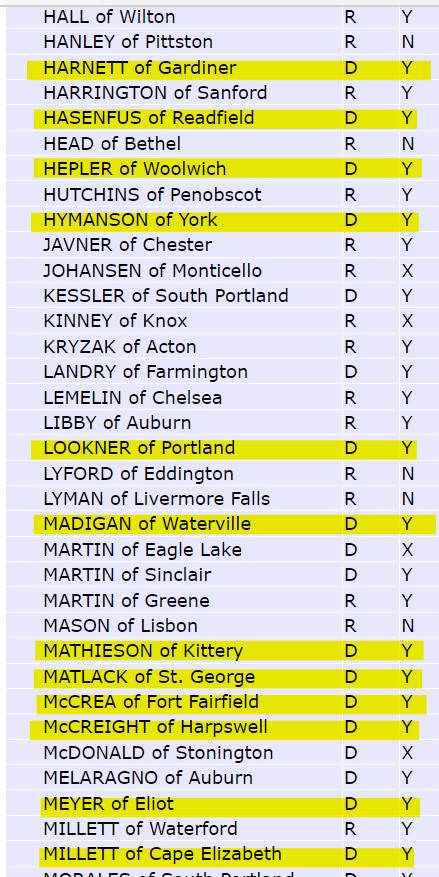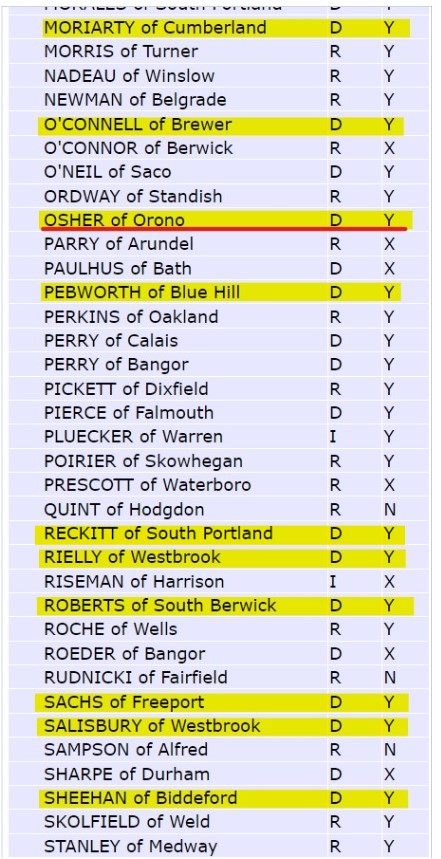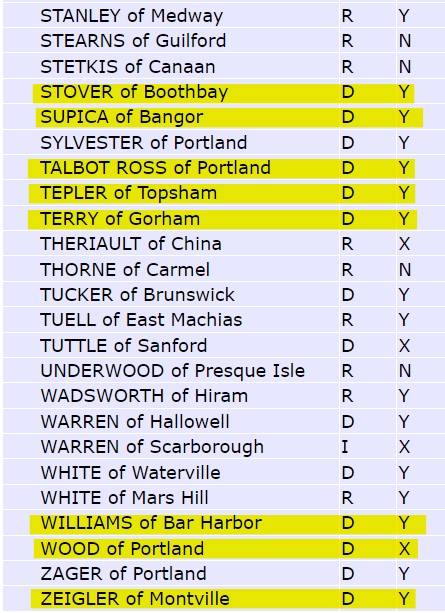 Now Maine Democrats (the "Blue Mafia") are targeting Representative Heidi Sampson (R-Alfred) for speaking at an event in Belfast, Maine on July 27, 2021 where she discussed a forensic audit of Maine's 2020 election. Representative Sampson is being attacked for speaking at an event because Robert David Steele was one of the organizers of the Arise USA tour. Steele holds a wide range of wild opinions on issues including what many would call absurd as well as anti-Zionist rhetoric, particularly his comments on Zionism and the Holocaust. I provided link's to Steele's views in our article dated August 2, 2021 which can be found HERE. The left is shouting that Representative Sampson was warned not to attend by a leader of a Jewish Congregation, Brian Kresge. According to Representative Sampson, during her appearance on Mike Violette's morning show on Legacy 1160 yesterday, Sampson indicated that she was apparently tagged in a Facebook post by Kresge about Steele but that she works and has responsibilities and that doesn't allow a lot of time online to use Facebook. Sampson added that she didn't see the tag.
This is important – Steele was not listed as speaker at the event according to the flyer advertising the event.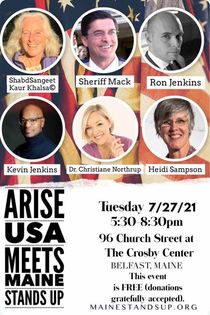 On July 30, 2021, Representative Laurie Osher (D-Orono) sent a Google Doc to her fellow legislators entitled "Legislator Sign-On Letter Denouncing Association with Anti-Semites." This letter was based on reporting from The Bangor Daily News which has NO history of left leaning bias that this writer has ever seen (sarcasm).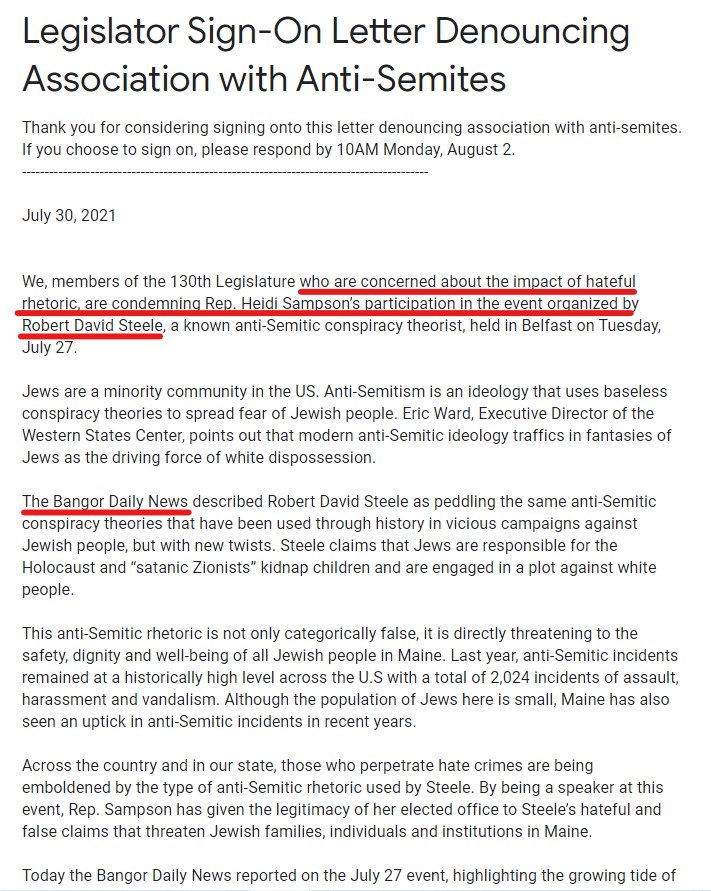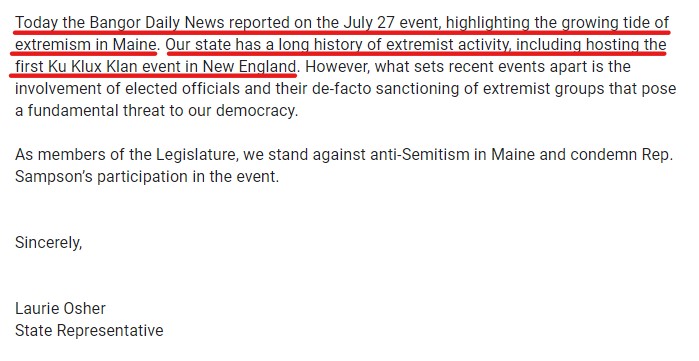 Which legislators signed Representative Osher's letter to denounce and condemn Representative Heidi Sampson (not for her own words which was the case with Representative Charlotte Warren and which the above democrats voted to indefinitely postpone) but for attending an event where Steele wasn't a scheduled speaker? Several signatories were absent from the vote on the Indefinite Postponement vote: Kyle Bailey, Vicki Doudera, Jeffrey Evangelos, Genevieve McDonald and Amy Roeder. Several Senators signed on to Representative Osher's letter as well: Ned Claxton, Troy Jackson and Heather Sanborn.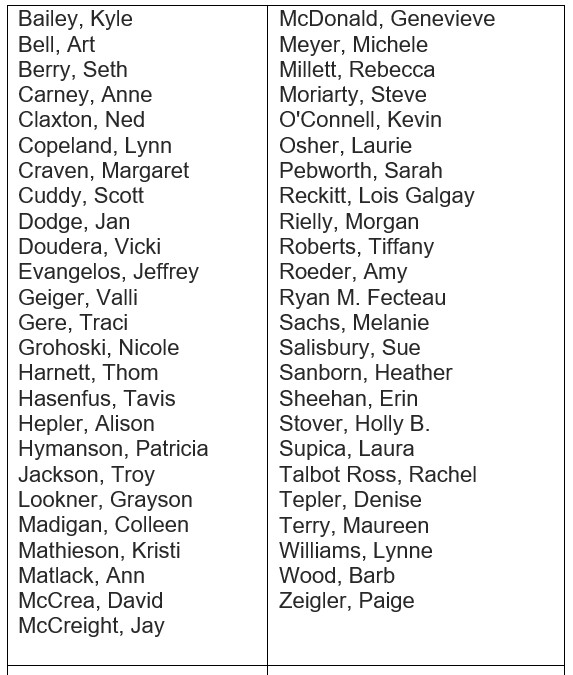 Last evening, I posted on the Maine Journal News Facebook page that this article was forthcoming and would include a list of signatories to Representative Osher's request to denounce and condemn Representative Heidi Sampson. This morning I awoke to a comment by Representative Genevieve McDonald on the Maine Journal News Facebook page. In full disclosure, this writer has had previous unpleasant interactions with Representative McDonald over LD 798 which removed religious and philosophical exemptions from required school vaccines. McDonald was for removing these exemptions and I was against removing these exemptions and for medical freedom. Here's where my opinion comes in: It's clear to me that McDonald is still as unpleasant, snarky and smarmy as she was during my previous interactions.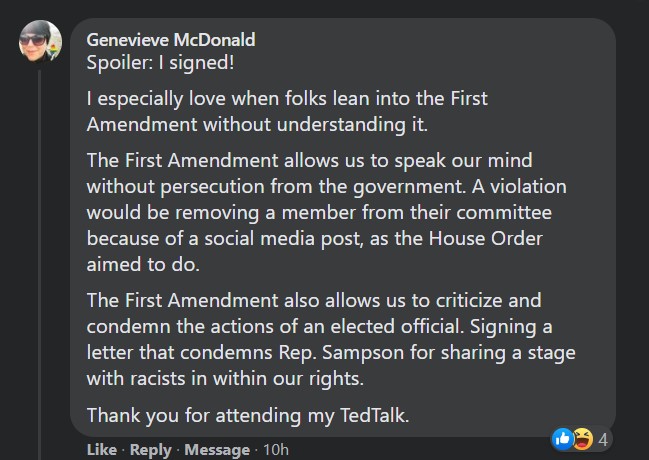 Michael McDonald asked Representative McDonald a feasible question about why she supported investigating Capitol Police Chief Russell Gauvin over Facebook posts on his personal page but thinks it's acceptable that Representative Charlotte Warren shouldn't be held to the same standards. Robert Arthur Reed responds to Michael McDonald with a humorous comment.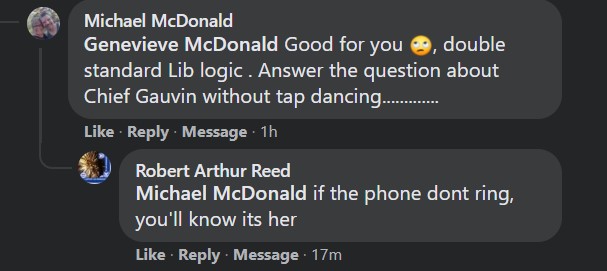 Maine Journal News (me, in fact) responded to Representative McDonald and in typical Genevieve fashion, she replied with her usual snarky, smarmy and superior manner. There's really no point in responding further to someone who thinks they have some sort of self asserted superiority.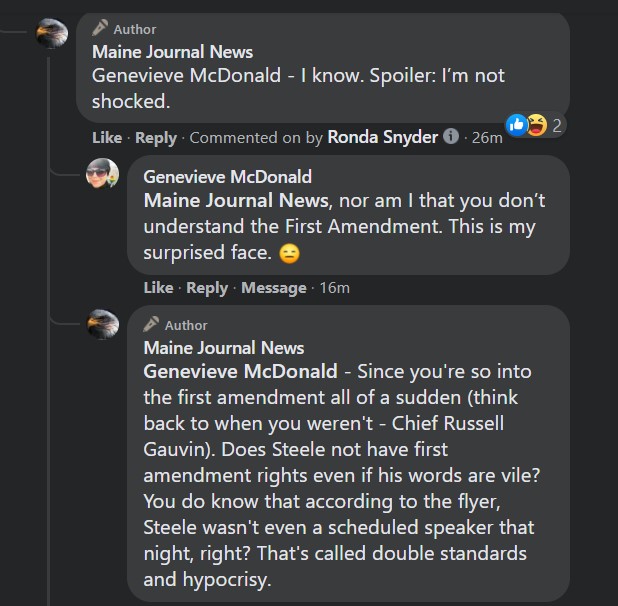 In summary,
In January 2021, Maine democrats signed a letter asking the Commissioner of Public Safety to investigate Capitol Police Chief Gauvin's personal Facebook posts citing in said letter that "public officials should be held to a higher standard of public comments." Chief Gauvin is reportedly not a Democrat.
In July 2021, Maine Democrats voted to Indefinitely Postpone disciplinary action against Representative Charlotte Warren for her biased, sexist and defamatory words even though they previously said that "public officials should be held to a higher standard of public comments." Charlotte Warren is a democrat.
In July 2021, Representative Laurie Osher sent a letter to her Legislative Colleagues asking that they sign on to Denounce and Condemn Representative Heidi Sampson for speaking at an event at which an event organizer previously made comments about Zionism and the Holocaust. Many of the same democrats who signed Osher's letter also voted to indefinitely postpone action on House Order 11. Maine Democrats want to denounce and condemn Representative Sampson not words she spoke herself but the words of someone else. Representative Sampson is a Republican.
Democrats are now actively "denouncing" fellow legislators? Denounce is an ugly word and brings back violent and horrific connotations in history where good people were "denounced."
Are free speech and free association only tolerated by Maine Democrats when one is a Maine Democrat?