By: Ronda Snyder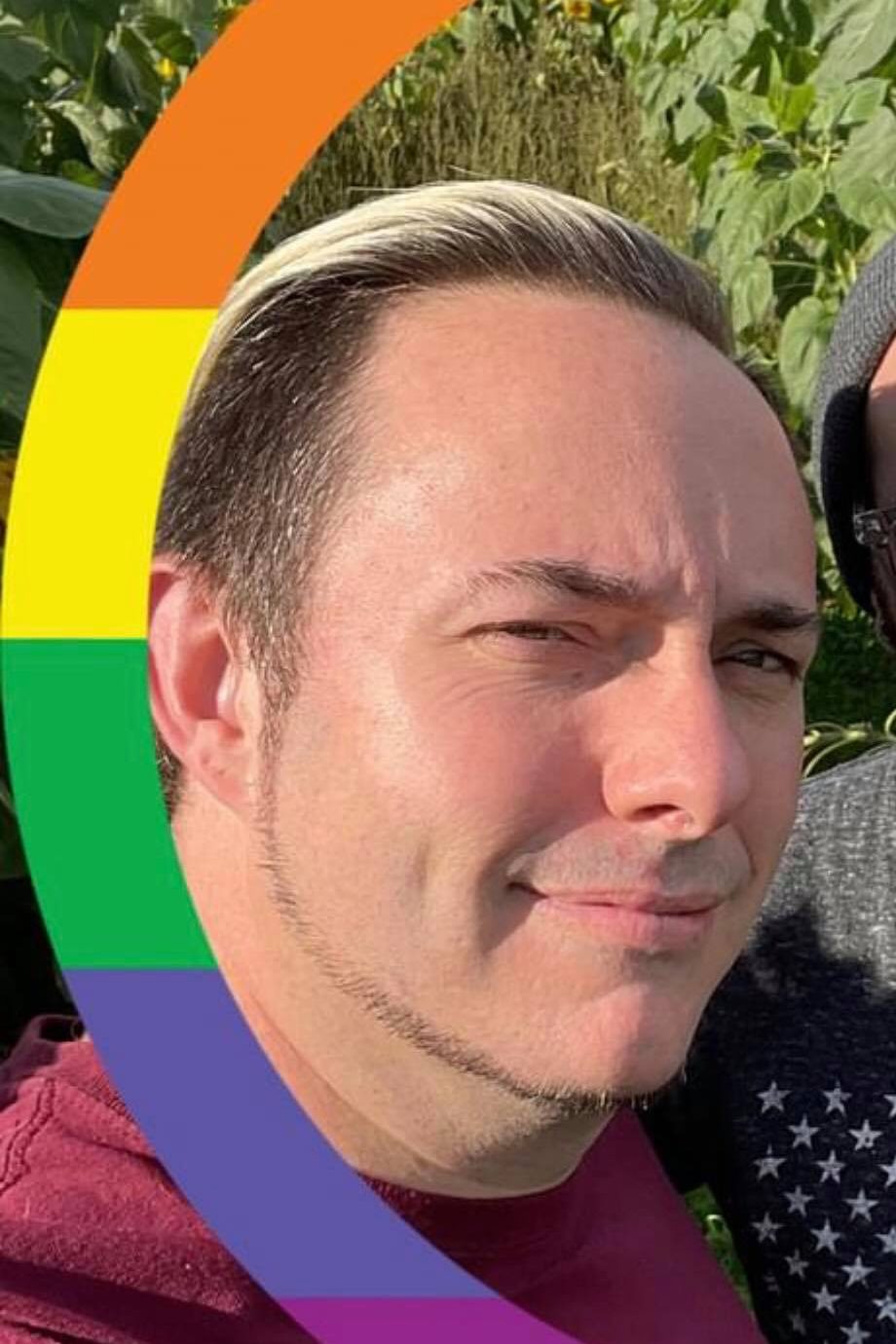 The Bangor Zombie Walk which has been a tradition for 11 years was cancelled this year after being scheduled to take place on October 23, 2021 at 3 pm. Meet event organizer, Jessie Jackson, who seemed to blame the cancellation on the City of Bangor. However, there is much more to this story.
The Zombie Walk Facebook page made a (since deleted post) which implied that it was asked by the City of Bangor "Officials" to cancel the event.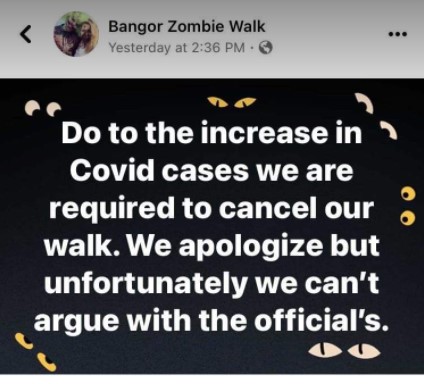 The Zombie Walk Facebook page then made a reply to a commenter regarding cancellation of the event. Bangor Zombie walk clearly states he had to get permits "which I had in place" and "when I'm asked to cancel that is what we do." Again implying that he was asked by the City of Bangor Officials to cancel the event. Keep reading to see why this isn't even close to accurate.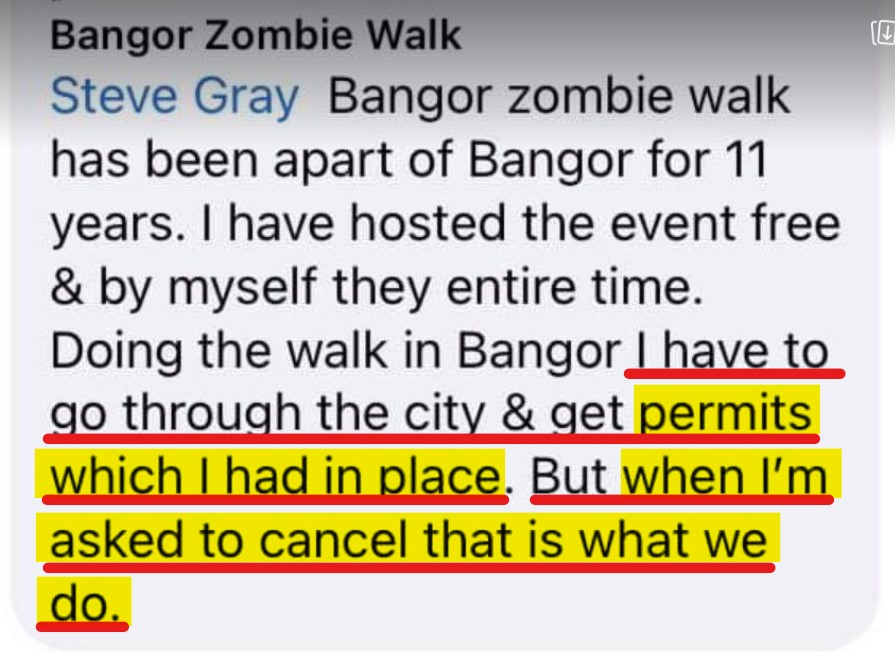 No permits were in place for the event per the City of Bangor and no City Official asked that the event be cancelled per our discussions with City of Bangor Officials. Steve Gray was right to be skeptical that the City would allow some events but not this one.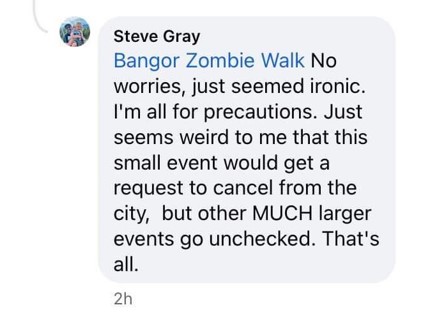 When people on the Zombie Walk complained that the event was canceled again this year, Jackson made this (since deleted) post calling people "selfish" and threatening to cancel the event "forever."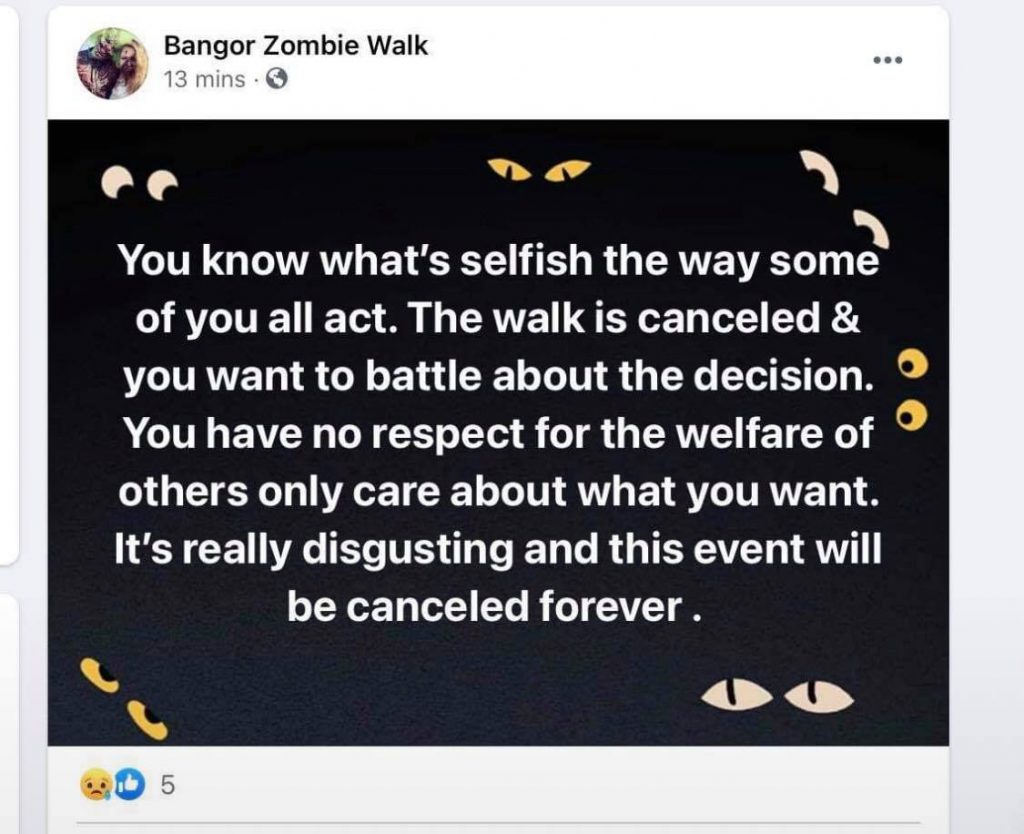 We reached out to the City of Bangor to get more information about the cancellation and whether any City official asked that the event be canceled and found out the following information: We spoke with Tanya Emery who is the Director of the City of Bangor's Community & Economic Development division. A joint permit was applied for as "The Witch Walk and The Zombie Walk." Emery provided us with emails regarding the joint permit pursuant to a FOAA request made by Maine Journal News.
On August 28, 2021, Charmed in Brewer, who is the organizer for The Witch Walk, provided the City of Bangor with proof of insurance for the event and indicated they would be in touch with the permit payment. The payment for this permit was not made per the City of Bangor.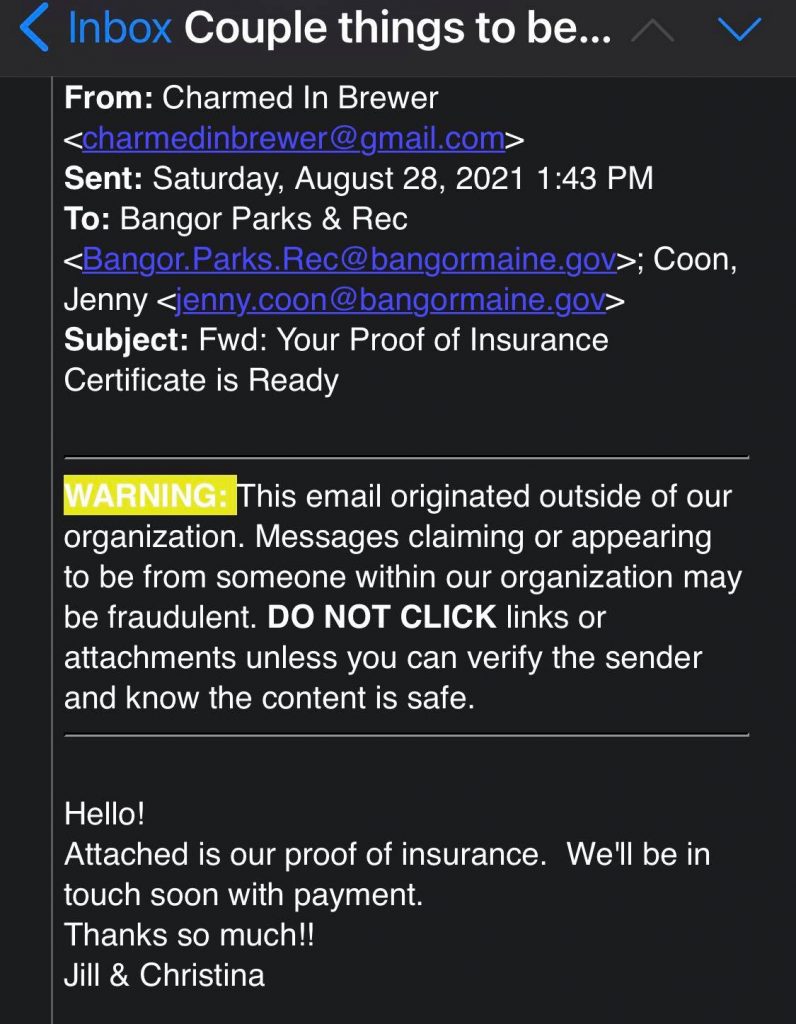 On September 9, 2021,the Bangor Parks and Recreation Department reached out to Charmed in Brewer with a reminder that several pieces of information and a mapped route were still required to process the permit.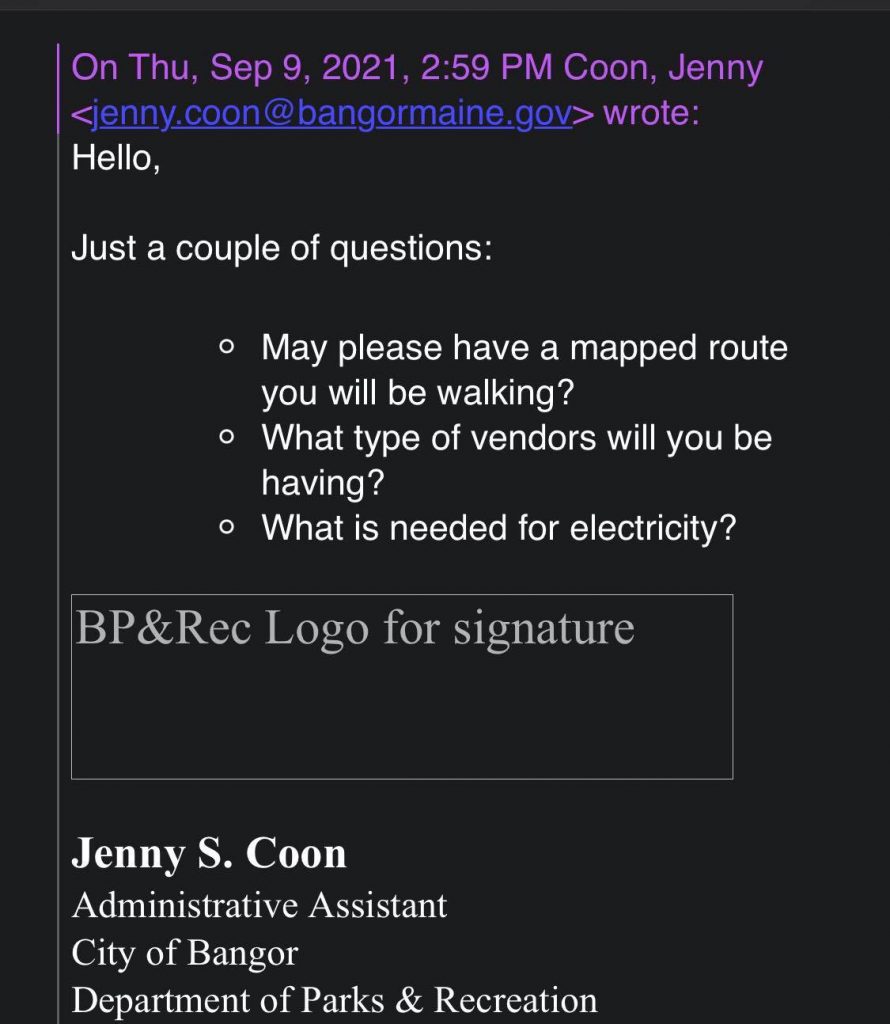 On September 9, 2021, Charmed in Brewer replied that they had concerns about holding the event due to Covid concerns and asked for guidance.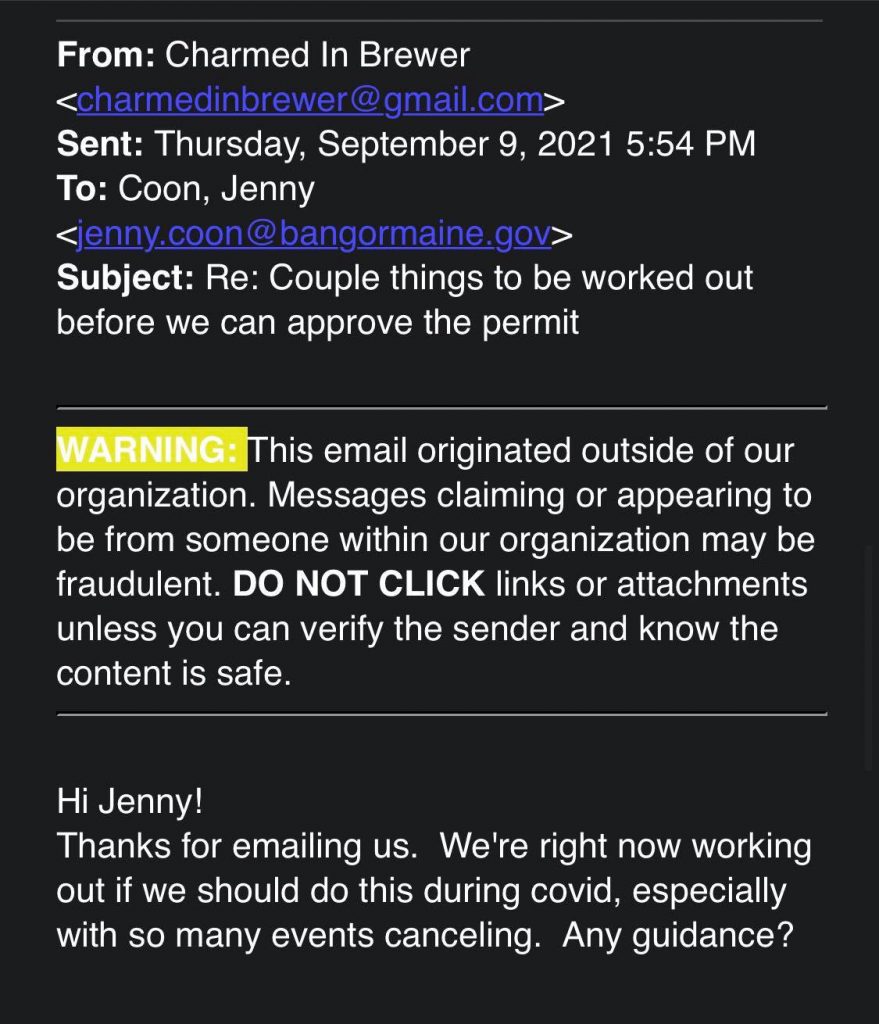 On September 10, 2021, the Parks and Recreation Department replied and indicated it is "completely your call."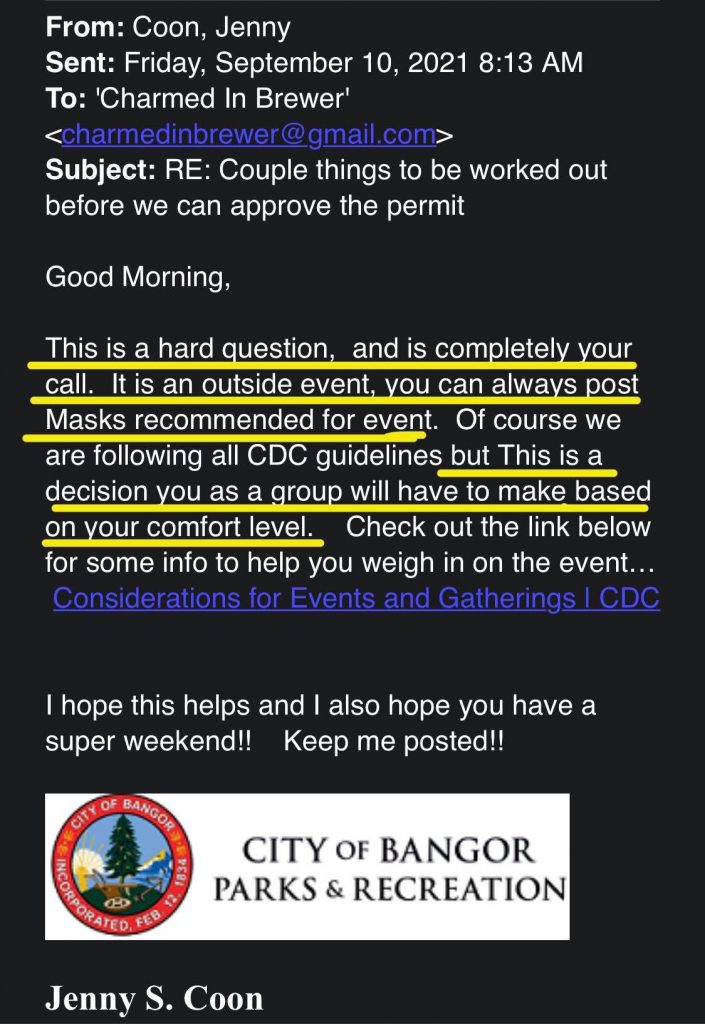 It's clear from the above exchanges that the City of Bangor told the permit applicants that it was completely their own call on whether to cancel the event. There are no further communications from the permit applicants after that September 10, 2021 email from the Parks and Recreation Department. Additionally, the City of Bangor had no individual permits on file solely from the Bangor Zombie Walk or Jessie Jackson for this year's event.
We reached out to the Bangor Zombie Walk Facebook Page and had this interesting exchange. Unfortunately, our last message wasn't able to be sent because they blocked us from asking further questions. The Bangor Zombie Walk demanded that we "leave this alone." We wonder why it should be left alone? The page also told us we "no nothing." Just as a petty side point, we know when to use "do" and "due" as well as "does " and "dose" so we know something. We also know that there was no permit issued for this year's Zombie Walk.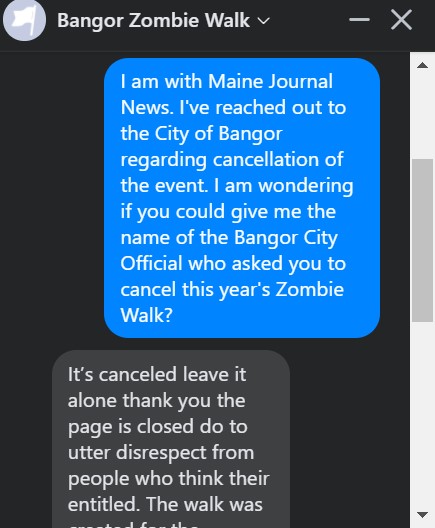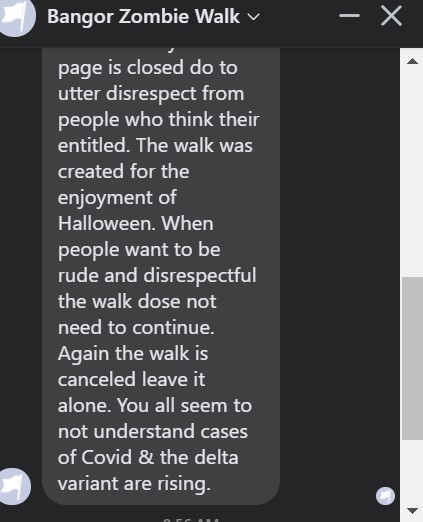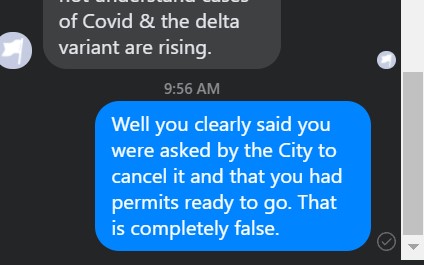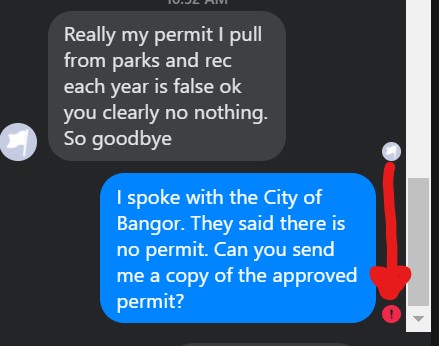 This is a copy of the Witch Walk and Zombie Walk permit which not requested by Jessie Jackson nor did the City receive the required information and documents to complete the permit process.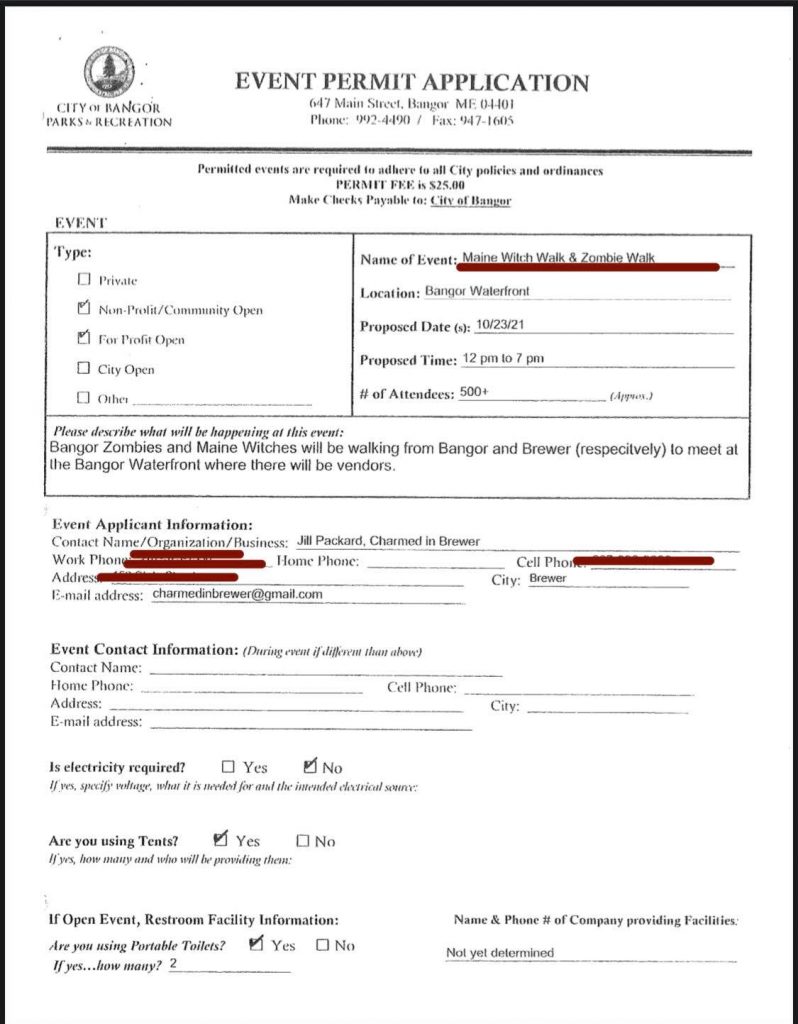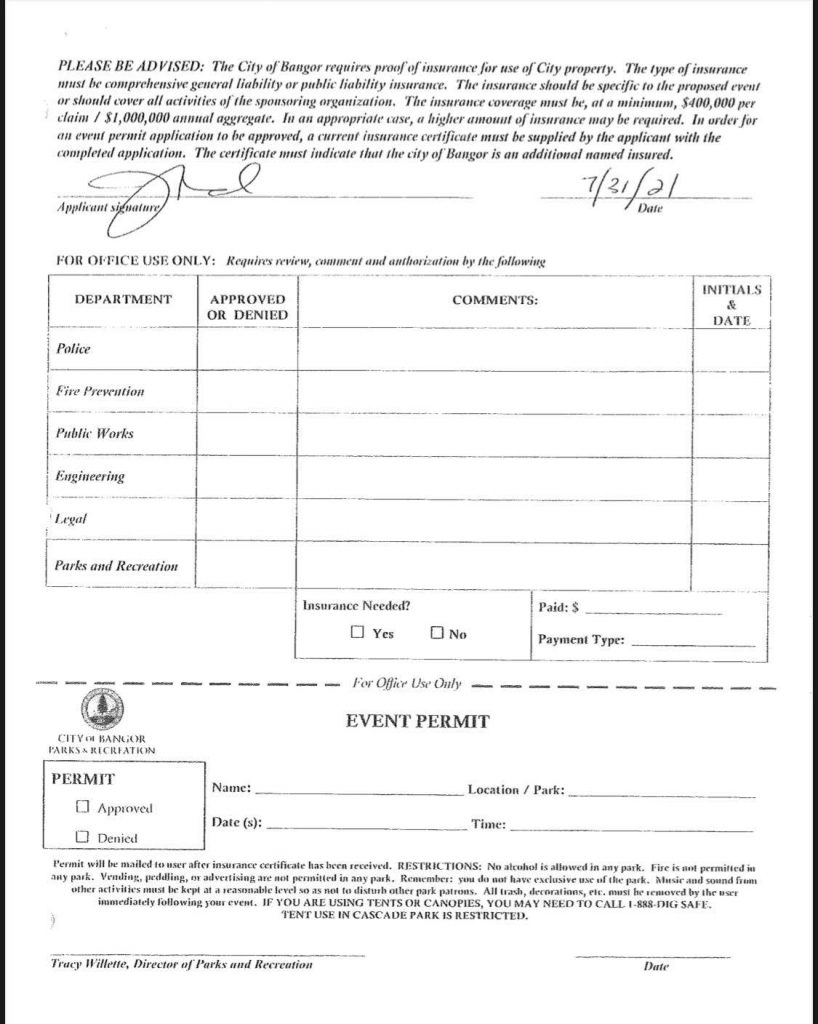 We've also reached out to Charmed in Brewer who we would like to make clear, that as far as we can determine, did not mislead the public as the Bangor Zombie Walk appears to have done. We have not received a response from Charmed in Brewer at the time of publishing.
As most of you who read our articles know, we at MJN do not hesitate to hold any and all public officials and governmental agencies responsible for their actions. However, we found Tanya Emery from the City of Bangor to be forthright, accommodating and very responsive to our request for information. The City of Bangor is NOT the bad guy in this scenario and the public was mislead by the organizer of the Bangor Zombie Walk. As an author's side note, I was very impressed (and I am not easily impressed) by Ms. Emery. She is an absolute asset to the City of Bangor.
As always, thank you for reading Maine Journal News. You can follow or LIKE us on Facebook (should Facebook decide to allow a LIKE button to appear…tis a fickle thing that is): www.facebook.com/mainejournalnews. Please continue to email us story ideas, tips and screenshots at mainejournalnews@gmail.com or rsnyder@mainejournalnews.com.
As a final note: We are a completely self-funded independent organization. As MJN grows, we have more and more expenses, for websites, equipment (we just got some new mics so our live videos are easier to hear, for example), software, travel expenses, etc. so please consider donating to keep us doing what we've been doing here at MJN. Please note: MJN is not 501(c)(3) organization. As such, your donations are not tax deductible. No services or products will be rendered to you in exchange for your donation. We have two ways for you to donate so that we can bring you more content like the story above:
By Venmo: @MJN207
By PayPal: Donate (paypal.com)
Thank you for your continued support of independent journalism. Unlike local media, we consider all of you part of MJN and value your comments, emails and messages. We couldn't do what we do without you.